High School Classes Delayed Due to Possible Threat
Students, teachers and faculty waited on the stadium field while SHPD searched the building
Shaker Heights High School Students were held outside the school for more than two hours this morning following a potential threat.
At 8:27 a.m.,  students and teachers in the building exited to the treeline and sidewalk after the fire alarm went off. There have been two other fire-alarm incidents in the past two weeks, so this was largely unconcerning for many students.
The district sent an email at 8:53 a.m. to students, teachers, and parents warning of a "possible threat" and instructed students and staff to wait outside the building until the Shaker Heights Police Department finished conducting a search of the building. The district did not specify what the threat was.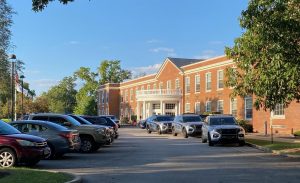 Students were moved multiple times during the incident. First they exited to the treelines across the street from the oval. After that, they were moved to the sidewalk in front of the main entrance and around the front oval. Then they were moved back to the treelines across the street from the oval. Finally, administrators directed all students and staff to the stadium field.
At 9:53 a.m., the district sent a second email stating that the high school was "still being searched" by Shaker Heights Police. Students and staff were instructed to remain outside until the SHPD approved reentry. "We expect classes to resume once the search is completed," the email stated.
Shaker Heights Police Department, Cleveland Heights Police Department, and K-9 Units were all present at the school. There was also a helicopter circling above the stadium.
While in the stadium, students played Uno, did homework or played music and danced. The administration began to allow optional student dismissals home at roughly 10:30 a.m.
At 11:39 a.m., the high school resumed classes. They also informed students and families via email that conferences were canceled, but athletics would continue as normal.
The email concluded with, "Thank you to our students, staff and families for your patience and cooperation"
 The Shakerite will continue to cover this story as it develops.
Comment using your Facebook, Yahoo, AOL or Hotmail account
comments
View Comments(1)