Mental Health in Hiding
The high school offers helpful services, but conversation about emotional concerns is rare
Editor's Note: Some sources in this story have been granted anonymity because of their comments on personal mental health concerns.
In a Sept. 15 email to faculty, Principal Jonathan Kuehnle wrote that school nurse Paula Damm had "documented an unusual surge in the number of students seeking help in the clinic for test anxiety."
The email included a "friendly reminder" for teachers about the high school's flex night and test day policies.
The message was also conveyed on the P.A. announcements, amid the numerous others promoting the high school's successful sports teams, inclusive clubs and diverse population.
Despite the principal's message, anxiety and other mental health issues are rarely discussed at the high school.
"Shaker needs to break the stigma of mental illness and normalize seeking help," a freshman girl said.
According to the National Institutes of Health, the most common mental health disorder is anxiety, which affects approximately one-third of adolescents and adults. The condition can be debilitating.
According to Damm, while mental illness differs for each person who faces it, there are common, identifiable causes of stress and anxiety.
Damm said a culmination of influences creates the stress that students generally face. "I think that [it's] the way the world is now, and the way communications are so instantaneous — and the way you guys are under a lot of pressure," she said.
In her role, Damm sees students who have exhibited warning-sign behavior: Actions that allude to personal suffering due to stress and anxiety. These students have been referred to her by staff.
"If a kid is found crying in a bathroom, or in crisis, or writing [something concerning] in journals . . . then the kids are generally brought to me, and I do an assessment," Damm said. "It's basically just asking them questions to determine what I think the next steps should be."
If problems ensue after talking with Damm, or students need further help, Damm refers them to Nancy Schaumburg, one of two school social workers at the high school who help students cope with mental health concerns. School social workers are qualified to conduct individual and group counseling.
Schaumburg is a member of Social Advocates for Youth, a program of the Bellefaire Jewish Children's Bureau. Bellefaire JCB is an agency that offers a variety of services for behavioral and mental health and child development.
"
They need to be part of the solution.
— Nancy Schaumburg
"I do a lot of strategizing with students because they need to be in charge. They need to be part of the solution," said Schaumburg, who can can see a student up to six times without parental consent.
Schaumburg and Damm aren't the only ones working to ensure students' mental health. Teachers and counselors also take part in the effort.
"Teachers know that if they find something in writing, or if they hear something, they need to let someone know right away. And they do — and they've saved lives," Damm said.
English teacher Charles Kelly explained that teachers do not receive specific training in mental health but can learn to identify worrisome behaviors through staffings.
"A staffing is when the parents and individuals who have a stake in the student's well-being meet to discuss the student's concerns and issues," he said. "So, sometimes the school psychologist will be there, or the counselors will be there. It's for one individual student."
Staffings only occur if a student has an Individualized Education Program or a 504 Plan. Students who are diagnosed with cognitive disability or a medical condition that affects their learning receive IEPs or 504 Plans, which include accommodations for their particular needs. For example, students may be granted extended time to complete assignments, receive modified assignments or take tests in environments designed to minimize stress or distraction.
Advanced Placement Biology teacher John O'Verko said he strives to become familiar with his students so that he can help them in case of a crisis. "Everybody's an individual, and that's where, I think, it helps to know your students," he said. "I know that the material and the pacing of my AP class can lead to feelings of stress. I try to keep it as light as possible and always emphasize the big picture in my classroom, but of course that doesn't always work."
Advanced Placement U.S. History teacher Joseph Konopinski also sees the importance of building relationships with students. "It certainly helps, especially when you get to know your students, to understand their personalities, to understand what makes them laugh, what stresses them out, what they enjoy and what they dislike, and to try to frame the class in that way for them," he said.
A junior girl said that her science teacher is very accommodating to her anxiety. "In that class, we get a lot of classwork, and it seems like it could be overwhelming, but she'll sit there and she'll work with you, and it doesn't feel like, 'Oh my gosh, I'm suffocating.' "
A senior girl said that teachers could be more sensitive to student behavior that suggests a problem with anxiety.
"I think teachers need to be better at recognizing if there's a student doing other work in your class, if there's a student falling asleep in your class, if there's a student who looks like they're in another place. Talk to them and make sure that they know it's OK for them to re-evaluate their priorities," she said.
"
Talk to them and make sure that they know it's OK for them to re-evaluate their priorities.
However, according to school counselor David Peake, the root of students' stress does not come from interactions with teachers but from assignments or family.
Peake said that some of the students he counsels complain about the heavy load of homework they are given. "Just trying to manage being up until 1 o'clock or 2 o'clock in the morning," he said. "That's the primary cause."
"The second leading cause is with a family issue, and primarily with a parent," Peake said. "Number three would be issues with friends, or lack thereof — so, social issues."
Peake said that seniors come to him most often, their primary concern being the college application process. "That's definitely the biggest stressor," he said. "That's the one where students are just having a difficult time trying to keep up with work, managing applications. The feeling of, 'Am I going to get accepted? Will I get in here?' "
A senior girl interviewed said she was unsure if she would be accepted. "The school has made it seem incredibly hard to get into college, so I was really nervous about it," she said. "But now I feel like I was stressed for nothing."
Senior Gautam Apte said that the process was demanding, but reasonable. "People told me to expect that it was going to be really stressful, but, I think, as long as you did a little bit every day or every week, then it was pretty manageable," he said.
Nevertheless, he struggled to balance college applications and school work. "There are deadlines throughout the year for applications, and you kind of have to say, 'You know what? Do I want to do this essay or do I want to fill in these questions for college on the Common App?' " he said.
However, Apte said that his school counselor offered great support. "My counselor walked me through a lot of the steps that might have taken me a while to figure out on my own, so that was really helpful," he said.
Counselors have been helpful in other ways, as well. "When I had to change my classes around with my anxiety at the beginning of this year, I went to my counselor, explained the situation to him, and he was on top of it right away," said the senior girl who noted signs of anxious students in class. "There was never a question," she said. "All of my teachers have been really understanding."
However, she said that classroom policies could be more accommodating to all students. "One step to decreasing the stigma that some teachers do have surrounding mental health would be to improve the classroom environment in making it easier to self-regulate, and, with that, students would just be more calm and focused," she said.
Self-regulation is a term that describes the ability to appropriately respond to emotions. For example, calming yourself when anxious or frustrated or making yourself feel better when sad. Strategies for self-regulation can be verbal or physical, such as clicking a pen, walking around or tapping a foot.
Nevertheless, changing the classroom doesn't always suffice. "I think kids all need a place to go when they're feeling overwhelmed," Damm said. "Students with anxiety will always have a place to come in this school, or kids who are just feeling overwhelmed. You don't have to have a diagnosis."
This belief led to Damm's creation of the high school's zen room in 2011.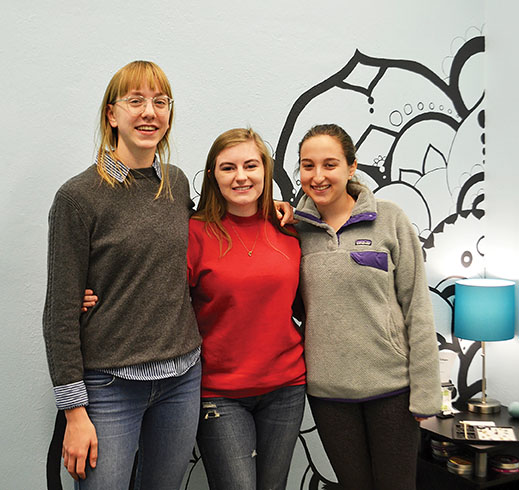 The space is connected to her office and was remodeled in 2016 by seniors Hana Flamm, Claire Hawk, Abigail Herbst and Emma Neil for their International Baccalaureate creativity action service project. They won a grant from the Shaker Schools Foundation to fund it.
Damm defines the zen room as a place where students can collect themselves through different activities, such as playing with fidget spinners and putty. It also helps her assess students and decide whether she should refer them for further help.
Prior to the renovation, Neil felt that the zen room did not evoke calming feelings. "I noticed that the room was really not clean and pretty depressing. The walls were white, but, over time, had accumulated a lot and were a darker grey," she said. "I was like, 'This room needs to be redone.' "
Neil explained that the focal point of their effort was the mandala they painted on one of the room's walls.
A mandala is a Hindu and Buddhist symbol that represents the universe. "It's supposed to be a calming thing, something that people can trace. It's nice to look at," Neil said.
Damm emphasized that the zen room is not a resource reserved for students who have diagnosed mental health issues.
At the same time, however, she stressed that the zen room is not to be used to avoid problems. "We try to make it so it's not a place to escape," she said.
The zen room's low profile is intentional. "One of the things that the Shaker [Schools] Foundation, was concerned with was that the zen room was something that kids would get out of class to do and not for the right reasons, so for that reason, we decided to not advertise it," Neil said.
"People should know it's there, but it's a fine line to tread how they use it," Neil said.
Senior Paige Campbell said she wishes she had known about the zen room earlier in her high school career. "I only learned about the zen room, maybe, last week when [someone] was telling me about it and how she goes there a lot," she said. "I was like, 'Wow, thanks for telling me this because I could use that most days when I'm sitting in class, hysterically crying over my bad test grade.' "
Damm feels that Shaker has done a superior job treating the mental health concerns of the student body compared to other schools. "I think we do a better job than most places. Talking to my peers — nurses — people don't do what we do here," she said.
But staff feel that the number of mental health personnel at the high school could be increased.
Schaumburg said that there should be more mental health staff present.
"Well, I think with 1,600 students, there's always room for improvement. I'm one person, 24 hours a week, who can't see every student. So, I'm always behind," she said.
Peake echoed her concerns.
"
I'm one person, 24 hours a week, who can't see every student. So, I'm always behind.
— Nancy Schaumburg
"I'd like to see us have more mental health professionals in the building, or to have maybe more time for us to spot-check and provide some of the lighter services with students having a difficult time at home," he said.
O'Verko tries to make his class easier for his students. "I always try to warn the kids what's coming and tell the kids that it's been that way for your classmates before. You guys will get through it," he said.
However, some students point out inconsistency between adults' concern about students' well-being and their emphasis on achievement.
Campbell said that teachers and counselors put too much stress on students to join AP or IB classes and should advocate more for students to join Honors-level classes. "I get that IB is, like, the big thing, but us Honors kids kill it, too!" she said.
"I think having the teachers really strictly follow the testing days for their subject and flex nights would help," she suggested. Each academic department is assigned days designated for testing in that subject and a "flex night" when those teachers should not assign homework. This is a long-standing practice designed to balance student workloads.
Although Shaker offers mental health programs, students may not be aware of them.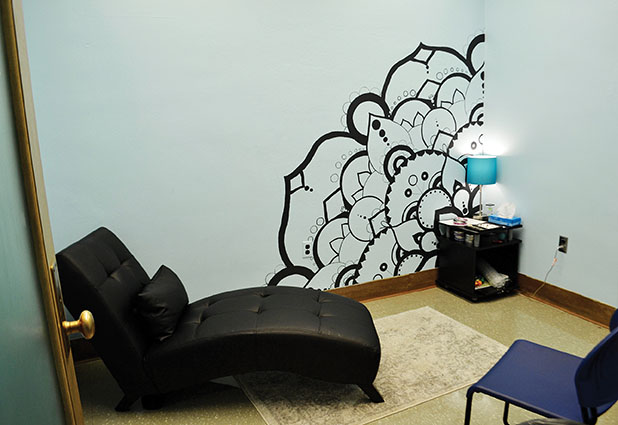 Senior Daniel Crouse also thinks that the school hasn't done much to address students' mental health concerns. However, he doesn't think it's the school's responsibility.
"I think the school really doesn't need to do much. It could have information available, but . . . if someone has, you know, any sort of mental health issues, there are other resources, and most people wouldn't be comfortable doing anything through the school, so it seems unnecessary," Crouse said. "It's really not the school's job to deal with that. It's an individual thing."
Senior Evan Jones thinks student ignorance about mental health services is a problem. "I think they should definitely advertise more because I didn't know that's a thing, and I've been here for four years," he said.
The senior girl who noted her fear about not getting into college was hospitalized for mental health concerns. She said she was approached by the social worker once after that, but seeking help would mean missing instruction. "They approached me and reached out to me and let me know that they were there as a support, but I don't really feel comfortable leaving class, missing work [and] getting behind to go talk about my problems," she said.
"Before they did approach me, I didn't know that there were resources like that. I knew you could approach your counselor, but your counselor is more there for college things and not how you're feeling. It's nice to know that if I ever were in need of a break, I could go talk to someone," she said.
The junior girl said that the only time the school initiates talk about mental health is in health class. "And if we're talking about it in health class, people will still act immature," she said.
Damm said that the situation would be different if a tragedy occurred, such as the death of a student or staff member. "If there's a crisis, we make ourselves very available," she said.
The senior girl who was hospitalized suggested that the school present its mental health services during advisory. "We have advisory once a month. They tell us everything else about the school. They could have [the social worker] come talk to us and let us know that she's there. To know that you have a professional there that could help you, I think that that would be helpful."
Damm explained that her goal is for everyone to feel safe at school.
"
It just needs to be made clear to the student body that if you're miserable, you're not doing something right.
"I don't want anybody hiding, I don't want anybody taking off or leaving the building. I want people to be safe and to go to people that they feel comfortable with," she said.
The senior girl who wants teachers to notice signs of anxiety emphasized that students' mental health should be prioritized above excelling in classes.
She said, "It just needs to be made clear to the student body that if you're miserable, you're not doing something right."
Web Managing Editor Astrid Braun and Journalism II Reporter Nick Voyzey contributed reporting.
A version of this article appears in print on pages 34-35 of Volume 88, Issue 2, published Feb. 8 2018.
Comment using your Facebook, Yahoo, AOL or Hotmail account
comments
Leave a Comment