Hall of Fame Inductees Challenge Students
In speeches, notable alumni encourage public service, invite students to use their Shaker DNA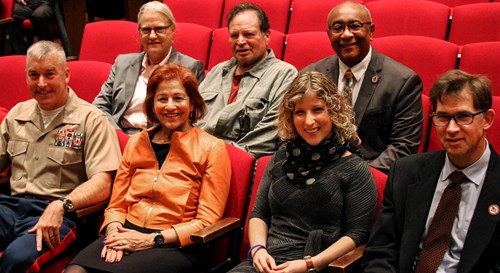 From a director and producer of TV shows and movies to an assistant United States attorney, the 2014 Shaker Heights Alumni Association Hall of Fame inductees captured the vast possibilities of life after SHHS during the annual Hall of Fame Assembly Oct. 13 in the large auditorium. The inductees comprised eight Shaker Heights High School alumni whose graduation years range from 1960 to 2001. Their speeches served as both an appreciation for the honor and a chance to inspire students with their careers.
Grace Lougheed
From Shaker to the Screen
Harvey Laidman ('60) has come a long way since appearing on a Shaker stage.
From a young age, Laidman knew he had a future in television. As a high school student, he participated in several theater productions. Though he was not the greatest student, he said he learned a lot about improvisation through taking midterms and finals.
"Every director must improvise and think creatively," he told the audience.
However, Laidman said he would not have been able to get into a good college if it weren't for his German teacher, who pushed him. "She crammed German into my head," he said, and taught him what it meant to attend a well -known school like Shaker.

At first, Laidman wanted to work on the radio station KYW, now known as WKYC. He went to California, hoping to return and find fame in the radio business. However, Laidman found a different calling instead. Graduating from the University of Southern California  with a degree in cinema, he went on to produce TV shows and movies.
While Laidman has only won one award for directing, he said he has contributed to episodes that have won recognition for others. He said he feels great joy for helping the winners rather than winning the award himself.
Some of his more famous TV productions include "The Waltons," "Paper Chase," "Chicago Story" and episodes of "Matlock."
Laidman told the story of his role in a high school production. It was Laidman's job to run up the stairs on the large auditorium set with a bugle and yell,"Charge!"
He didn't know, however, how to blow correctly into the bugle's mouthpiece. The resulting sound "was, well, flatulence."
"That's when I knew I had a future in television," he said.
Later he realized the experience was a metaphor. In life, events can defy planning, but, he said, that's not always bad. He said if you accept  these changes, things may turn out better than they were originally meant to be.
Laidman said, "You may think it's about running up the stairs yelling, ' Charge,' but it's really about blowing your bugle."
Emily Boardman and Sean McMillan
When You Come From a Place Like Shaker
As a child, Maxine Isaacs witnessed Shaker's effort to maintain integration, and that experience helped inspire her to public service.
Isaacs ('65) went on to accomplish great things in the world of politics and theater, including serving as press secretary and deputy campaign manager for former Vice President Walter F. Mondale when he ran for president in 1984.
When she was 10 years old, the first African-American family moved onto her street in the Ludlow neighborhood. She began to see white families moving east, away from the newcomers. Isaacs' family then founded the Ludlow Community Association to bring more diversity to Shaker.
"It's essential," Isaacs said in an interview. She believes that people should value diversity. It was especially important for her during that time as the civil rights movement made its way into Shaker. Now, she takes pride in Shaker's multicultural environment. "The academics, diversity and expectations are what make Shaker unique," she said.
In 1964, Isaacs was a senior. She told the audience that her father decided to run for city council president. Though he lost, his dedication inspired her. Having grown up in politics, she urged people to pursue careers in public service because they strengthen democracy.
Issacs said women faced challenges in the political field during the '80s. "It was a man's world," she said. "It's still not even 50-50." The inequity didn't deter her.  She said,"When you come from a place like Shaker. . . you come from a place of purpose."
Isaacs now teaches at Harvard's Kennedy School of Government and continues to love theater. She said she founded a play-reading group that exists still at Shaker, and she wants to help stage works through her production company, Max Productions.
Issacs believes that theater can "take questions in society and helps work [them] out in a non-threatening way."
Hannah Kornblut
An Officer Thanks His Teachers
"Good morning, Shaker!"
In his dress uniform, Col. James Gannon offered this snappy greeting to the audience gathered in the large auditorium Oct. 13 for the hall of fame induction assembly.
Gannon ('81) a former colonel in the U.S. Marine Corp,  was one of the eight Shaker alumni to be inducted into the Hall of Fame. In his 29 years as an officer, Gannon has been stationed in 15 different duty stations and has traveled to 26 countries.
Gannon's work is recognized today at Fernway Elementary School, where the American flag that flew over Gannon's compound in Iraq hangs on a classroom wall.
Gannon said he had a memorable time as a student at the high school. Along with his studies, Gannon was a part of the Raider swim team. He said he brought a lot of assets from Shaker into his Marine life, but the most valuable was Shaker's diversity. He said it prepares students for life and interactions with different people.
Gannon also credited Shaker's faculty with preparing him for success. He read a long list of his teachers' names and commended their work, including math teacher Barb Arsham.  "The education here, and the fundamentals, along with the all the basic subjects' math, reading, English, and science had helped me tremendously in preparing me for the real world," he said.
Gannon recommends students pursue a military career as he did. "The quality of students that come out of here, the diversity of the organization, the opportunities in sports that are available here, and the very high academic standards here at Shaker Heights High School" ensures students' success.
He told the audience, " This is a great school. It is a great institution. Don't take for granted what you have here. Take advantage of every opportunity the faculty and institution give you. "The faculty here is cultivating you young Americans to go on and do great things."   
Elena Weingart and Sam Danford
No Longer Shy, She Roots Out Corruption
"We have only one mission: to ensure that we are doing justice."
Ann Rowland, proud yet humble, spoke about her career during her acceptance speech at Shaker Heights Alumni Hall of Fame assembly. Most recently, she has prosecuted more than 60 government officials and business people in a wide-ranging investigation of corruption in Cuyahoga County.
Rowland ('69), had quite the journey to becoming an assistant United States attorney. She started her education at Mercer Elementary, then progressed through the Shaker school system. She acknowledged that her professional accomplishments seem unlikely given her shyness as a student. "I was afraid to raise my hand in class," she told the audience. "I don't think I was ever on this stage until now."
In one way, her experience at the high school contrasts sharply with today. Women were much more limited, both in education and employment. There were "few places in school where girls could be leaders and work on their confidence," she said. At the high school, Rowland participated in athletics. She learned teamwork and how to be aggressive — skills she uses daily as an attorney. She said Shaker's women's sports program was "ahead of its time in northern Ohio."
Although sports provided her with opportunity, women did not have similar chances outside of high school. Rowland said she did not meet a female attorney until her third year of law school, and only three in 100 state prosecutors were women. Twenty  percent of her graduating class were women, and Rowland herself was just the third female attorney in her office.
Rowland defied these odds, earning her positions including deputy chief of the criminal division, chief of the major fraud and corruption unit, and assistant united states attorney for 34 years.
During this journey, Rowland did not forget her Shaker years. She remembered "a really safe place to explore problems with the government."
However, she may have forgotten her way around the hallways. "I got lost," during this visit, she confided with a chuckle.
Rowland encouraged students to consider a career in public service. "You can Google me, find my phone number . . . I'd be happy to have you down at the courthouse to have lunch," she told the audience.
Rowland offered a final word of advice. She said, "Life has a way of turning out not according to plan . . . When you make your decisions, make sure each decision is opening doors and not closing them."
Emily Montenegro and Natalia Perkins
From Navy SEAL to M.D.
David Leu admits he's still learning.
Dr. Leu ('88) joined the Navy after high school. He said he "wanted to do something good" because he was "more physical than academic."  Leu served eight years and became a Navy SEAL. In his speech, he advised students considering a military career. "Take advantage of teamwork, and enjoy the adventure the Navy has to offer," he said.
Leu's father is a physician, sister a geneticist, uncle a lawyer, and mother a teacher.  Although his family members forged a hard path to follow,  he believed they "instilled with me a strong passion to pursue medicine."
Upon his departure from the Navy, Leu worked hard to become a pediatric orthopedic surgeon and now resides in Baltimore. He is fond of teaching others what he has learned, and confidently said, "I'm still trying to figure out how to learn. In medicine not many people want to admit this."
Shaker has helped Leu throughout his life. "It opened my eyes to the diversity of the world, and I learned to appreciate the teachers and what they taught."
However, Leu has noticed the high school is different now.  "I think you guys have a tougher time now — there's a lot to learn.  Looking at the news, you guys have hard problems, but because of the diversity you experience here you are prepared to be leaders."
Along with his grandmother, who was among the high school's  first graduating class in 1932, and his mother, Leu is "proud to be a member of Shaker." He urged students to be active. He said, "Make your voice heard."
Lily Roth
When it Comes to High School, "Embrace the Fear" 
"So I ask you, how will you leave your mark?"
Inductee Zachary Green  asked this inspirational question at the Shaker Heights Alumni Association Hall of Fame assembly Oct. 13.
Green ('74) earned a Ph.D. from Boston University and is a clinical psychologist, professor and international social justice consultant. In an interview after the assembly, he said he has visited South Asia, Africa and India for his profession.
"When I went to South Africa for the first time, I went to the AIDS orphanage," he said.
He said that he saw happy kids there, much to his surprise. He said that the prior to the orphanage, the kids had never received such care. Green realized he needed to help this cause and adopted a child from the orphanage soon after.
Green has also traveled to India, where the women are "treated like trash."
"The women would sing a song in Gujarati," their the native language. He said the song was a translation of "We Shall Overcome."
 He said this moment astounded him because the women were inspired by Martin Luther King, Jr. to sing it.
Green, who taught at the high school, said that he left Shaker with a different understanding of the world, both as a student and later as a teacher. He was not as involved as a student, but as a teacher, he was the faculty adviser to Speech and Debate Club. He is also the founding adviser of the Student Group On Race Relations.
He said that he created two groups when he taught at Shaker, one for Caucasian kids who felt out of place in their classes, and one for the African-American kids who felt the same. He then melded the groups into SGORR. He said that he thought the group would last only two to three years. The group is now in its 34th year.
Green said high school is a time to "embrace the fear" or scariness, because this will become your pathway to what you want to do in life. He noted that students over the years have improved in one important way: "The students listen to each other."
Zachary Nosanchuk and Yasmine Kayali
From Inductor to Inductee
"I never thought when I was sitting here 13 years ago that I would be standing here 13 years later."
Amy Lazarus ('01) shared this observation when she returned to the large auditorium stage to accept the honor she once presented to a previous inductee. Lazarus is the inaugural executive director of the International Institute for Sustained Dialogue, an organization that promotes ways to transform racial and ethnic issues all over the world. It helps people make their communities more diverse and welcoming.
During high school, Lazarus was the 2001 class president and a CORE leader in SGORR. Both experiences have influenced her life and career.
Student Council "helped me find my leadership skills and showed me the power of students," she said.  Shaker students work in diverse groups, learning to communicate effectively. These are experiences Lazarus considers advantageous..
"I got to college and people didn't know how to interact with people who weren't the same sexual orientation, social class or race as them," she said.
Lazarus encouraged students to use their Shaker DNA to "go out and move this world."
Lazarus has done so herself and was named one of the 99 most influential foreign policy leaders under the age of 33. She earned this title through her international work, which includes setting up peaceful communications between Palestinian and Israeli people. Lazarus said that, in order to solve problems, she tried to show people how to "see each other in each other."
She asks everyone to consider this question: "If I were raised as you were, would I believe what you believe?"
Alexa Jankowsky and Ose Arheghan
A Historian Who Found Joy in Teaching
Arnold M. Shankman ('64) was inducted to the hall of fame posthumously. At Shaker he discovered an interest in history. He went on to Knox College in Galesburg, Illinois. There he continued to explore his passion for history by writing articles for his school newspaper. After graduating from Knox College, Shankman served as an assistant professor of history at Emory University from 1972 to 1975. He accepted a position as a professor at Winthrop University in early 1975.
His time at Winthrop was well spent. Devoted to his students, he became a successful professor and member of administrative committees. While at Winthrop, he continued to study the social history of women, Jews and African Americans. He also focused on teaching the history of the Civil War and the South. After almost a decade of teaching at Winthrop University, Shankman died of cancer in 1983 at age 37.
Known for his sense of humor and for finding joy in teaching, Shankman enlightened the minds of students and contributed to important publications. His life left a footprint of social advancement consistent with the culture of Shaker.
Grace Lougheed and Lillia Gray
 This story has been updated to reflect Ann Rowland's correct graduation year, 1969. 
Comment using your Facebook, Yahoo, AOL or Hotmail account
comments
Leave a Comment