Griffith: Zeros On Missing Assignments Unacceptable
New Policy Aims to Motivate Students, But Work Outstanding at Quarter's End Will Still Net Zero Credit
High school teachers will no longer be allowed to give students zeros this school year on assignments they haven't turned in, except at the end of a grading period when an assignment still hasn't been completed.
Principal Michael Griffith announced the policy in a letter dated Aug. 15 and discussed it at a faculty meeting Aug. 23. Griffith said he had been considering the policy for several years.
According to Griffith, research indicates "in any kind of average-based grading system that zeros are inappropriate. I also looked at all of the students that had not passed courses, and the two most likely indicators as to their failure was either missing assignments or attendance. One of my feelings is that if we're going to prepare kids to be successful, we've got to challenge them to complete work," he said.
"If the teacher effort alone isn't able to do that, we have two more levels of intervention. Our academic adviser, [Mary Lynne] McGovern will then get an academic referral, not a disciplinary referral. It says, 'This student is not getting done stuff we need, and we're going to address that,'" Griffith said. "If that's not sufficient, our assistant principal and guidance counselor are teamed up and will do an intervention plan, and we're going to challenge every single student to achieve at that highest level. If at the quarter the student hasn't done it, at the end of the day, there is a time that we must give a grade. And that grade will be a zero."
Asked whether teachers would have to abide by this policy, or if it was merely a suggestion, Griffith said, "That's what we're doing. This is not optional."
Psychology teacher Sylvia Sheppard said she has already been using ProgressBook's missing assignments option for work not submitted. ProgressBook is the online grading system used by the school district and which is still not available to students and parents this school year.
"I did want to give students every opportunity to make up a test, turn in the work, so even though I have deadlines and I hold by those deadlines, if I have a student who's really struggling, I'd like to give them the opportunity to make sure that they get all the information and knowledge and have had all the opportunities to show what they know throughout the semester," said Sheppard, who is chairwoman of the social studies department.
However, when averaging student grades, ProgressBook counts missing assignments as 0 percent until the work is turned in and a grade entered. Griffith said the policy's purpose is to change students' mindsets about missing work to encourage them to complete it. "What we're really saying is, 'It's missing. Get it done. We're coming at you to challenge you to get it done.'"
Junior Narayan Sundararajan likes the move. "I think that giving teachers the ability to hound students for their work is much more beneficial for a student than basically subconsciously discouraging them by giving them a zero on an assignment," Sundararajan said. "Sometimes I accidentally didn't turn in assignments because I forgot, which was my fault, but it would really bring my grade down, so I was discouraged, so it was harder for me to get the grade up."
Griffith said the school had not yet set a uniform standard for the credit given for  assignments turned in late. "We haven't finished discussing yet how much credit might someone who didn't do something as expected would get, because the expectation hasn't changed: you're to do your work on time."
Partial credit is an important motivational tool, Griffith said.
"So they've done it [an assignment] late. Is everything 100 percent? No. You have to have some incentive to do it," Griffith said. "If I'm going to give you nothing for it, then what's your incentive to do it after the fact?"
Around 75 percent of teachers already enter assignments as missing on ProgressBook, Griffith estimated, and this move is "formalizing it as a teaching community."
Sundararajan agreed with that estimate. "There are just a small minority [of teachers] who automatically marked it [an assignment] off as a zero. But most of my teachers have given a week or until the unit test to mark a grade as missing, and then after that it's given as a zero."
Sheppard said she doesn't believe this is a major policy shift.
"I think for other people it might be a big deal, but I think when you look at what it actually means, no zeros doesn't mean no zeros. The work is missing. It's a language thing. But I think that many of us already do this as well," she said. "I think by and large, the general population of students, they do meet deadlines. Sometimes they need a little bit of extra time, and you know, late penalties can apply on these things. Some of them do need a bit of extra time, but the general mass of students meets deadlines. This is for that student who isn't meeting that, but needs that extra support."
Campus and City Editor Abby White contributed reporting for this story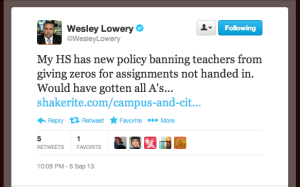 Comment using your Facebook, Yahoo, AOL or Hotmail account
comments
Leave a Comment