From South Korea to Shaker Heights
A delegation from Chungcheongbuk-do Province visited the high school to learn about IB in a public school setting
A delegation from South Korea visited Onaway Elementary, Woodbury Elementary and the high school May 20 to learn about the International Baccalaureate Programme.
This is the first time a group of this kind has visited the district. Delegation members included Byoung-woo Kim, governor of education from Chungcheongbuk-do Province, South Korean journalists, professors and teachers.
The IB curriculum comprises three categories. The Primary Years Programme focuses on children in pre-kindergarten through grade four; the Middle Years Programme is taught from grade five to grade 10. Then, students can opt to join the Diploma Programme, which is taught from grade 11 through grade 12. In addition, Shaker also offers the IB Medallion Programme to students in grade 11 and grade 12.
According to Moore, many of South Korea's private schools have enacted IB, and after seeing Shaker's website, they wanted to learn more about how IB works in a public school district.
"About a few months ago, I was contacted by an administrator from [Chungcheongbuk-do Province] to ask if we could set up a visit. Their goal of that visit was to understand how Shaker has taken an approach of International Baccalaureate for all," Moore said.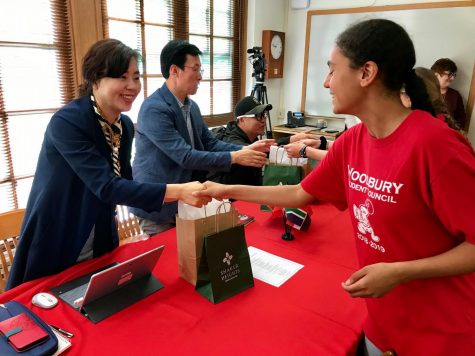 Moore said he loves the delegation's mission, which is in response to South Korea's conflict with North Korea over the north's  nuclear weapons and border disagreements. However, South Korean President Moon Jae-in and North Korean leader Kim Jong Un committed to a peaceful era Sept. 19, 2018. South Korea also sent more than $8 million worth of aid to North Korea May 17.   
"One of their missions is education for a more peaceful tomorrow," he said.
According to Moore, South Korea's education system was very fact-oriented and test-based, but the department of education wants to educate students more creatively. They try to visit some of the world's best schools annually.
"I think that this one-day visit is going to pay dividends here in the future and give our teachers and students more opportunities around the world. And if that's not at the heart of IB, then we'd be missing something. We really want to expand the horizons of all students, and I think a partnership with South Korea could help us do that."
Journalists from the delegation observed sixth-period lunch and took videos of the students.
"I thought it was interesting. We never get news reporters," sophomore Naomi Reizes said.
The group also visited Kent State University May 21. KSU students who earn teaching degrees receive an IB teaching endorsement. Usually, teachers must complete training at an IB workshop to be qualified to teach the IB curriculum.
The group also went to Hawken School, which has joined the Mastery Transcript Consortium. The MTC assists public and private schools in replacing traditional grades with unique transcripts that denote individual students' mastery of knowledge, skills and attitudes.
Moore said the delegation's visit was a very interesting experience.
He said, "I hope, I plan, I think, this is going to be the beginning of a relationship, not the end. I hope that they saw some really exciting things. I think they kind of got hooked on the Shaker dream that is an equitable, inquiry-based education for all."
Comment using your Facebook, Yahoo, AOL or Hotmail account
comments
Leave a Comment