First Sudden Move Has Nothing to do With Pandemic
After a kiln creates smoke in the high school overnight, district cancels classes
All high school classes were canceled Feb. 23 due to smoke created by a kiln in the building. 
Kilns are used in high school Ceramics classes. They can reach temperatures around 2000 degrees Fahrenheit to fire clay pottery pieces, according to Ceramics teacher Christina Stouffer.
"Wood was inadvertently put on top of the kiln," Executive Director of Communications and Engagement Scott Stephens said. "Whomever put it there was not aware that the kiln was on. It was an inadvertent mistake."
In text and email messages sent at 5 a.m., the district announced the cancellation of both online and onsite high school classes. Classes resumed regularly today after the removal of smoke from the building.
The Shaker Heights Fire Department responded to the smoke alarms around 2 a.m. on Tuesday morning, according to Stephens. "Nobody was hurt. It was all smoke, not fire," he said. "It was limited to the basement and the first floor."
"Luckily there is no damage," said Stouffer. "Everything is OK."
Book distribution of the all-school reading book, "Dear Martin," was also canceled, but has continued with the resumption of classes.
All other Shaker schools, including the Innovative Center for Personalized Learning, stayed open and operated as normal. 
Junior Margaux Girard was surprised by the decision to cancel classes rather than order remote instruction for the day.  "I was expecting that they wouldn't let us miss any more school," she said. To enable COVID 19 vaccination of staff, the district closed school Feb. 16 and will also close March 10.
Girard said she was happy to have a break from school and take a mental health day.
Principal Eric Juli said that the decision to cancel classes yesterday was made to support teachers. "I don't want us to think about teaching as being the same when it's in person and when it's at home," he said.
"Teachers could have had materials in their classrooms that they needed, you know, stuff that they were planning to do, and to spring that on teachers at five o'clock in the morning and say, 'You have to reimagine your plans,' is pretty difficult," Juli said.
Overnight, school administrators discussed moving to remote instruction for the day, according to Juli, but everyone agreed that it was better to err on the side of supporting teachers and students.
"You want to go to class and know that you're doing meaningful work, and to say to teachers, 'Totally switch your plans,' at the last second isn't really fair to anybody," Juli said.
Sophomore Anna Kate Graban was surprised but glad that classes were canceled. "I thought it would be relatively easy to just do online," she said, "but I am very happy about it, though."
Only odd-period classes were to meet yesterday, according to the high school's hybrid schedule. Juli said that an additional odd day might be added to the schedule. "We have a plan for about a month ahead about which days are odd and even. We can look at it and see if we want to add another odd day to make up for this," he said.
Juli is hopeful that school will continue normally this week. "At the moment, the plan is to just keep on going with the week," he said. "I wouldn't have planned it this way, but it's an unforeseen circumstance, and you've just got to move forward."
Comment using your Facebook, Yahoo, AOL or Hotmail account
comments
Leave a Comment
About the 'Riter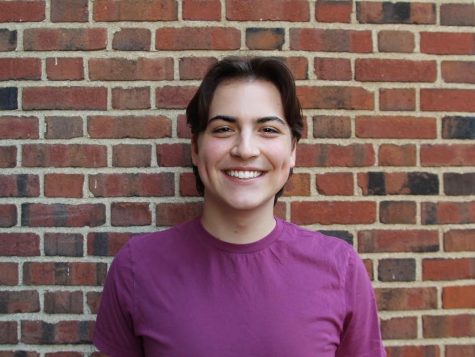 Brendan Zbanek, Editor-in-Chief
Brendan Zbanek ('23) is in his fourth year with The Shakerite. He is currently the Editor-in-Chief, running and overseeing all coverage for shakerite.com and print issues. Brendan was previously The Shakerite's Web Managing Editor his junior year and
Social Issues Columnist his sophomore year. Aside from The Shakerite, Brendan is a CORE leader in the Student Group on Race Relations, a student council representative, on the Superintendent's Student Advisory Council, a Shaker Writing Center intern and an active member of numerous other clubs. Outside of school, Brendan can be found with friends or scooping ice cream at Ben & Jerry's.