Fernway Draws Strength From the Wreckage
Fernway fire sparks community collaboration
The Fernway community, hit hard in the past week, is determined to overcome the damage done to its school.
Last Tuesday's fire caused the roof of Fernway Elementary School to cave in. The 1927 building, which houses 329 students in grades K-4 sustained "sgnificant damage," according to Executive Director of Communications Scott Stephens. The roof was being repaired at the time of the fire. The investigation is still underway.
The fire lent a sense of sadness and purpose to the annual Glencairn Road block party, held just four days later.
"We were pretty heartbroken when we found out that it was the school that was on fire," said Ariana Del Re, a block party organizer. "We honestly were just looking for a way to do something. I think everybody, when things like that happen, kind of feels like it's something that you feel is out of your control. So you look for a way to do something positive, just to, you know, contribute and rebuild and move forward."
Ariana Del Re and her neighbors decided to make this year's block party a fundraising event to help rebuild Fernway teachers' classroom libraries and raising $1,000. "I recognize just how valuable those books are and just how long it takes to build up those libraries," said Del Re, who is a fifth grade teacher herself in the Tallmadge City Schools.
Ariana Del Re watched with her daughter, Giuliana, who is entering second grade at Fernway, as the building burned on the morning of July 10. "My daughter noticed it," she said. "So we stepped outside and we smelled the fire. It was before the first responders had even gotten there; we hadn't even heard sirens yet."
Her husband, Joe, who played in the band at the block party, learned about the fire while he was at work and watched on a friend's FaceBook Live feed. "You instantly feel a sense of loss and a lot of questions," he said. "But then when you see, not only the Shaker fire department but all of the surrounding communities there, there's a sense of reassurance, because you know they've got this handled."
Another Fernway parent, Amber Malek, agreed. "I think it's the silver lining around the tragedy that happened over at the school, that it just shows how the Shaker community is coming together," she said. "We're going to rally and turn it around — and make the best out of the situation."
Malek is part of the Fernway Parent Teacher Organization, which is working with other PTO groups and communities to help the All Disaster Services of Cleveland workers who are cleaning Fernway. "We wanna really just show our appreciation, whether that's making sure they have snacks, thank-you cards, stuff like that," she said.
Ariana Del Re's daughter said soon after she smelled the fire, she worried about her own house. "I grabbed my diary, my monkey and my doll and I raced outside because those are my most favorite things," Giuliana said.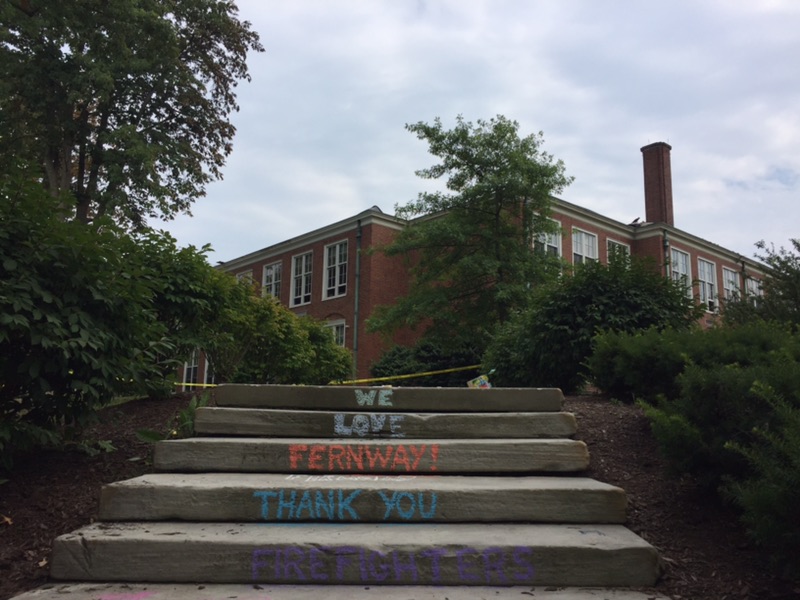 Seventh grader Mia Hart, who attended Fernway, said she also smelled the fire from her house. Hart, her mom and her brother went outside on the street corner to see the fire. "It was really sad to watch," said Hart. "Especially because my dad went there for awhile, and then I went there for five years."
Parent Katie Wozniak attended Fernway as a child. She and her son had the same first-grade teacher there. "So it's been a building in my life for a long time," she said.
Wozniak was out of town when the Fernway fire happened. She said, "I was happy because I think it would've been much more traumatic to see it in person." She didn't know the size of the fire until seeing the neighborhood photos. She and her family live across the street from Fernway and were worried about their house and the fire spreading. "Thankfully, the firemen are amazing and got it contained," she said.
Wozniak also said it was very emotional coming home and seeing the damage, but she was happy at how well the community is uniting. "I felt like we all just kind of embraced each other and hugged each other a little bit tighter," she said, "which is always wonderful to see in times of adversity."
Fernway Principal Chris Hayward sent parents an email that included advice on talking to children about the fire. He suggested that parents say the following: "I have some hard and surprising news to share: There was a fire at Fernway that badly damaged the building. The good news is that no one was hurt and there are now a lot of adults who are hard at work figuring out how to fix the building and get ready for the school year."
Hayward advised parents to reassure their children that they will start school on the scheduled date and will remain Fernway students who will be taught by a Fernway teacher and have Hayward as their principal.
Finally, Hayward noted some tips and reminders for parents to keep in mind. "We all experience emotions in different ways at different ages, so it's quite possible that the news of the fire may not be upsetting to your child," the email stated.
Lisa Hopkins found this to be just the case with her children. Both her son and daughter attend Fernway, but she said their reactions to the fire were vastly different. "My son thinks it's hilarious that Fernway got its head chopped off, whereas my daughter is not amused," she said. Hopkins' son is going into first grade at Fernway, and her daughter is entering fourth grade.
Ultimately, Joe Del Re thinks the fire should be seen as a teaching opportunity. "That night, the whole community is out there signing cards and chalking," he said. "It's really cool for our kids to see how community works, how neighbors work and how people lift each other up in times of difficulty."
"Overall in the community, everyone wants to help and everybody wants to show their support," Malek said.
The mindset of the community has made a quick shift for the better, Ariana Del Re concluded. "I think that as you start to see people pulling things out of it, and you start to see the cleanup going on," she said, "that it kind of has shifted from that heartbreak to, 'We're going to make our way forward on this.' "
Comment using your Facebook, Yahoo, AOL or Hotmail account
comments
Leave a Comment