Early Release Monday Leaves Student Athletes With Time to Spare
Monday's new early dismissal schedule, adopted to help teachers plan instruction, has created a time gap for student athletes.
In previous years, Tuesday schedules required students to be in their first period class at 8:47 a.m. instead of 8:05 a.m. This gave teachers 42 minutes of extra time to collaborate and plan International Baccalaureate instruction in the mornings, which is required by the program.
"[The new Monday schedule] is a result of our International Baccalaureate self study," high school Principal Jonathan Kuehnle said. "When you are an IB school, every five years you are required to conduct one."
One finding of the most recent self study was that the IB program is especially time-consuming for teachers. In order to create more collaborative planning time, a new schedule was created to set aside time on Mondays from 2:14 to 4 p.m. These 106 minutes allow teachers to collaborate on curriculum and instruction weekly—more than double the time they had last year.
"If we don't address the findings from our study, it is possible that Shaker will no longer be considered an IB school by 'Big I.B.' " Kuehnle said. "That was one of the the main reasons for doing it."
Student athletes, whose after-school practice times are affected by the schedule change, weighed in on the change.
Freshman volleyball player Devon Curti never enjoyed the Tuesday bell schedule because she was not yet at the high school when it was used. "I'm so mad that we didn't get it," she said. "I would have 100 percent preferred it."
A Shakerite survey of fall student athletes drew 91 responses, and 74.7 percent of them preferred the Tuesday schedule over the Monday schedule.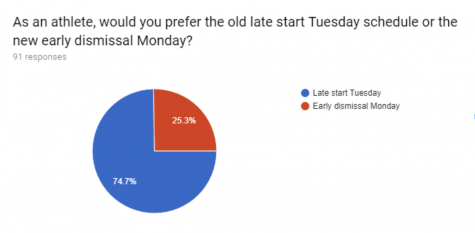 Because school ends at 2:14 p.m. on Mondays, some in-season athletes face a waiting period before their teams practice. Athletes may stay at school and attend study hall in the upper cafeteria until their practice starts. Other students must leave the building because teachers do not hold conferences on Mondays.
Some athletes are wary of the study hall in the cafeteria and worry that it will be loud and unorganized.
"Do they want me to sit it the cafeteria for an hour and a half and do nothing?" said sophomore cross country runner James Kennedy. "I feel like it is just not going to be a good place to study."
Kennedy said it is also hard for working parents to pick their kids up from school on these early Mondays.
Most student athletes who preferred the Tuesday schedule said they liked it more because it gave them extra time to sleep.
"Students our age need sleep!" sophomore field hockey player Lily Camp said. "The Tuesday schedule gave me time to get that."
But Jacqueline Johnson, a sophomore volleyball player, prefers the new schedule. She has been to the after-school study hall in the upper cafeteria and said it is helpful.
"It was a little unorganized at first," she said. "But I think it's useful. You can get your homework done before practice instead of staying up late on a Monday to finish it."
Johnson said that she would definitely attend the study hall again.
This year on Mondays, however, coaches are allowed to start practice as soon as school lets out rather than the standard time of 4 p.m.
The schedule was also changed because late-start Tuesday led to frequent tardiness.
"Even though we gave about 45 minutes of late start, Tuesdays were the days when the tardy line was almost out the door," Kuehnle said.
"I would be more likely to be late on Tuesdays because it threw my schedule off," Johnson said.
Kuehnle said, "Overall, our students and teachers should benefit from the new Monday schedule put in place, rather than the Tuesday schedule."
Comment using your Facebook, Yahoo, AOL or Hotmail account
comments
Leave a Comment