District Switches to PowerSchool
Issues run rampant with new grading and attendance platform
Starting in the 2022-2023 school year, the district began using PowerSchool instead of ProgressBook.
Serving 15,000 school districts across North America, PowerSchool Student Information System is becoming increasingly popular as more schools adopt this platform.
PowerSchool became a public company in July 2021, valued at $3.5 billion. Since its founding in 1997, the company's ownership has changed four times. Previous owners include Apple, Pearson and Vista Equity Partners. A 2021 Edweek Article drew attention to the criticism that publicly traded education companies such as Pearson Education have faced in the past. The article states that public education companies like Pearson have put the interests of shareholders before the interests of schools. 
According to John Rizzo, Director of Technology and Media Services, the switch to PowerSchool was not financially motivated, but due to the fact that PowerSchool "provides all core functionality required of a PreK-12 school district plus a much larger menu of third-party application integrations and a rich set of data tools which will provide real-time insight into student educational outcomes," he wrote in an email.
"Strategic Objective 1.1 of the District's 2020-2025 strategic plan provides the underpinnings for the decision to migrate to PowerSchool," Rizzo wrote. Strategic Objective 1.1 of the plan states that the district should "Improve and refine the District's data system and the District's capacity to use educational data to drive student outcomes."
According to PowerSchool's website, information such as schedules and grades are accessible for students to view. Unlike ProgressBook, PowerSchool has a mobile app that students can download, which allows them to access their information from anywhere.   
"PowerSchool provides a robust parent and student portal that houses multiple student information points including grades, attendance, report cards, assessment scores, fee information, and more. The parent/student portal also includes a mobile app that provides push notifications to parents for grade and/or attendance updates," Rizzo wrote in an email. 
Although the program may be more accessible to students, it has presented challenges for teachers and school counselors, who had to adapt to the new program with inadequate training and support. 
According to David Peterjohn, Guidance Department Chair, guidance counselors only received one training for the new program. "We're not sure why we switched, and nothing was ever explained to us why it was switched. It is what it is," Peterjohn said.
According to Peterjohn, the counseling side of the program is not nearly as accessible as Dazzle, the previous program associated with ProgressBook. "We could do one or two clicks and get a class list or get a search of students, but now with PowerSchool it seems to take 7 or 8 pushes before we get anything. Powerschool to us is not as user friendly or intuitive for at least counselors," Peterjohn said. 
Peterjohn said that there is a common feeling of unpreparedness among counselors.  "We kind of learned on our own how to do this in helping each other. We had one training session, but it really wasn't too productive," he said. " It was more general scheduling stuff for administrative type situations."
Counselors worked together to unravel the overwhelming issues of PowerSchool. "We also kind of learned on our own and self taught and kind of yelled across the hallway, 'Hey, how do you do this or that?'" Peterjohn said. 
Teachers have been left with no other option then to research themselves how to adjust to technical issues that may arise from PowerSchool. "If I have any issues, I just Google PowerSchool, and its actually a whole lot easier," Photography teacher Kathleen Fleming said. 
According to Rizzo,  the district provided in-person and instructional video for faculty prior to this year. Rizzo said that the district iTeam has been helpful in addressing the learning curve of PowerSchool. 
The iTeam is comprised of one to two teachers from each school. "The iTeam acts as building-level 'eyes and ears' and can help ensure no issue goes unreported and timely professional learning is provided," Rizzo wrote.  
"Multiple opportunities were provided to various employee groups including administrative assistants, faculty, administrators, and District technical staff charged with day-to-day PowerSchool support.  Instruction was provided in multiple formats including in-person and asynchronously via video learning modules," Rizzo wrote. 
While making schedules for the start of this year, guidance counselors lost all their progress, according to Peterjohn.  "We found out like a week before school started that a bunch of changes that we had made got taken away. Somehow PowerSchool erased them and we had to do a bunch of stuff over again. So for us, it's been very problematic to be quite honest," Peterjohn said. 
The process of getting senior transcripts ready to send to colleges presented yet another challenge for counselors. According to Peterjohn, the switch to PowerSchool caused delays in not only schedule releases, but also the readiness of senior transcripts. 
According to Peterjohn, transcripts are typically released in late September, this year counselors had them ready for seniors on Oct. 21.  "We typically have them by the end of September for students. At least the initial ones to look at. Sometimes even earlier, mid September, but this year it really wasn't until about a week and a half ago, two weeks ago that we had them to share with the seniors," Peterjohn said on Oct. 24. 
Senior Jemma Barrett, said that she was frustrated with the delay in senior transcripts, which was caused by the switch to PowerSchool. "I've sent in all of my college applications and none of the colleges can get back to me because none of my transcripts have been sent. My guidance counselor had to do it himself instead of powerschool. It sucks, I don't know why they had to switch. It barely ever works and it's so confusing to use,"Barrett said. 
Peterjohn said that he wishes the district had waited a little longer to transition to PowerSchool, as staff members are still adjusting back to in person learning after the COVID-19 pandemic. "Coming out of a pandemic, I wish we would have waited another year or two. I'm not sure what the rush was to do this, but the decision was made and obviously it was approved by the board of education, so it is what it is," Peterjohn said. 
This transition has been challenging for the counseling department as a whole, according to Peterjohn. He said, "For the counselors it's been a very difficult transition. Its added a lot of extra stress and anxiety on our part in addition to everything else we're having to deal with coming out of the pandemic."  
Comment using your Facebook, Yahoo, AOL or Hotmail account
comments
Leave a Comment
About the 'Riter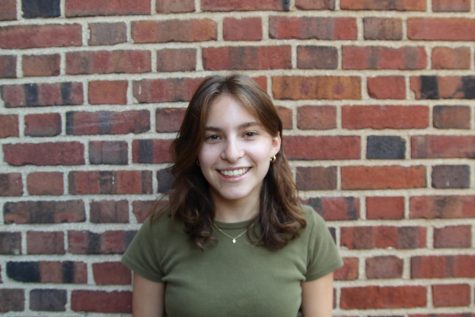 Jenna Loveman, Web Managing Editor
Jenna Loveman ('23) is in her fourth year with The Shakerite. She is currently a Web Managing Editor. As the Opinion Editor last year, Jenna wrote about the "Shaker Bubble" and anti-Semitism in Shaker, the generational cycle of eating disorders among women, and reproductive rights . As a Spotlight Reporter her sophomore year, she reported on the double standards of police treatment relating to protesting. Aside from The Shakerite, Jenna is a member of the swim team, Enviro Club, and Women Studies Club. Outside of school, Jenna can be found reading or in her garden.