District Seeks Alternatives to Future Snow Days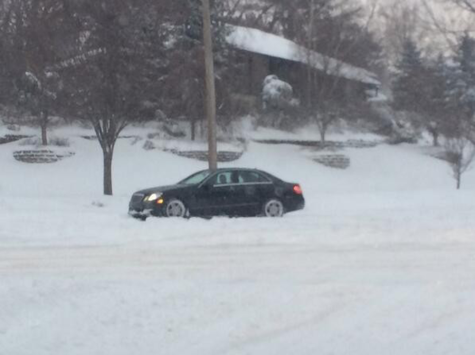 Having used up all its calamity days, Shaker's administration is seeking alternatives to canceling a full day of school in future cases of dangerous weather.
Those alternatives may include a late start schedule and "online options," according to Director of Communications Peggy Caldwell. Superintendent Gregory C. Hutchings, Jr. was unavailable for an interview at the time of publication.
Shaker's most recent snow day on Feb. 7 was its fifth calamity day. The state of Ohio allows schools five calamity days, or days when districts can cancel school because of unsafe weather conditions or other events that would make attending school unsafe, such as a fire or power outage. When schools use more than five calamity days, they must make up those missed school days.
Caldwell said there are "certain designated days" during the school year when districts can reschedule classes, such as during spring break or on a Saturday. Districts could also add school days to the end of the year.
To avoid rescheduling school days, and to give students as much learning time as possible, Caldwell said the district is investigating alternatives for future calamity days. Principally, "something will be forthcoming pretty soon" regarding a two-hour delayed start option, Caldwell said.
"There may be conditions under which a delayed start would be appropriate," Caldwell said. She pointed out that most of this year's calamity days have stemmed not from snow — "snow is not unusual in Northeast Ohio," she said — but from low temperatures. "We've had unusually cold and dangerous wind chill conditions on a number of days," Caldwell said. However, such wind chills often occur in the early morning and subside significantly just hours later.
Under those circumstances, rather than cancelling all school and checking off another calamity day, a district-wide late start schedule might prove a safe way for students and staff to attend school.
However, Caldwell said "there's a lot of pieces that need to go into" such a schedule, including organizing transportation for all of Shaker's schools — both public and private — and revising lunch schedules to fit pushed-back timetables. All the same, Caldwell thinks "it's a very, very strong possibility" that Shaker will implement such a schedule should the appropriate conditions arise. "The goal is to try to pilot something this year," Caldwell said, assuming Shaker faces more hazardous weather or other appropriate conditions.
Kenston Local Schools in Bainbridge, Geauga County has devised a "one or two hour delayed start" schedule that, according to the district's website, the administration may implement only "if the weather forecast indicates that the current weather conditions will improve soon after school opens and it is safe to transport students." At Kenston High School, a one-hour delay would have classes beginning at 8:45 a.m.; a two-hour delay would push classes back to 9:45 a.m. The district's website states that during a delayed schedule, "lunch schedules and dismissals would remain as usual."
An existing delayed start for Shaker high school students contributed to the lack of a calamity day on Tuesday, Feb. 18. Although Beachwood did not cancel school on Tuesday, Cleveland Heights-University Heights did, and Case Western Reserve University declared its own late start, closing campus until 10 a.m. Caldwell said many factors went into Shaker's decision not to cancel school on Feb. 18, and that the high school's Tuesday delayed start "was a factor," because the Tuesday schedule "gives young drivers another hour, gives city workers another hour to clear the roads."
However, not all high school students felt Tuesday's late start helped them. Junior Cherie Lo, who lives in the Onaway neighborhood and drives to school, said no plow had come to her house by the time she left for school. As such, "I almost got stuck in my driveway," she said.
Junior Gabby Rose, who drives to school from the Mercer neighborhood, agreed. "I did get stuck in my driveway," she said.
The district is considering other options besides delayed starts to avoid calamity days. In a recent article, the Columbus Dispatch detailed some schools' use of "blizzard bags," assignments for students to complete during calamity days so that schools can count them as full days of instruction. A handful of school districts, including Westerville and Upper Arlington, have begun using blizzard bags to keep their calamity day counts reasonable.
"It is not a widespread practice in Shaker," Caldwell said. However, "the concept of keeping students academically engaged when they can't be in school is a very good one." Although she expressed concerns over keeping them current, Caldwell said blizzard bags and other online options are "things that all school districts are going to be looking at."
Hutchings has previously expressed interest in expanding online learning options for students, applying unsuccessfully for a grant to build an online learning center in November 2013. He repeated his goal of building that center during his Feb. 10 State of the Schools address.
Ohio's government is considering proposals to increase schools' allotted number of calamity days. Gov. John Kasich encouraged Ohio legislators to pass House Bill 416, which would give schools nine calamity days instead of five. The bill would apply only to the 2013-2014 school year, as starting next year, instruction time will be measured in hours rather than days, rendering calamity days unimportant.
The Ohio House of Representatives passed a revised version of the bill Feb. 19, allowing schools two additional calamity days — instead of the proposed four — and two teacher professional development days. The bill will proceed to the Ohio Senate, which must pass the bill before it becomes law.
Caldwell said any additional calamity days "would be helpful to any districts that have hit the limit." Even if House Bill 416 is passed, however, the district will continue investigating alternatives to cancelling entire school days.
"We want to avoid a loss of instructional time," Caldwell said, for both students' and teachers' sakes.
Comment using your Facebook, Yahoo, AOL or Hotmail account
comments
View Comments(1)