District Proceeds With Onsite Return as County Nears Severe Exposure and Spread
K-8 students to resume onsite learning as soon as Nov. 4
Superintendent David Glasner told the Board of Education Tuesday night that the district still plans for students to resume onsite learning even if the county reaches Level 4, the most severe rating on the Ohio Public Health Advisory Alert System.
According to the Ohio Department of Health, Level 4 rating is a "public emergency," wherein there is severe exposure and spread of COVID-19 and county residents should only leave their homes for supplies and services. 
"There is research that shows there is very low or zero percent transmission rates in schools," Glasner told the Board. "The measures we have put in place will keep folks safe in our buildings." 
During last week's Oct. 21 BOE meeting, Glasner announced a delay in the return of K-4 school buildings previously set for Oct. 26. This was in response to the county's move to Level 3 from Level 2 on Oct. 15. The district also announced on Oct. 21 that students in grades 5-8 would return on an A-B hybrid week model by Nov. 9, and grades 9-12 would begin a hybrid model of learning by the end of November.
"Our understanding of how to move forward has really changed over the past months, and we really have to be prepared for segments of our district — whether it's a classroom, a building, a team, a few students — to go remote on an ongoing basis," Glasner said.
The Ohio Department of Health reported 2,509 new COVID-19 cases Tuesday, compared to an average of 1,973 new cases per day in the 21 days prior. Gov. Mike DeWine also announced that Cuyahoga County was one of three counties on the verge of being designated Level 4. The county has met six of seven Level 4 indicators since last Friday. In order to move to Level 4, the county must meet those indicators for two consecutive weeks.
Ohio hit eight new record highs of positive tests in the last two weeks, the highest on Oct. 24 with 2,861 positive tests. On Oct. 10, the daily percent positive rate was 3.8 percent. Tuesday, it was 5.9 percent. 
Despite this development, Glasner told the Board, "We know our schools are ready for students to return." Glasner also said 581 of 1,152 of Ohio's public schools have offered some element of in-person learning, even as some counties entered Level 3.
"It terrifies me," said Dr. John Morris, Shaker Heights Teachers' Association president, who teaches English at the high school. "If you look at the recommendations for Level 4 purple, they are encouraging you to move, socially, at a minimum level and to avoid going out and into congregated spaces."
Board President Heather Weingart said that if K-4 families were uncomfortable with sending their children back into buildings because of the Level 4 health advisory warning, they should contact their respective school principals and inform them of their choice to continue remote learning.
Glasner said that in order for students to return to onsite learning, the community must make an effort to follow the state's health and safety guidelines. "The community wants to go back, and in order to do this, everyone needs to continue wearing masks and limiting social interactions and gatherings," he said.
Glasner said that in the past week, the district ordered individual student desk dividers for all students along with HEPA medical grade air-purifiers for classrooms with inadequate ventilation, as evaluated by the Cleveland-based sustainable energy and engineering company HEAPY. Glasner said every teacher will get a set of KN90 masks as well as typical disposable medical masks and a face shield. There will be wipes and gloves in every classroom. Extra masks for students will also be provided. 
Morris said that teachers are advocating for increased air circulation and purifiers following the HEAPY evaluation. "I know with winter coming those are concerns because the temperatures are dropping, but open windows are a necessity," he said.
Glasner said in an interview last week that all desks are spread at least six feet apart, excluding some tables in elementary schools that are not six feet long. In those cases plexiglass dividers have been added to the tables. Desks, hallways and bathrooms have signage that will tell students to keep distance and wear masks. All water fountains will be turned off, excluding the water bottle filling stations.
One of Glasner's concerns is the ability of the district to meet students' social, emotional or educational needs while working remotely. During Tuesday's meeting, Glasner stressed that the district was working to accommodate students with those special needs. 
Morris said he also worries about the mental and emotional health of students during remote learning. He said he admired the Akron Public Schools approach to helping students with special needs. "They bring at-risk kids with emotional or academic concerns in for instruction," he said. "We have argued that before, that that would be a legitimate way to address those mental health concerns and academic concerns."
However, Morris said he appreciated the district's current efforts to help with those needs. He specifically pointed to the high school's CREW time, a class period on Wednesdays when students meet with a teacher adviser in a non-academic setting to discuss social and mental health issues.
Additionally, Glasner announced at the BOE meeting that the district will soon make available an app for teachers, students and families to use when onsite learning resumes. Students and staff will be expected to use the app to enter responses to COVID-19 screening questions. According to Glasner, the district will be able to review student responses. He did not say during the meeting nor in an interview what the district was checking for in those responses.
Morris said he had heard about the app but had never seen it. "One of our biggest concerns is contact tracing, and making sure people who come into the building are healthy," he said. "I am curious to see how much this app actually does." 
According to a Cleveland.com report, the Mayfield public school district plans to continue with in-person learning should the county move to Level 4. However, Bay Village, Cleveland, Lakewood and Parma will all continue online learning in that case. Brecksville-Broadview Heights and Berea school districts both plan to continue with hybrid learning models should the county move to Level 4.
Morris said, "We hope that the district follows the advice and the recommendations of scientists and that we don't make decisions based on emotion. We all want to return to class, but we need to keep our priorities straight."
The Shakerite will continue to cover this story as it develops. Editor-in-Chief Lauren Sheperd and Print Design Editor Vivian Bowling contributed to reporting.
Comment using your Facebook, Yahoo, AOL or Hotmail account
comments
Leave a Comment
About the 'Riter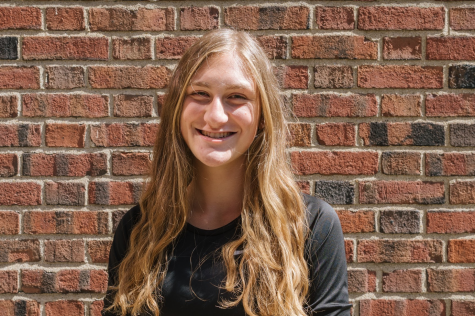 Hilary Shakelton, Executive Managing Editor
Hilary Shakelton  ('21) is in her fourth year with The Shakerite. She is currently The Executive Mentioning Editor overseeing coverage for The Shakerite. She also is a part of the Editorial Board. As an Investigations Reporter sophomore year and a Web Managing Editor her junior year, Hilary covered school ranking systems, the issues regarding unpaid internships, and the faculty response to multiple investigations within the district regarding administrative leave. Hilary runs track and plays both field hockey and basketball. She is also a member of the Student Group on Race Relations and STEM Ambassadors.