District Decision Makes McBurney's Opportunity a Department's Challenge
During her leave of absence at at Baldwin Wallace University, Christine McBurney's duties are divided among staff members
After 16 years teaching theater arts at the high school, Christine McBurney seized upon a chance to renew her approach.
She took a leave of absence to teach at Baldwin Wallace University this year as an interim assistant professor. She teaches acting and script analysis and works with musical theater students.
"When an exciting opportunity presents itself, it's hard to say no," McBurney said, an alumna of Columbia University who is active in theater throughout the region as an actor, director and educator. She led a 2017 production of "A Doll's House" at Playhouse Square that earned a Superior Achievement Award from the Cleveland Critics' Circle.
The leave is a chance "to shake things up and get fresh ideas, strategies, assessments and perspective to bring back to Shaker students. On top of that, I now have an even keener sense of what universities and conservatories are looking for when high school students audition," said McBurney, who has has studied Shakespeare at The Globe Theatre in London, the National Institute on Teaching Shakespeare, The Juilliard School and Shakespeare & Company.
McBurney's absence created a need to fill her spot, but instead of hiring a single substitute teacher for all of her classes, the district decided to partition her responsibilities. English teacher Christopher Cotton took over her playwriting class, English teacher Carole Kovach took over the film class and physical education teacher Jill Woodard helps with Junior Ensemble.
"It isn't necessarily stressful on my part as a teacher," Cotton said, "but I'm very excited to have the class. I think it's a really cool class."
"For me, I just want to make sure that my students are getting out of it what they need to get out of it," he said, "because I don't have the experience that Mrs. McBurney has, and I can't help them the way she can."
McBurney's role as theater arts teacher fell to Theatre Department Chairman Scott Sumerak. "The district's decision to go with this direction has added quite a bit of extra responsibility on me," Sumerak said. "Instead of having two teachers sharing the work on directing shows and producing shows, most of that work falls onto me, now, this season, and it has definitely created challenges." 
"
I feel like if this was a gym class or the football team or any of the sports, they would have chosen someone to fill in immediately with no problem. When it comes to the arts, it's harder to find people who actually know what they're doing.
— Halle Dial
Some students expressed resignation about the change. "At the end of the day, it's just another struggle that we have to get through, but we are gonna get it done, despite the bumps in the road," senior Nia Scott said. "We've been working with Ms. McBurney for three years, and we can definitely notice she isn't in the department. However, it isn't like we won't be able to stay afloat without her here."
Senior Halle Dial agreed. "It isn't as stressful as you'd think. I just do my normal thing during the classes," she said. At the same time, she questioned the district's decision. "I absolutely believe they could have gotten a theater teacher instead of just using English teachers. I feel like if this was a gym class or the football team or any of the sports, they would have chosen someone to fill in immediately with no problem. When it comes to the arts, it's harder to find people who actually know what they're doing."
"I definitely know the district is shrinking," Sumerak said. "So, on one hand, I can see why the district didn't provide another teacher for the theatre department, but another side of me feels like there should have been another teacher, just because of how expanded and how huge the department is, and how many things we have our hands in."
Dial agreed. "There have been some confusing moments when it comes to planning the year and making sure all the shows are together," she said.
"I have every confidence in Mr. Cotton, Ms. Kovach and Jill Lasheen to continue to be great teachers and colleagues that they are and I hope they are having fun teaching theater arts," McBurney said. "That said, the student experience cannot be the same as having a licensed and working professional theater artist."
McBurney will still participate in some Shaker theater productions this year. "I'll be back in January and February for two projects close to my heart: The Shakespeare Competition and New Stages. I'll be working with Mr. Cotton and the New Stages 38 directors and playwrights on laying the groundwork for this unique co-curricular activity," she said.
"I will work with Mr. Cotton to keep continuity of New Stages so it can be as successful as possible, focusing on everything: the history and goals of the project, mentalities, leadership, professionalism, collaboration with peers, auditions, casting, rehearsal etiquette, production guidelines, balancing classes and life," she said. "And I'll hold my annual directors' boot-camp."
Comment using your Facebook, Yahoo, AOL or Hotmail account
comments
Leave a Comment
About the 'Riter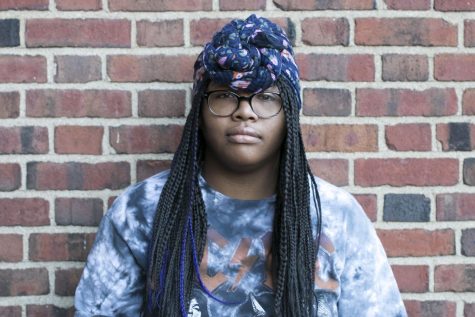 Amya Neal, Spotlight Theater Reporter
Amya Neal ('21) is in her third year with The Shakerite. She is currently Spotlight Theater Reporter, covering upcoming productions and stories on theater production. As a  Journalism l Reporter freshman year, Amya covered stories such as homecoming stress and mental health awareness. Aside from journalism, Amya loves to read and write poetry. Amya is a part of the high school's NAACP, Creative Writing Club and Know Abuse.