COVID-19 Safety Concerns Loom Over Shaker
Pandemic learning brings new challenges to the district
Shaker Heights High School has been one of many schools across the country to fully return to onsite instruction for all students. Pre-pandemic, all Shaker students were in the building, but only some came back Jan. 19, the first day of in-person learning since March 13, 2020. With approval from local and national governments, schools across the U.S. have fully reopened their doors without an online learning option. This change has left many students and family uneasy, with the pandemic still going on.  
There is extra concern regarding returning to school with the Delta variant and new COVID-19 strains causing case numbers to quickly rise. Schools have observed and taken these new circumstances into consideration while writing updated safety policies for the 2021-2022 school year, but some students don't think it is enough to stay safe.
Senior Meredith Pope did not return to in-person learning last March out of concern for their safety. "I didn't trust the school to enforce the rules, or the students to care about following them," they wrote.
COVID-19 safety policies have changed for this school year. "I don't think it's that bad. Most of the people in my classes keep their masks on, there are a few that keep taking them off and have to continuously be told to put it back on, but they are very much the minority," Pope wrote.
Although Pope expressed satisfaction with the behaviors inside the classroom, they, along with many others, have concerns regarding behaviors outside of the classroom. "The thing that concerns me the most is the sports, it's a lot of people coming in contact with people from other schools while not wearing masks, and that is very conducive to spreading respiratory viruses," Pope wrote. 
The Shaker Heights School District has taken protective measures to stop the spread of the virus by implementing new policies while keeping some policies from the past year. The Athletic Department has also paused the seasons of certain fall sports and cancelled games due to outbreaks in Covid cases. 
Some students believe that the recent COVID-19 outbreaks could be prevented if the district came out with a rule requiring students and staff to be fully vaccinated in order to return to in-person learning. "The school already requires vaccines for all kinds of critical diseases. It's because of these requirements that more 'childhood illnesses'' have been practically eradicated," Pope wrote.
Students like Pope have strong opinions regarding vaccination status and vaccine requirements at the high school. "Schools have an obligation to protect the students who attend their institution, and the staff that work there. Not requiring the vaccine is inherently putting people in the district at risk. There is enough research at this point that there are no grounds to support not requiring it, the FDA has approved it for ages that span most of our student population," Pope wrote. Sophomore Jacob Gearity also believes there should be a vaccine requirement. "The benefits outweigh the risks by a mile," Gearity wrote. 
However, not all students agree with requiring the vaccine. "I personally wouldn't get it, because like I said I'm nervous about what could happen to me and what could happen to my family. My parents also don't want me to get it so I don't see a reason for it," an anonymous Shaker student said. 
This anonymous student and others in the community have expressed fear regarding the effects of the vaccine and have questioned the capabilities of the vaccine to actually stop the spread of COVID-19. "There's about two people in my family that got really sick after getting the vaccine and after a few months and are really sick now, which is scary," the student said. 
Gearity opted to return to in-person learning last year, and compared last year's COVID-19 policies to this year, "I think the way it's handled is significantly worse this year, and I think there's a lot more problem areas," Gearity wrote. 
As cases rise internationally, the CDC suggests the spread of COVID-19 can be slowed by students keeping their masks on, remaining a safe distance away from others and maintaining proper hand hygiene. Regardless of vaccine status, safety precautions must be taken and enforced seriously to keep everyone healthy.
Comment using your Facebook, Yahoo, AOL or Hotmail account
comments
Leave a Comment
About the 'Riter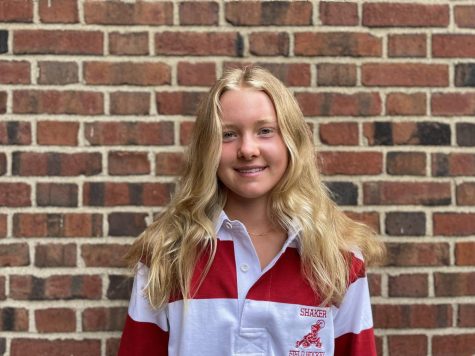 Emily Lamb, Raider Zone Editor
Emily Lamb ('24) is in her second year with The Shakerite and currently writing as a Spotlight Reporter. As a Journalism I/II student, Emily wrote pieces regarding Covid-19 and changes around the community. She loves the sharing of opinions and information that the Shakerite brings to the community. When not writing with the Shakerite, Emily can be found on the turf with the field hockey and girls lacrosse teams, and the golf course with the girls golf team. In her free time she enjoys spending time with friends and family, and being active.