Catching Up With Kids
Middle school establishes long-awaited Gay-Straight Alliance
Twenty-one students eagerly scrambled into a classroom for the middle school's inaugural Gay-Straight Alliance meeting May 4.
Headed by advisers Laura Boris, Beth Casey and Kristina Longino, the middle school has established a GSA in order to provide children the resources necessary to cope with and understand their identity in regards to gender and sexual orientation. During middle school, children can undergo processes that influence their understanding of their gender and sexual orientation, which can be difficult properties to discern.
In a letter sent to faculty to announce the creation of the GSA, its advisers wrote, "We are sincerely excited to let you know about a new student organization whose goal is to help ensure a safe, respectful learning environment for our students." 
"
It is important to say, 'We understand your views, we hear them, but we're about kids, and what kids need is the freedom to be themselves.' If that freedom is something that we can provide, in this space, then we should have done it yesterday.
— Mario Clopton
Adviser Laura Boris described the main purposes and functions of the GSA. "To provide support, build community, and take action," she said. "Every GSA has it's own vision, which is led by the students, so we won't really know what our students want until we start meeting next year. For me, the most important purpose is simply to make school a safer environment for all students."
The Gay, Lesbian and Straight Education Network published a report in 2013 that suggested that students were more often victimized for their sexual orientation at the middle school age than the high school age, making the presence of a middle school GSA that much more important. According to the research, middle school students were more likely than high school students to hear anti-LGBT language in school, students in middle school reported higher frequencies of victimization as a result of their sexual orientation, and middle school students had less access to LGBT resources than high school students (GSAs, supportive educators, inclusive curriculum and/or anti-harassment policies present in only 7.5% of middle schools compared to 58.5% of high schools).
Natalie Sekicky, adviser of the high school GSA, described activities that members engaged in commonly during GSA meetings. "Much like any other student club, a fair amount of time at a GSA meeting is spent socializing and having fun, eating snacks and catching up with friends," she said. "In addition, students take time to share high points and challenges of the previous week. For example, if a student intervened when a classmate used anti-gay language or harassed another student, he or she might share how that interaction went. Or, if a student did not speak up, he or she may ask the group for suggestions about how to do so next time."
Boris outlined her aspirations for the GSA in terms of accomplishments. "I believe that even if students don't attend our meetings, they will be encouraged to know that there is a safe space in the school to talk about things," she said.
"As for what we will accomplish, I will defer again to the students. When we start talking about our mission here at the middle school, the students in the club will determine what their priorities are," she said. "They may want to simply support each other in a safe environment, or they may want to engage in some advocacy. I keep using the word safe, but I feel strongly that this is the most important part of this club. Every student has the right to be safe at school, and I believe that we will make the school a safer environment for all students."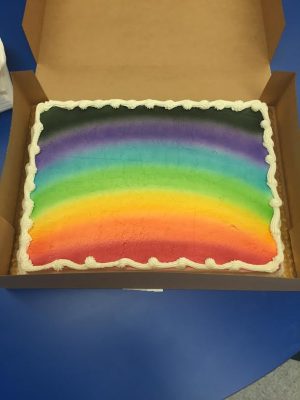 Sekicky explained why a middle school GSA is necessary. "Students who never would dream of coming out until adulthood are increasingly sharing their identities at middle school and even elementary school ages," she said. "So, LGBTQ students and issues are alive in the school now more than ever, but acceptance, especially at the middle school age, is far from universal."
How a GSA goes about achieving acceptance for LGBTQ individuals is promoted by active participation in its activities, which can involve bonding, educating and discussing pertinent issues.
High school choir teacher Mario Clopton, a LGBTQ rights advocate, attended the middle school meeting. He explained the social means of a GSA in regards to how it goes about achieving equity. "Just by the presence of a group of people who have a core relationship — just their presence — changes thoughts and minds," he said. "People who go from fearful of change, particularly the unknown — see people in their own safe place, and then it's fine. That's just one residual effect. People can speak up and be themselves and others can see what it is they look like and what it is they are, and it allows for the fear of the unknown to go away."
When the high school GSA formed in 1998, it met some opposition from parents and students. The creation of the middle school GSA has not drawn criticism or complaint thus far, but Clopton noted that such reactions are common.   
"Any time you change anything, there will always be a force that pushes back," said Clopton. "With due respect for people who have contrary views on LGBT issues and the community, in a public space as a school, we are commissioned not only to educate, but to provide the resources for children  to thrive. You can not have kids being their best if they are worried about what bathroom they have to use, or being bullied for who they are.
 However, Boris does not possess any concerns about the establishment of the middle school GSA. She said, "I don't really have any concerns. Well, maybe I would be a little concerned that no students would attend, but we had over twenty show up for our kick-off event!"
Comment using your Facebook, Yahoo, AOL or Hotmail account
comments
Leave a Comment