Board Votes to Put 'Conservative' Levy on May Ballot
Teachers object, saying 6.9 mills is inadequate to preserve instruction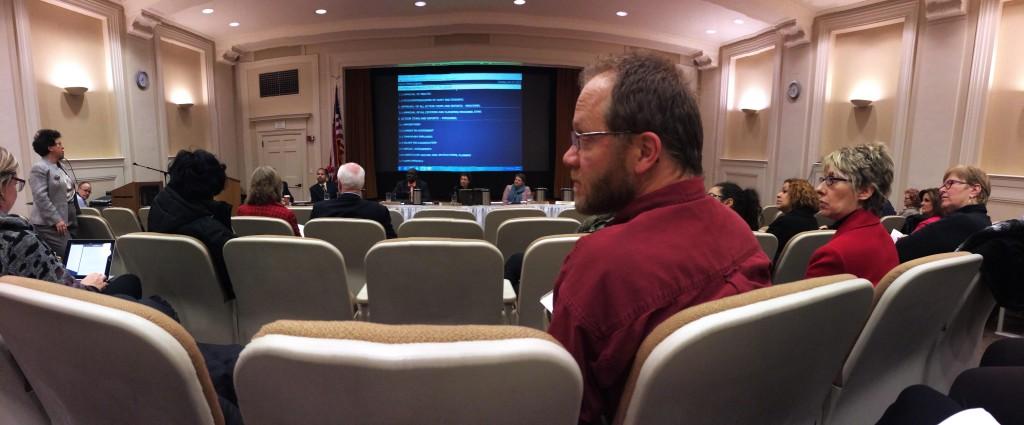 The Board of Education voted unanimously last night to put a 6.9-mill levy on the May 2014 ballot.
The Board aims to extend the levy to four years, 2014-15 through 2017-18, before returning to voters.
 Shaker's previous four levies, all passed under former Superintendent Mark Freeman, were 9.9 mills, 9.9 mills, 9.6 mills and 9.4 mills. This is Superintendent Gregory C. Hutchings' first levy.
During the board's public comment period, four teachers, a high school guidance counselor and the SHTA lawyer — all Shaker residents and parents — spoke against the proposed millage, saying 6.9 mills was not enough.
Of the approximately 50 people in attendance, about 14 were teachers.
English Teacher Aimee Gray spoke first during the comment period, which occurs at the beginning of the meeting. "As dedicated and professional as teachers are, we are human . . . Over the past five or so years, we've been directly affected by the finances of this district. Here at the high school, English and science teachers have gone from four classes to five classes . . . To point out the obvious, as each teacher takes on more classes, that means less time available for these critical endeavors.
"Also in the last five years, class size has gone up. One Onaway teacher just told me Sunday night that several years ago, elementary classes typically consisted of 19-21 students, while today classes routinely are full, with 26 or 27 students. Clearly, as each teacher takes on more overall students, there is less time for the meaningful, one-on-one time that teachers have for each student," Gray said.
Onaway teacher Martin McGuan spoke after Gray. McGuan, a Shaker resident and parent of three students in the district, recounted a dinner conversation he recently had with his son. "He said, 'Dad, I want to be a teacher.' And I looked right across the table at him, and I had this visceral, gut reaction, and the first word out of my mouth was, 'No.' "
In his comments, McGuan repeated the word "fearful," saying he was "fearful of" possible unintended consequences from the levy.
"I'm fearful. And fearful is not a word we should associate with education. Education should and must be hopeful," McGuan said. "We cannot let a fear of millage prevent us [from] providing the world-class education Shaker is renowned for."
Onaway teacher James Sweeney recounted an interaction he had with former Superintendent Mark Freeman after moving to Shaker in 2000. When Freeman was asked why the levy amounts were so high, "he said, 'You get what you pay for.' "
"Things don't come cheap. We all know that philosophically, but those of us who live in Shaker Heights know that literally," Sweeney said. "We know that to achieve great success requires great sacrifice."
Sweeney also said that the teachers' five-year salary freeze and recently negotiated 1-percent salary increase are actually pay cuts. He said the inflation rate has made the dollars teachers are paid less valuable from year to year. In real terms, without an increase in wages greater than or equal to the inflation rate, teachers' salaries are being cut, according to Sweeney.
Sweeney repeated that for "great success" the teachers are making a "great sacrifice."
"A 6.9-mill levy is not enough," Sweeney said. "You cannot create great success on the cheap . . . We have never been a community that plays small. We're not a school district that plays small. Let's not start that with our next levy. Let's not settle for a levy that is less than what we're capable of doing."
Board policy does not allow members to respond to any public comments or to answer any questions during or after the public comment period.
At the conclusion of the comment period, about 10 of the teachers left the meeting together as Board President Annette Tucker Sutherland was speaking about moving on to the next item on the agenda — the approval of minutes from the previous board meeting.
Before voting on the levy resolution, the Board heard a presentation from the Finance and Audit Committee, which evaluated district finances as well as current and projected economic circumstances to make a recommendation on millage. The chairwoman of that committee, Karen Schuele, displayed a PowerPoint presentation and explained the committee's process and conclusion. The PowerPoint is downloadable below.
Schuele, dean of the Boler School of Business at John Carrol University,  said the finance committee felt that "the tax burden on the citizenry in Shaker is reaching a tipping point."
"We hear anecdotally of people leaving Shaker because of the property taxes, of people not moving into Shaker because of property taxes and the fact that property taxes are becoming a burden as high as someone's house payment is problematic. And the committee feels very strongly that, while we must maintain the quality of our schools, we must attend to how we deliver that in terms of costs to our citizens," Schuele said.
Shaker taxpayers pay the second-highest property tax rate in Ohio — 3.8 percent — second only to the Shaker Square portion of Cleveland, according to the Northeast Ohio Media Group. To put that into perspective, the annual tax on a $200,000 home is $7,594, with about 74 percent of that going to the school district.
During her presentation, Schuele emphasized the importance of "maintaining an adequate fund balance at all times," which the committee identified as 12-15 percent of district costs. The fund affects the district's ability to obtain favorable interest rates when borrowing money, otherwise known as the district's bond rating. Maintaining the fund balance would help preserve the district's AAA, or highest possible, bond rating. The fund balance also enables the district to pay for unanticipated costs. According to the committee report, failure to pass the 6.9 mill levy would force the district to spend its fund balance.
The committee's presentation also praised the Board's cost-saving measures, including "not filling vacant positions, where possible" and "outsourced food operations." Nevertheless, the report stated, "Even with the most aggressive cost savings initiatives in the District's history, costs are forecast to rise 1.4 percent per year" during 2014-18.
Before the Board voted to approve the millage, Sutherland read a short statement. "We are aware that some people would urge us to seek an even larger levy, and some taxpayers would be upset about any levy. The decision to put a levy on the ballot belongs to this board. It is a decision that we take very seriously."
Download the PowerPoint presentation presented at the meeting below.
Finance and Audit Committee PowerPoint Dec 17 2013
Comment using your Facebook, Yahoo, AOL or Hotmail account
comments
View Comments (1)