Blending Sport With Charity, Kick-It Returns for a Fifth Year
Shaker residents organize kickball games to raise money for pediatric cancer research
For the fifth year in a row, Shaker is working to kick cancer's butt — literally.
The high school is hosting its annual Kick-It charity event on May 17, 2015 from noon to 4 p.m to raise money for pediatric cancer research.
All of the money raised goes directly to the Kick-It organization, which then distributes the money to fund research centers for pediatric cancer.  Participants are encouraged to get their friends and family to donate to Kick-It in support of their mission to fund pediatric cancer research.
Kick-It was founded in 2009 in Chagrin Falls, Ohio by ten-year-old Quinn Clarke during his second battle with cancer. In order to raise money for pediatric cancer research, Clarke asked his parents to help him start a kick ball game. More than 500 people came to support him in the original game.
Now, Kick-It has grown into a national organization dedicated to raising money for pediatric cancer research through independently organized kickball games. In Shaker, Kick-It volunteers organize a bracket for all teams, who will then face off during the Sunday event.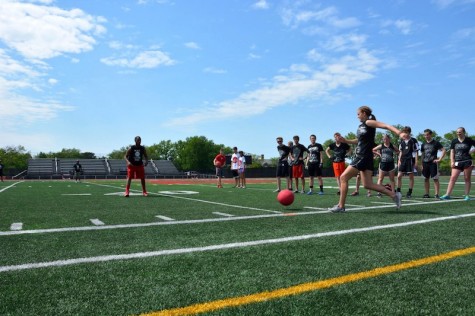 Junior Sarah Jacob, the event organizer, encourages everyone to get involved. "We want as much exposure and involvement as possible," she said.
According to Jacob, 11 Kick-It teams of at least eight people have registered, with about 25 student volunteers signed on to help throughout the day. She said that in the past, the Shaker Kick-It event has raised roughly 4,000 dollars. This year, however, the goal is set at 5,000 dollars.
Jacob, who began involvement with Kick-It in 8th grade, finds enjoyment in helping organize it each year. "My experiences were so amazing [with Kick-It], so that's why I am so excited to run it this year!"
Anyone can register for Shaker's Kick-It event through Shaker's Twitter page, Instagram account, Facebook page or directly through Kick-It's website. Those interested can sign up as a team or as an individual. The tournament is pay to play, five dollars in advance and 10 dollars on the day of.
Even if you're not able to participate in the actual Kick-It event, you can still help fund pediatric cancer research by donating directly to Kick-It on their website.
"It's a great way for the community to raise money," said Elizabeth Plautz, Shaker's Kick-It advisor. "It's a lot of fun, and who doesn't love kickball!"
Comment using your Facebook, Yahoo, AOL or Hotmail account
comments
Leave a Comment