All Bark, No Bust
Despite the sounds of excited dogs, K-9 visit produces no contraband during lockdown drill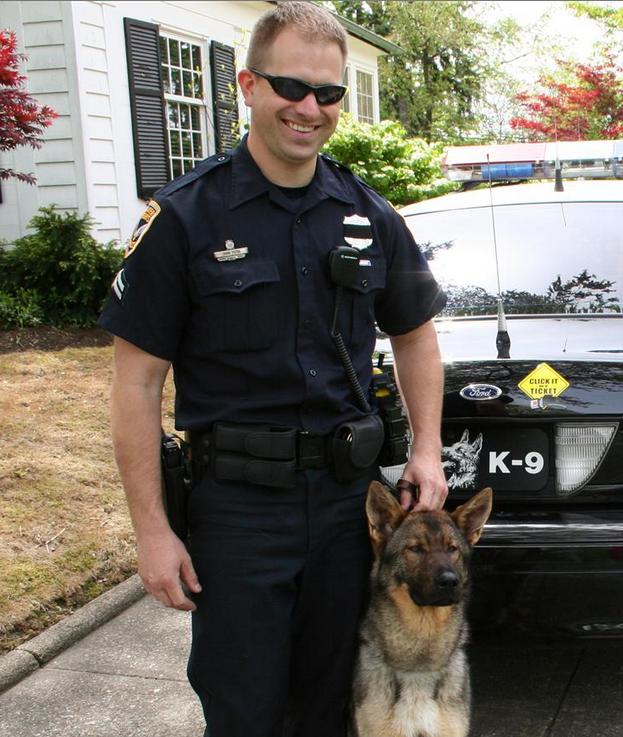 The K-9 unit assigned to search the high school during a second-period lockdown drill today found no drugs.
Superintendent Gregory C. Hutchings, Jr. said 10 teams, each comprising an officer and a dog, checked the high school for drugs, but failed to find any during the 20-minute drill.
While quietly waiting in their classrooms, many students heard significant barking in the hallway. Hutchings said that when a dog barked at a locker, the two lockers adjacent were also searched. Because the dogs alerted officers to 28 lockers, 84 were searched.
Hutchings said police found two coats bearing marijuana residue, two pieces of pizza, one salami sandwich and one chocolate bar.
At 3:30 p.m., Hutchings said that he had not met with Principal Michael Griffith since the drill, so he did not know whether students would be notified that their lockers were searched.
Hutchings called the drill a "win-win" because the police dogs gained experience sniffing for drugs and he can now say "we actually checked it [one] time and we didn't have any drugs in our school.
"Finding out if we have drugs or not in our schools was just as important" as the training opportunity for the dogs, he said.
Hutchings said that Ohio requires one lockdown drill per year, but that this year, for the first time, the district will hold two drills.
He said that the K-9 unit will definitely return for the second drill this year, but unlike today's drill, he will not notify parents about the police dogs again. He said that the dogs will likely visit the high school during lockdowns next year and for the foreseeable future.
Last Friday, Hutchings sent an email to parents informing them of the district's efforts to improve security. Included in the email was a paragraph stating that the dogs would come to the high school for training during an upcoming lockdown drill. This was the first time the K-9 unit was present during the drill.
He said that if the dogs had found drugs in a student's locker, the school would have followed "the proper procedures, which is interviewing the student, having conversations and having a full investigation."
Hutchings said that he couldn't recall whether someone from the police department or a school official suggested bringing the K-9 unit in. "I don't remember who said it first," he said.
"I knew it was something that was going to happen this year before I even started [as superintendent in August]," he said.
Security guard Mark Seymore said he thought the K-9 visit was worth it. "I think we should have done more with the kids, because there is always more you can do when it comes down to drugs and guns," he said. Seymore said the drill would not scare students into leaving drugs at home in the future because "a kid is going to do what a kid is going to do."
District officials are scheduled to meet with an ALICE Training Institute representative Nov. 25. The institute recommends students and teachers "create noise, movement, distance and distraction with the intent of reducing the shooter's ability to shoot accurately" and then evacuate their schools rather than hide when an intruder enters. Hutchings said that he wanted to learn more about the controversial approach that has been adopted by several local school districts, including Kenston.
The school sent out a robo-call at 6 p.m. in which Griffith commended faculty and students for cooperating with the exercise.
Hutchings said, "Our staff and students did a great job with the lockdown drill. By far I think it was the best lockdown drill I've ever seen, and I've been in a lot of lockdowns. With 1,700 students in the building, everyone was cooperative. I know that teaching and learning did continue after the lockdown because I walked through halls and saw teachers teaching."
"The students that I spoke with were happy with the fact that we had the dogs," Hutchings said. "They felt that we were taking the right precautions."
Hutchings said, "I think that students should just always, in their minds, think that the school, at any time, could possibly check lockers for drugs—that there could be random searches that occur."
Hutchings noted that these searches would occur only if there is reasonable suspicion, and that the dogs would not be involved at any time other than lockdown drills.
"The message that I would like to send to our students, our staff, our community, is that drugs are not welcome in Shaker High School, and if they enter our building, we will take the appropriate action."
Today's lockdown drill occurred approximately five hours before a CBS news affiliate reported that three students had been shot outside Brashear High School in Pittsburgh.
Police Chief Scott Lee and Griffith were unavailable for comment.
Staff Reporter Alana Williams and Print Editor in Chief Shane McKeon contributed to this story.
Comment using your Facebook, Yahoo, AOL or Hotmail account
comments
Leave a Comment