After Arrest, Discussion Begins
15-year-old girl in custody for violent threats that emptied school yesterday, and residents are evaluating district's messages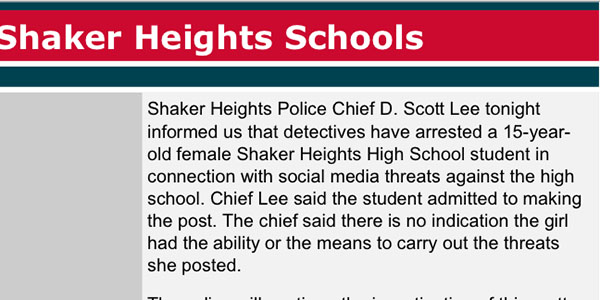 Police have arrested a 15-year-old female student in connection with three threats directed at the high school through Instagram yesterday, and the district's communication about the incident is drawing both praise and criticism.  
In an update published to shaker.org yesterday around 9:45 p.m., Police Chief D. Scott Lee stated that, "detectives have arrested a 15-year-old female Shaker Heights High School student in connection with social media threats against the high school."
Lee confirmed that the student admitted to the making the threats. However, the update assured "there is no indication the girl had the ability or the means to carry out the threats she posted."
The police will continue to investigate.  High school classes are proceeding as usual today.
"To be honest, my reaction was pretty skeptical to begin with," senior Lev Caruso said. "I kind of knew from the get go that this wasn't going to be as serious as some people are making it seem to be. That being said, I can understand the distress caused, with all of the school shootings happening recently. I did not expect a threat like this."
The first threat was made over Instagram direct message at 12:12 a.m. yesterday from an account identified only by a series of numbers.  "I am coming with a rifle then I will blow the b—- up," the message stated. After Principal James Reed made a P.A. announcement at 8:37 a.m. yesterday directing teachers to read an email message that confirmed the threat, students left the high school in mass, many ushered home by concerned parents or guardians.
The same anonymous Instagram user posted a follow-up threat around noon via direct message saying, "I heard everyone believes it's a joke. Ha Ha  the school doesn't know I can do it at anytime just be ready everyone in that school will have their heads blown up or die in an explosion by the end of the week."  A third message was sent later that read, "Too bad there aren't metal detectors ha ha I might go to that school ha ha ha."
Reed sent a follow-up email and phone message to families urging calm at 10:55 a.m. "There are a number of rumors circulating today regarding the high school, none of which are true. The police and school security are investigating the situation, and there is no need for parents to pick up their students," the messages stated.
Despite Reed's reassurance, the situation prompted many to leave school. By the afternoon, more than 600 of the high school's 1,874 students had gone home. Hallways and stairwells were virtually empty during passing periods, and a look in classrooms revealed small handfuls of students attending.
"There's four people in my history class and all we're doing is watching videos," sophomore David Mack said fourth period.
Parents offered both criticism and support for the district's efforts to manage the situation yesterday. Facebook discussions were particularly critical.
"I would say they handled it fine, but I was not impressed," high school parent Chris Connell said in an interview. "I think keeping the students informed might have been helpful, and if not informing the students was a purposeful decision, I would be interested to know why that was the case. In emergency situations, I have found it's always best to keep everyone informed."
Senior Evan Shaw thinks the administration handled the situation well.
"I would've liked to hear more of the situation from the school administration, but I don't fault them for not telling us much. They could've been giving us wrong information. They kept us safe," Shaw said. "When you get right down to it, I feel that if there had been an imminent threat, we would've gone into lockdown. We didn't, so there wasn't. I felt safe all day."
However, many students who felt unsafe blamed the lack of information.
"The whole situation was really messy and anxiety inducing and should be a wake-up call to the administrators," sophomore Madi Hart said. "We're lucky that nothing actually happened, but I lost a lot of faith in the administration because of the contradictory statements they made in the official letter sent out by Hutchings and the police chief. 'Taking every threat seriously' and 'not believing this threat is credible at the moment' don't add up. We should've at least been notified why they didn't believe it was credible.
"Ultimately, this needs to be solved with a greater communication between students, staff and parents," said Hart. "I'm glad everything is resolved, but I still feel very uneasy about attending school tomorrow with the chaotic handling of the situation. What if something were to happen?"
Yesterday's threats occurred on the same day bomb scares occurred in five schools around Cincinnati near 10 a.m. Wednesday morning. Specialist Mike Grimes said in an interview with FOX News, "He or she said there were some explosives in one of the schools but wouldn't say which one.  The caller hung up and the schools began their evacuations.
Connell said the student alleged to have made the threats owes the community an apology.
"I'd love to have the student publicly apologize to students and parents to take personal responsibility for her actions and to see the damage she caused," Connell said.
"I never thought I would be this affected, but to be honest, the threat here is seeming not to be the actual violent threats themselves, and more the panic it caused," Caruso said. "The paranoia and panic and distress it caused to so many people, all because of a non-violent person's inappropriate action, ended up creating a lot of damage psychologically to the Shaker community, and that is going to have a lasting impact.
Said Caruso, "The real damage done is to the peace of mind of Shaker citizens."
Journalism I students Don Benincasa and Emet Celeste-Cohen contributed reporting.
Comment using your Facebook, Yahoo, AOL or Hotmail account
comments
Leave a Comment