A New Schedule, Again
Three weeks after resuming in-person learning, the district enacts full-time attendance for grades 5-12
The district switched from a three-week-old hybrid learning schedule to a full-time schedule for students who attend onsite Monday, Feb. 8.
An email from Superintendent David Glasner was sent to all families of students in grades 5-12 Tuesday evening, Feb. 2. "We have decided to implement this change now because it will provide a more consistent learning environment for all students and staff," the email stated. 
This change comes just three weeks after students who elected to returned to classrooms Jan. 19. For those three weeks, the high school followed an A-B cohort schedule, with students whose last names begin with A-K coming to school on Tuesdays and Wednesdays, and students whose last names begin with L-Z coming to school on Thursdays and Fridays. Mondays have been remote for all students and will remain so. 
Students in grades 5-8 have followed an A-B week hybrid learning schedule, with students attending in person school every other week. Now, all 5-8 onsite students are attending five days a week. 
Glasner said that during the first few weeks of hybrid learning, the district has been monitoring all aspects of the return. "We've found over the course of the last few weeks that things are operating smoothly and safely and that we have the capacity to bring more students on site," Glasner said. "As we figured that out, we really felt it was important to move forward with the change." 
According to a Feb. 6 email sent by the district to parents of middle school students, one middle school team team will resume remote learning for the next two weeks "due to multiple team staff member absences." 
The same day, the Shaker Heights Teachers' Association posted on Facebook a photo of desks in a middle school classroom and stated that health recommendations were not being followed. In the photo, consecutive desks are screened for student use. The post stated that 21 students would be in that classroom Feb. 8. "Four staff members that all work in the same pod tested positive for Covid-19 in the last few weeks. Is this the safe return we have been promised?" the post stated.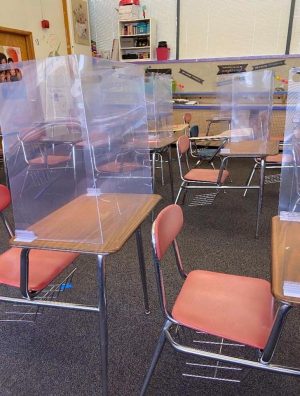 Junior Giles Foster is not concerned about the addition of people to the high school. "The change with mixing A and B schedules and bringing us back to school for four days a week is going to be good because there's not a lot of people in the classes right now," he said.  
Assistant Principal Joseph Hernan wrote that the largest class in the high school has 21onsite students. The second largest class has 17 onsite students. Hernan wrote that there are classes with no onsite students as well. 
Students who wish to remain remote still have that option, and will continue to join their classes virtually via Google Meet or Zoom. 
Dr. John Morris, SHTA president and high school English teacher, wanted the administration to delay the move until the first doses of COVID 19 vaccine are given to teachers Feb. 16. "I was disappointed just because I feel like we're right on the cusp of getting vaccines for teachers and, hopefully, for broader distribution throughout the county," Morris said.
Sophomore Ayanna Brown did not look forward to the return to full-time onsite learning. "I'm nervous to go back because I feel like the classes and lunch room are going to have too many people in it. Opening the window isn't going to do anything if too many people are in one place," she said. Brown said that with the original A/B learning schedule, her classes did not feel too crowded. 
Over the last three weeks, Cuyahoga County has seen a decline in daily cases, though 2,138 new cases of COVID-19 were reported Feb. 7. Currently in the district there are 13 active student cases and 12 active staff cases. In the United States, 463,000 people have died from COVID-19 since the virus first arrived almost a year ago. Most of these deaths have happened in the last three months.
Glasner said that 50 percent of students decided to return to onsite learning at the high school, and 60-65 percent decided to return in grades 5-8. "The total number of students in Grades 5-12 who have selected onsite learning, combined with adherence to district student and staff health and safety protocols, enables us to ensure that students and staff also will remain safe," the email stated.
Glasner said that all decisions about the return have been made in accordance with data from the Cuyahoga County Department of Health. "We have always informed our decisions by looking at the data, by understanding the guidance around us, and by prioritizing the needs of our students and the health and safety of our students and staff," he said. Glasner said that like all other decisions made by the district since the beginning of the pandemic, this one was a difficult but necessary choice to make.
Freshman Cami Blaszak said she has not felt uncomfortable in the high school. "Everyone wears masks and stays six feet apart, so I feel safe," she said. Blaszak is more concerned for some of her teachers who have expressed concern about having more students in classrooms.

According Hernan, the average number of students in classrooms each period was four under the A/B hybrid schedule. With the shift to the full-time onsite schedule, the average enrollment nearly doubled to 7.5 students per classroom. 
"I hope that we can make the safety protocols even better with the additional kids so everyone in the school feels safe," Blaszak said.
Sophomore Annemarie Lehman is also concerned about returning to school full time. "I'm definitely nervous about going back because it doesn't seem safe, COVID wise," she said. "I think the school is doing an OK job with COVID, but lunch just seems very unsafe."
With the transition to full onsite learning, there will be 675 students at the high school Tuesdays through Fridays. Some classes were relocated to other spaces because they now exceed the seating capacity of the classrooms where they were previously taught. One math class will have 17 students each day onsite and is now meeting in the small auditorium. During free periods, students will continue to attend mandatory study halls in the large auditorium. On Feb. 8, the first day of merged groups, the largest study hall held 122 students with an enrollment cap of 170. The second-largest study had 103 students with an enrollment cap of 130. 
Morris said of the A/B schedule, "We're able to keep the class sizes low and the hall population pretty low, and I'm afraid that's not going to be maintainable if we have everyone back at the same time."
The Shakerite will continue to cover this story as it develops. Vivian Bowling, Olivia Peebles, Brendan Zbanek and Jenna Loveman contributed to reporting.
---
How We're Feeling
"That's going to be like a lot of people. Some of my classes have 24 people in them. How are you going to social distance in a classroom with 24 kids? I don't know it just doesn't make sense to me," junior Ellie Jones said.
"I think it's really good that the administration is recognizing that a lot of students are having trouble learning in a virtual environment, but I also think that it's a little bit too soon to transition to full in person," junior Sam Sekeres said. Sekeres said that the administration should wait to bring back all onsite students until teachers have received the vaccine.
"I think we've hardly given people any time to adjust. Right now we need continuity somewhere, these continuous changes are not cool to the students," junior Emma Khayat said.
"Also I think contact tracing is going to be a lot harder when they have that many students at the school that many days," Khayat said.
"In my opinion, I think that combining the groups, A and B, for the people who were previously hybrid will be beneficial and create more regularity," junior Ethan Bryant said.
"I am excited to go back for more days and see more of my classmates, but the large amount of people makes me kind of scared. Especially for lunch. I enjoy the current schedule we have and I am kind of concerned for this new one," sophomore Mary Basilion said.
"I think the decision for Shaker to have students in full time was smart despite the numerous complaints I've heard from students doing in-person school. As of now it is thought that school is not a place where transmission of the virus is very prominent so I don't think having more students is a severe health risk," sophomore Maya Solganik said.
"I am still online and I am still kind of scared to take that risk of going back to school but I think if we can get more vaccinations and less COVID cases, it would be really great progress toward hopefully in the next school year everyone coming back," sophomore Carrington Hughes said.
"I'm one of those people who actually enjoys going into school so I find it really efficient for me and other students who have more distractions when they virtually learn. My comfort level is pretty good since the whole program is super safe and doesn't really put anyone in harms way," sophomore Dasha Panigrahi said. 
"Since things have been going decently with this virus in our district it seems like a good thing to try out but if cases rise and they keep this new schedule then it would be irresponsible," Panigrahi said.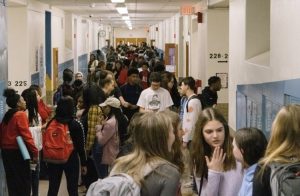 "I think it'll be good going back to school 4 days a week, especially for kids' mental health. It makes me a bit nervous having more people in school at once but I think if everyone follows the rules we'll be fine. I think it's a good decision but I want to see the staff being very strict about the guidelines," freshman Emily Day said.
"Now that they're adding even more I think it's just a little concerning, but not too much because there are plenty of precautions that the school is taking to help stop the spread," sophomore James Stevenson said
"The district should listen to it's teachers above anyone else," senior Paul Huang said, "I personally think that this is a little unnecessary and from what my friends who are going back have been saying is that they actually prefer this schedule to the proposed one."
"I was kind of surprised by their decision because I felt like it was kind of random. I mean maybe there were updates, but I feel like I hadn't heard of any of the updates, so I feel like it was just sort of all of a sudden they're sending people back in for as long as possible. I also kind of worry about people who have to wonder where their kids are. To be in such an unstable plan where sometimes you're in school or sometimes you're not, or sometimes a Tuesday is on a Monday and how they're always changing the schedule," sophomore Sarah Marcus said.
"Having the alternating days made sure that the number of students in the classroom was more safe because it was limited, but that won't be the case anymore," senior Meg Bennett said, "Some of my classes will be fine I think, like my Latin class only has three one day and one the other day, so, like, four in one classroom isn't bad, but in my calculus class we have like around 12 in one day and around ten in the other, so that's definitely too many."
"I feel super safe at school and they are doing amazing at keeping us distanced and safe and it definitely doesn't scare me to go back. I really like the block scheduling, it's nice. I also really like the later start," junior Tess Turco said.
All quotes are from interviews conducted by Olivia Peebles, Brendan Zbanek and Jenna Loveman.
Comment using your Facebook, Yahoo, AOL or Hotmail account
comments
Leave a Comment