A Look at Kuehnle's Shaker, 1 Year Later
Kuehnle's commitment to using data to improve instruction emerges in his approach to increasing math achievement
At his principal candidate appearance March 7, 2016, Kuehnle referred to himself as a "data nerd."
Asked to describe himself, Kuehnle said he was "very intelligent, deeply caring for the kids, involved, very knowledgeable of curriculum … fixated on data."
In the first year of his principalship, Kuehnle has enacted some visible changes within the high school, but his most significant impact may reflect his passion for data.
Prior to becoming principal in Shaker Heights, Kuehnle was Campus Director of Springfield, OH, city schools. When he arrived at Springfield, Kuehnle saw a lack of instructional coaches — staff members who coach other staff members on best practices — to be an issue. His solution? Data.
"I looked at our data from our OGTs and then I met with our department heads and our assistant principals," he said. "When we looked at the data we realized that we needed to improve the professional practice of our teachers . . . That was best provided by the concept of an instructional coach," he said.
Kuehnle's first investigation of data as Shaker Heights High School's principal similarly piqued his interest. "A very general rule of thumb is that no more than 10 or 15 percent of a class should be getting a D or F," he said. "I noticed in math we have a problem."
There are currently 19 Algebra I classes being taught at the high school. Kuehnle counted eight in which the D or F percentage exceeds 15 percent. All eight of these courses are core level. The high school offers three class level tracks- advanced, honors and core.
Among 12 geometry classes, three had D or F percentages higher than 15 percent. Those three were all core classes as well.
In Algebra II, 11 of 15 classes had D or F percentages exceeding 15 percent. Nine of them were core level.
Twenty-two of the 46 math classes Kuehnle looked at fell below his expectation. Ninety-two percent of those classes were core level.
Kuehnle met with members of the math department to discuss possible solutions. Collapsing class levels was discussed, though a decision was made after spring break to explore other solutions. To collapse class levels in the math department would entail merging the honors and core class levels of the same course.
"We didn't collapse the levels because we didn't want to take the big step without first making sure that we had tweaked what we already offer," Kuehnle said.
"If we could do a better job with the supports which already are in place, then perhaps we won't need to make any bigger adjustments.There's no need to cause a disruption if all you need to do is fix the little things that you already do," he said.
Gene Tournoux, head of the math department, explained, "There is no one best answer."
The solution agreed upon comprised five parts.
First, he said, "We are working with [Mary Lynne] McGovern regarding the academic resource center and seeing if we can change the hours or in some other way making it more available for all our students."
"Number two," he continued, "we are going to be more mindful, more intentional about getting our students to conferences because that's another resource students can take advantage of."
"And number three is we are looking at how we might be able to use MAP and COMPASS testing that exists in grades 4-8 as an intervention to help struggling students and help students prepare for the end of course exam in Algebra."
The MAP and COMPASS tests are currently administered in Shaker schools at the beginning, middle and end of the year. "It's kind of like checking the oil on your car," Kuehnle explained. "You're pulling out the stick to see how you're doing and where you can make adjustments."
These checkpoints would identify students who needed more attention and would show the areas of Algebra or Geometry in which they need practice.
The fourth part of the solution involves optimizing tutoring. "We're going to be more mindful checking in with our tutors and making sure that we have students assigned to them who would most benefit by their service and their support," Kuehnle said.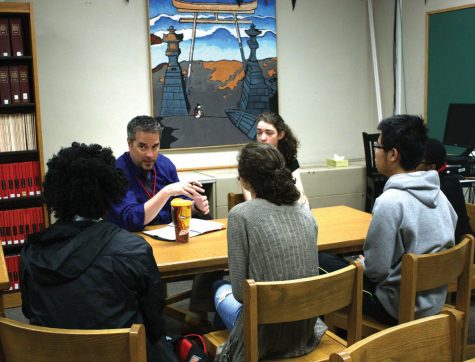 Finally, over last summer, AP U.S. History teachers implemented a "bridges" program to help encourage students who might have been stuck in a core level track enroll in APUSH. It was largely successful. According to the history department's Amy Davis, 13 out of 16 students enrolled in the program remained in the APUSH for both semesters. Because of this, Kuehnle hopes to implement a similar program for math courses.
"I have asked Mr. Tournoux to work with teachers in the Individuals and Societies department to learn about the APUSH bridges program and build a math program based on that model," he said.
Assistant Principal Ramsey Inman was also a part of this effort. "We've already identified about 40 students for the math bridges program this summer," he said. Like the APUSH bridges program last year, he used referrals from teachers and counselors to identify minority students who could make the jump from a lower class track to an upper level math class.
He is optimistic. "Hopefully," he said, "we will be able to bring programs like this to other subjects as well."
"If it works out, we'll keep doing it and maybe use it as a model for other departments and if it doesn't work, then we'll scrap it and try something else that is based on the data and the research," Kuehnle said.
When not collecting and analyzing data this year, Kuehnle also made more visible reforms within the high school. Among these were his efforts to improve communication within the district.
In an interview conducted April 29, 2016, Kuehnle said that he recognizes the importance of effective communication. "Communication is extremely valuable, especially when you're talking with our community and our school," he said.
At the beginning of this school year Kuehnle and teachers collaboratively formed a list of "norms" which govern staff behavior and interactions. "One of those norms is that you cannot over-communicate," Kuehnle said.
"As a principal I help to set the tone, but we're all part of the same team. By creating a culture that you can't over-communicate, I think you're starting to see some teachers and staff who are doing a more thorough job interacting with parents," he added.
"One of the things that I started at Springfield that was well-received was a Sunday night phone call to the parents with an accompanying email." Kuehnle introduced a similar system at Shaker, giving families a weekly reminder of upcoming events.
Junior Charlotte Fusco said she appreciates these calls, in addition to Kuehnle's Twitter account, which he updates regularly. "I like the robocalls and the keeping of social media. It keeps everyone interacting and everyone knows what he's doing and it keeps things open with students," Fusco said.
"He seems to be in tune with the community and with the students, he communicates regularly with the teacher's association and he's supportive of the [International Baccalaureate] program," John Morris, English teacher and president of the Shaker Heights Teacher's Association, said.
Kuehnle has also collaborated with administration to enact the district's strategic plan, a five-year agreement reached by 44 parents, students and teachers in 2014 establishing "priorities in academics and student experience, continuous improvement, policy, human resources and facilities, communications and finance."
At the beginning of the year, he established his Student Leadership Team, which comprises 26 students. Kuehnle explained that the team's current focus is promoting excellence and equity, two words associated with the strategic plan.
"We are working in support of the district's strategic plan. We have three groups of people — students, staff and parents — doing work along parallel tracks," Kuehnle said.
"The purpose of the Student Leadership Team is to discuss possible measures to create a more inclusive and integrated high school and determine what it would take to implement such measures," said senior member Joe Berusch.
Junior member of the SLT, Tessa Shlonsky, said the team represents the student body, "so it is important that many students' voices are heard through us."
"Another major purpose it serves is to work toward integration within the high school and hopefully beyond," she added. "With increased integration amongst the diversity, it will help build a stronger community."
Kuehnle also hopes to increase technology use in accordance with the strategic plan. "One of the goals in the strategic plan centers around technology," he said. "We are working on a plan both in the building and in cooperation with the district to gradually get more devices per student."
Morris said he hopes to see "long term dedication towards improving the access to classroom computers, that we'll see more [Computers on Wheels] units, that we'll see dedicated COWs. Maybe we can re-examine our 'bring your own device' policy," he said.
Kuehnle emphasized the importance of collaboration and building relationships before any changes are made.
"I learn more every day," Kuehnle said. "I've approached this year wanting to build relationships so that if we do want to make changes, we have that trust with each other to know that we're doing the right thing."
Comment using your Facebook, Yahoo, AOL or Hotmail account
comments
Leave a Comment