Neil Breaks Down Language Barriers, One Lunch Period at a Time
Students sharpen conversational skills with tri-lingual administrative assistant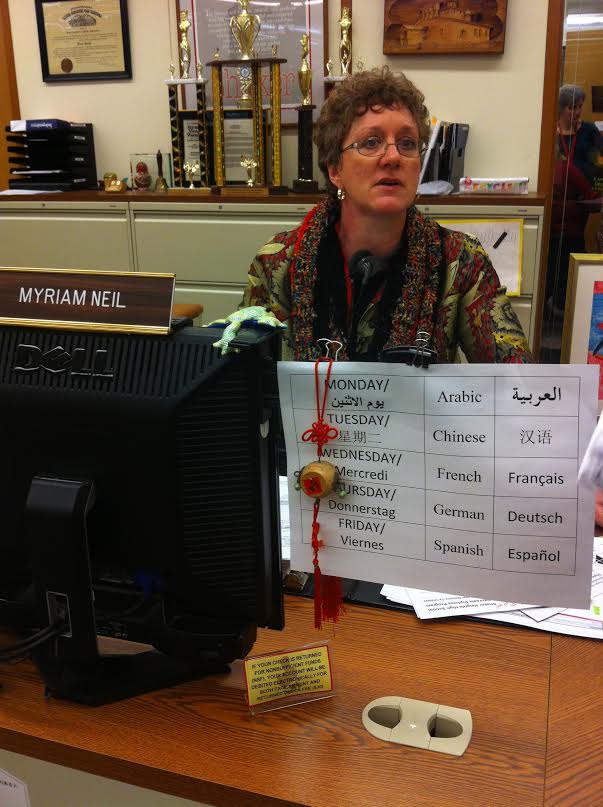 Myriam Neil is on a mission. And that mission is to bring Arabic, Chinese, French, German and Spanish to the Shaker student body in a whole new way.
Beginning this year, Neil, administrative assistant who works in the main office, initiated a table in the lunchroom with only one requirement to sit there: for students to speak the designated language. Occurring every lunch period, the table rotates through five languages, of which Neil speaks three: German, French and Spanish. Chinese teacher Raina Li helps out on the Chinese language day.
"I can't teach a grammar class during lunch, but I can give them some fluency, some ease," Neil said. She was motivated to create the table after realizing how difficult the IB French exam was for many students last year, and wanted to give them a way to improve conversational skills.
Neil's decision to include Arabic was based on a small population of Arabic speaking students. "I initially did it to help some students from Libya," she said. At Shaker, there are two students from Egypt, two students from Libya, and two American students who studied Arabic last summer. Neil noticed the differences in dialects among the students. Because she only knows a few words in Arabic, discussion at the table mostly focuses on Arabic culture.
Neil explained that as a whole, today's students will be growing up and inheriting a world where it's more helpful than ever to be bilingual. "I want to prepare you to come into a meeting where you are able to have a proper conversation," Neil said. Neil believes it is necessary to have a cultural connection with other groups of people in our global world. When people can speak the language of a culture other than their own, it automatically opens doors. "If you communicate, you're going to really enrich your life," she said. Neil went on to explain that some of the best conversations have occurred on Friday, Spanish day, and excitedly retold a particularly stimulating conversation she mediated among several Spanish IV students.
"Nowadays everyone's studying or working abroad," Neil said. Almost every college in the United States offers some sort of study-abroad program, and more and more students choose to participate in them. Through the language table, Neil hopes to prepare students for such opportunities.
Senior Spanish student Zach Steckel has experienced the positive effects of the table firsthand. "I sat at the table for three reasons: I was genuinely curious, I knew that I really needed more practice with my oral skills to prepare for the IB exams coming up, and my teacher offered a small amount of extra credit for doing it," Steckel said.
Like Neil, Steckel sees the significance of speaking two or even three languages. "I mean, in one sense, the international trade is English, so I don't think you necessarily need to know a second language to do good business in other countries simply because we're lucky enough to speak the world's dominant language. However, it can't hurt. Knowing the language of the country you're dealing with can impress possible partners, it can help prevent misunderstandings or tricks, and it can increase one's effectiveness if one was to actually to go visit the other country. Not to mention the fact that as the power of the U.S. declines, knowing other languages will be important," Steckel said.
While a weekly lunchtime conversation won't lead to total fluency, it certainly seems to be putting the students involved on the right path.
Comment using your Facebook, Yahoo, AOL or Hotmail account
comments