From Whittling to Woodworking
Shaker senior turns his passion into work
March 9, 2023
Krishna Divakarla's path to entrepreneurship has not always been pleasant.
In middle school, Divakarla attended a summer camp about entrepreneurship. "The prompt they gave was 'think about a problem that you have in your life and a solution to solve it,'" Divakarla said. "So when I got home that day, I went to my backdoor and I noticed all my soccer cleats and lacrosse cleats and everything kind of laying out, and I was like, 'these cleats kind of smell.'" He then started a business creating a shoe deodorant spray.
His shoe deodorizing business faded when he reached high school. But the second act of his entrepreneurial life is a long way from smelly shoes.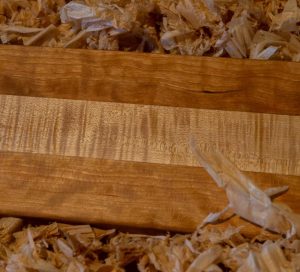 Divakarla later started his current business, Quiet Falls Woodworks, in Jan. 2022. "My mom signed me up for a class just to make a simple charcuterie type board, cutting a circle out of a plank of wood," Divakarla said. "And then from there my interest really was peaked into the whole world of woodworking." 
Divakarla said his passion for handiwork is not new. "I've always loved just doing stuff with my hands and making stuff," he said. "So woodworking and school and sports have kind of help me create the balance of my life that I like to have."
Divikarla's success comes from his strong work ethic. His math teacher, Lori White, says that he approaches everything with dedication and hard work. "He works incredibly hard. He's one that's always on top of his work in general. I think the whole idea of working on his business has really made him focus a little more on that he has to get his classwork done so he can take care of the business aspect of it," White said.
Divarkala has given gifts of his work to White out of gratitude. "For the past two years for the holidays for Christmas he gave me a sample of what he's done," White said. "This year he made me one of his cutting boards because I also wrote his college recommendation."
It takes a lot to start a business, especially as a teenager. Divakarla approaches his plans first by brainstorming. "For me, it all really just starts with writing all of my thoughts down," he said. 
Divakarla then starts his board-making procedure by visiting an Amish-run sawmill in Middlefield, Ohio. "The whole process starts with taking the rough material and making it into perfectly flat square rectangular material that you can work with and then from there there's two different paths for the charcuterie boards," he said. A charcuterie board is an appetizer typically served on a wooden board or stone slab.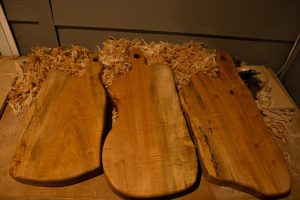 Divakarla makes and sells a variety of kitchen boards. His least expensive board is a 6-inch-by-10-inch board that sells for $10, but Divakarla also sells cheese boards and end grain boards that range from $80 to $150. End grain boards are a type of board that aligns the wood to maximize its strength. "I would say the average charcuterie board that I make – so the cheese boards – are around 40 to 60," dollars, Divakarla said. 
Divakarla has been involved with woodworking for about two and a half years. He is very dedicated to his business and uses his freetime to grow Quiet Falls Woodworking. "I had extra free periods in my schedule from switching out of the IB program. I decided to go to the IC and then use those free blocks to start a business and make some money doing what I love to do with wood," Divakarla said.
Divakarla plans to study metallurgical engineering after graduation, but said he may keep his business as a hobby while in school. Metallurgical engineering is the study of metals and how metals can be safely transformed into the products that benefit humanity. 
Said Divakarla, "I applied and have already been accepted to Colorado School of Mines, which is a STEM-based College in Golden, Colorado that offers a lot of hands-on learning."
Comment using your Facebook, Yahoo, AOL or Hotmail account
comments