From the Middle School Stage to Playhouse Square
Junior Thomas Schinabeck plays at venues such as Ohio Theatre and Night Town as he works to become a professional musician
February 5, 2020
Junior Thomas Schinabeck grew up playing sports and hanging outside with his older brother. He never thought of playing music, let alone how music would become an essential part of his life.
"I wasn't really into it right from the beginning," said Schinabeck, who first took interest in music when his older brother began playing trombone. After a kid on his bus said that he was interested in alto saxophone, he decided to take it up.
During third grade, he started taking alto saxophone lessons with Ken Legrand, a music teacher at the high school. "I learned most of the stuff I know from him, because I was taking lessons with him for so long," Schinabeck said.
When Dominick Farinacci, a professional jazz trumpeter, came to Cleveland in 2017 in search of musicians for his band Spirit of the Groove, he searched among high school, college and local adult musicians. Schinabeck began to take music seriously when he caught that attention of Farinacci, who heard him play at the middle school. He then chose Schinabeck to be in Spirit of the Groove.
The band practices three days a week, and plays at Night Town, a jazz club in Cleveland Heights, on the last Sunday of each month. They do covers and arrangements of songs across musical genres and eras.
"That's when I started getting into music, because I was playing with all these really good people and some other people close to my age," Schinabeck said. He credits Farinacci with most of his success, because Farinacci has set up many shows and opportunities for him. "Basically all the stuff that I've done was through him," Schinabeck said.
After Schinabeck's first week of rehearsals with Spirit of the Groove, he went to a show at Night Town, where Farinacci and another of his bands were playing. The band invited Schinabeck to join them on stage. Since then, he has played with Farinacci's bands in about 10-15 shows at both Night Town and The Bop Stop on the West Side.
He also played at the Cuyahoga Community College Jazz Fest last year with Farinacci. They played with Terence Blanchard, a five-time Grammy winner, who has composed more than 40 film scores for movies such as "Barbershop" (2002), "Love and Basketball" (2000) and "BlacKkKlansman" (2018).
The biggest show he did with Farinacci was an event at Ohio Theatre at Playhouse Square called "Shaking With Laughter," which sold out 2,779 seats. The show raised money for research on Parkinson's disease.
"The really cool thing about playing jazz music is that it's pretty hard to make mistakes," Schinabeck said. "Because if I'm playing a solo, then everyone else is constantly trying to make you sound good, and if I do something that doesn't really sound right, then they'll make it sound right. With that mindset, it's not so nerve-racking to play in front of a lot of people."
Schinabeck spends much of his time playing music, so most of his closest friends are also musicians. Graeham Guerin is one of Schinabeck's best friends. They met through Spirit of the Groove. "I think he's the best bass player I've ever played with," Schinabeck stated.
Guerin returned the compliment. "Thomas is fire at the sax, and he is already on a professional level. He's crazy and he knows his stuff," he said. Additionally, he said Schinabeck is one of the best in the band and commented on how helpful, good at multitasking and respectful he is to everyone he encounters.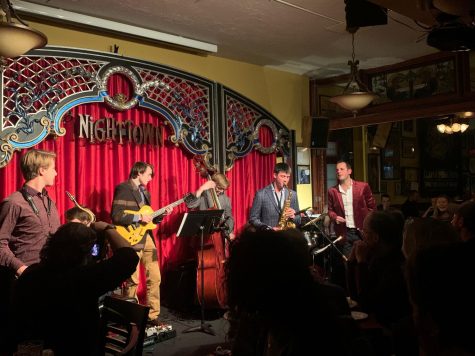 Over the summer, Schinabeck attended two audition-only music camps. One was the Jazz at Lincoln Center Summer Workshop in New York City. The other was the Skidmore Jazz Camp at Skidmore College in upstate New York. Last year, he earned a scholarship to attend a five-week program at the Berklee College of Music in Boston.
"It was sweet to be able to see what it was like to actually be at a music college," Schinabeck said.
Music, while a positive aspect in Schinabeck's life, has forced him to let go of other extracurriculars. One example is sports. He did football, swimming and lacrosse in middle school and played golf and lacrosse freshman year. "I didn't [play lacrosse] sophomore year just because the stuff with this band was totally overlapping. Like, the shows were overlapping the games, and it sucked," he said. "But, I'm going to be a professional musician, so I had to make the sacrifice."
Schinabeck's parents are supportive of his music career. "At first, they were kind of iffy, because they're both doctors, so they have totally different mindsets than someone that's going to go to college for music," Schinabeck said. Despite this difference, his parents and brother remain his biggest supporters.
For the past four years, they have taken him to jam sessions at the Cleveland Music Settlement, which occur about three Saturdays a month, from 11 p.m. to 2 a.m.
"I actually really enjoy it, to be honest," his mother, Anne Schinabeck, said. "I get the opportunity to see him play, and I get to see how fun it is for him and how much joy it brings him. Sometimes, if I have some work to do for my job, I'll just bring my laptop and I'll sit back in the corner and I get my work done with the best background music ever."
"It was a little bit harder to imagine a career in music for our child, but what really became obvious over time is that he has found something that brings him so much joy, a kind of joy that I think many people go through life without ever finding. So then it became really easy to support his dreams because of that," she said. "He works so hard, harder than anyone I know at his craft, and so it's not very hard to support somebody who's already given 150 percent."
Schinabeck has also been in marching band, wind ensemble and jazz ensemble since freshman year. He enjoys playing classical music in wind ensemble, which he doesn't usually have the opportunity to do. He said that wind ensemble director William Hughes is a great teacher.
Hughes described Schinabeck's music talents as "next level" and "mature for his years of playing." He said that although there are many great players on alto saxophone, Schinabeck is among the best.
Schinabeck also has a music-focused Instagram page, @thomasschinabeckmusic., which he manages himself.
Schinabeck didn't consider going to a music high school, as there aren't any nearby. He's glad that he attends Shaker, because that is where he really got into music. "From Woodbury, I was in the jazz band, and my private teacher from the beginning works here at Shaker, and he ran the jazz band," Schinabeck said. If he hadn't gone to Shaker, he also wouldn't have met Farinacci.
Another of Schinabeck's idols is Dave Sterner, his music teacher from last year. He switched to Sterner because he had been Legrand's student for almost seven years and wanted to experience a different point of view.
"He's a very intelligent young man. He came on and he practiced immensely last year, and he grew a ton as a musician," Sterner said.
Schinabeck was able to imitate a certain musician and play their music back for Sterner by memory — which is a very important aspect of playing jazz — just a week after the assignment was given to him.
"So that's unique — not a lot of kids at his age are doing that, so he seems highly motivated to be successful as a musician," Sterner said.
He considers Schinabeck to be very humble, despite his success. Sterner hopes Schinabeck will at least major in music, and he hopes he will attend a high-profile college or university so he can get the best experience possible.
After high school, Schinabeck would like to go to college or live in New York City. However, he hopes to eventually tour abroad. "Then, I think I just want to travel all over the world with my band," Schinabeck said. He would play with other people's bands, too, "but definitely my band, playing my songs. That would be cool."
Comment using your Facebook, Yahoo, AOL or Hotmail account
comments