9/11 Assembly Moves Audience
Shaker graduate Megan Jones and senior Caleigh Leiken lead a discussion about the events of Sept. 11
September 13, 2019
The high school's first 9/11 assembly proved an emotional experience for students who do not remember the terrorist attacks of 18 years ago.
During second period, juniors, seniors and 10 Honors English classes gathered in the large auditorium for a remembrance ceremony planned by senior Caleigh Leiken, her father, John Leiken and SHHS alumna Megan Jones ('97), senior director of education at the 9/11 Memorial & Museum. Assistant Principal Sara Chengelis and English teacher Aimee Grey assisted them. 
Caleigh Leiken, who was born in Manhattan on Sept. 11, 2001, celebrated her 18th birthday by sharing her story at the assembly. She also spoke at the Sept. 10 board meeting about the assembly. 
"Tomorrow morning we are holding an assembly at the high school to commemorate the 18th anniversary of Sept. 11, 2001, which also happens to be my birthday. I was born in New York City on that day and I am honored to serve as an ambassador to the 9/11 Memorial & Museum," Leiken told the Board.
At the assembly, Shaker Heights Mayor David Weiss honored first responders who perished in the attacks. Shaker Heights firefighters marched as members of the Cleveland Orchestra and SHHS orchestra played the Star Spangled Banner.
Next, Jones told her story about that day. She described living in Columbus and working in retail when a co-worker told her a plane had hit the World Trade Center. After seeing news about that plane that hit the Pentagon, she went to her Aunt's house to learn about her cousin, Brian, who worked in New York City at the time of the attack. After eight hours, she learned that he survived because of a college student who invited Brian into his dorm.
"Brian's story is one of many stories of kindness that came out of tragedy. It's stories like my cousin's that are core to the mission of the 9/11 Memorial and Museum. The stories that keep the memory of the 2,983 victims alive. That help us remember and bridge the gap between what is history for most of you and a lived experience for others," Jones said.
A video then portrayed five stories of five survivors of the attacks. The video provoked emotional responses from students. Sophomore Sophia Arnoldi cried as the video was played.
"I guess I've never really thought about 9/11 in an emotional way before 'cause I've never been correlated with it, obviously. I was born after 2001, but seeing the people choke up on screen about how sad they were during 9/11 and how they lost people definitely provoked a lot of emotions because I never really thought of it like that,"Arnoldi said.
Senior Rachel Galin experienced strong emotions about the video as well.
"I thought that, it's hard to put it into words how emotional I saw other people getting and myself getting. Just looking around the room, I've never seen so many people just engaged in what they were watching because it's so important and such a big part of our history," Galin said.
After the video, Jones took questions from students.
Jones was asked how students who were not alive in 2001 could establish a personal connection to the tragedy without having experienced it.
"Finding a person and learning their story. Realizing again that shared humanity — that we're all humans and that this happened to human beings," Jones said.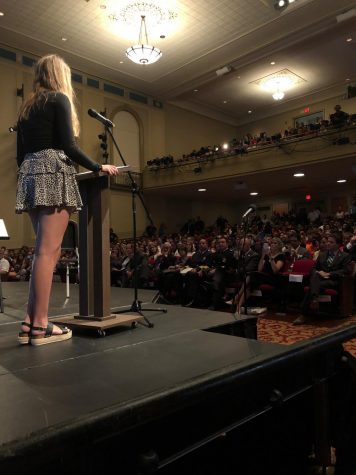 Next, a student asked how the world has changed since 9/11.
"The way that people look at each other and treat each other after 9/11," she said. Jones referred to one of the five stories depicted by the video, which illustrated unity, compassion and coming together, she said.  
The assembly ended with a piece performed by members of the Cleveland Orchestra to accompany a video showcasing the 9/11 Memorial & Museum. 
Chengelis said she feels the assembly went well. Though no formal plans to hold another 9/11 assembly exist, she feels the high school has made a good connection with the museum and will be able to continue the assembly in the years to come.
Leiken said the assembly went smoothly and drew positive reactions from the audience. She hopes that the assembly will continue at the high school after she graduates. She also plans to continue her work for the museum.
Leiken said, "Everyone came together, and I think that it was great and that it really moved a lot of people. It seemed that the audience was involved, and I saw a lot of tears. That was crazy. Even I teared up. It was something really special that we all got to participate in."
Comment using your Facebook, Yahoo, AOL or Hotmail account
comments