Respect, and Some Suggestions
Athletes admire their coaches and offer ways to enhance relationships
June 7, 2019
In the original version of this article, which appears in print on pages of 64-69 of Volume 89, Issue II, published April 26, 2018, Todd Corbin was incorrectly titled as a 'sports psychologist.' Additionally, the head and one of the assistant cheerleading coaches were incorrectly labeled as being placed on administrative leave and later resigning.
Student-athletes spend more time with their coaches than with almost any other adult. In-season practices for high school sports range from two to four hours, and players practice up to six days per week.
The role of Shaker's coaches has come under scrutiny after coaching changes took place in football, cheerleading, men's lacrosse, women's basketball, crew and softball. Head football coach Jarvis Gibson resigned after the district discovered Jonathan Harrell, who had a criminal record, had been serving as a volunteer coach. Before school began, the head cheerleading coach declared her intent to retire after 23 years. Later, an assistant cheerleading coach resigned before the district concluded that she had bullied a cheerleader by body-shaming her. In addition head men's lacrosse coach Jason Griffith resigned last spring. Denise Duncan, former head women's basketball coach, stepped down for personal reasons in February. Kristen Harter, former softball head coach, and Bob Valerian, former head crew coach, also stepped down.
Amid so much turnover in the coaching ranks, The Shakerite interviewed 24 student-athletes, spanning 20 sports, with the aim of characterizing players' relationships with their coaches. Thirteen of these athletes play more than one sport. Eleven of the sources were male; 13 were female. Athletes interviewed remain anonymous throughout the story, and identifying information, such as coach names and sports, has been removed from students' responses.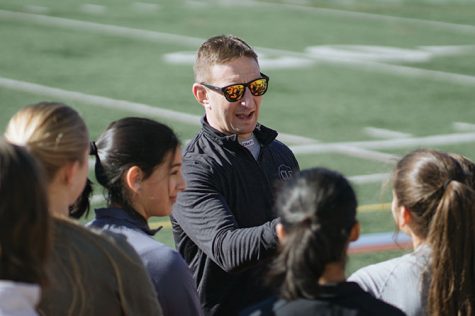 There were three areas of focus: student-athletes' expectations and hopes for their coaches, their experiences and, finally, their reflections.
The Shakerite began by asking students about their expectations. What do you want in a coach? Predictably, students said coaches should be technically proficient in the sport, communicate and motivate well and know how to plan.
"I want a coach that brings the best out of all the players and can practice hard," one senior male said. "The coach needs to be able to provide motivation as well as good game planning."
Another senior male said, "The point of a coach is to help us get better" and "teach us the principles" of a sport.
However, most of the responses transcended athletics.
"The most important thing about a coach is that you can talk to him openly," the senior continued.
"Ultimately," said one junior male, "we want lessons that can applied to everyday life," such as leadership skills.
"I want my coach to be understanding of the students," said the same athlete. "High school can be stressful at times. They need to make sure we shape out to be good kids, and they need to teach us leadership skills."
"I would describe a good player-to-coach relationship as being able to laugh and joke with a player, but also be able to push them to give all they can give," one senior male answered. "A good relationship with a coach is understanding what each other's goals are and helping each other to achieve them, and those goals can be both on and off the field."
A senior female added that coaches should organize "more team bonding activities. Most of the issues in our team don't spring from the lack of athleticism or knowledge of the game; it comes from the lack of trust amongst players."
The Shakerite also asked athletes how they think a coach could better meet their expectations. Responses included diverse recommendations, such as motivational communication and being more understanding of one another.
One senior female said, "My coach is good technically and has a good plan," but "should work on communication with the team." She said her coach "has always struggled to really motivate us and make us feel like we're good enough, which has been especially hard to deal with in such a demanding sport."
"I would implement mental training to help calm nerves and make [athletes] confident," the same senior female added. She said a significant part of her sport requires "getting out of your head and just believing in yourself, and I believe that this is something that could definitely improve if we took the time to work on it."
Todd Corbin, a professional speaker from Shaker Heights and author of Mindfulness For Student Athletes examined the interview responses. "The biggest thing I picked up was it seemed like the coaches were more focused on the physical skills," he said, "and they just didn't spend enough time on mental skills and understanding the athletes more."
"Every athlete that is a professional, even a lot of successful collegiate players and coaches, all say the same thing. Everything is 80-90 percent mental, 10-20 percent skill," Corbin said.
Athletes also talked about practice, including workouts, coaches' attitudes and preparation.
"I think I would focus on more drills that include more of the team," one senior female said. "We spend a lot of time doing one-on-ones," so all but two players are watching at times during practice.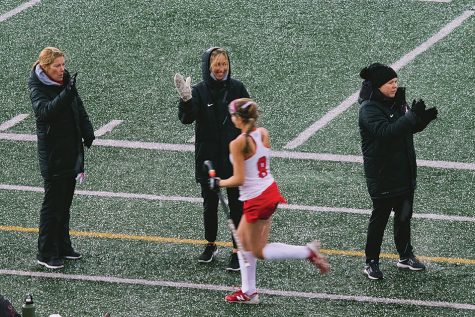 One junior female said adding variety to workouts would help. "It would be good to switch things up, instead of doing the same thing," she said.
"I would probably yell a little less at the players, so you don't decrease a certain player's confidence during practice. You want the players to reach their maximum ability," one junior male said.
"Some coaches don't spend enough time creating a team culture," said Corbin. "A lot of that has to with time constraints. As a coach you have to understand, what is my intention? What do they want? What do you want to have these athletes accomplish by the end of the season?"
Most athletes said their coaches prepared them well for competition.
"I really love our coaches, gameplanning-wise," said a junior female. "They will spend days before the game watching film all day and preparing. We all know, as players, how much work they put into winning and being great."
"I thought our coach did well gameplanning for games. We watched a lot of film and practiced our game plans in practice. I felt prepared," a junior male said.
A senior male offered a different perspective. "We lacked knowledge going into games and we never watched film together on the other team," he said. The coach's game plan "wasn't the best. We would watch film on our mistakes instead of the other team's."
The athletes also discussed daily practice conditions, including coach conduct and workouts. Some described positive experiences and interactions.
"They are constantly brainstorming new drills and formations and tactics to take us further," said one senior female. "They put in a lot of work outside of practice and always come prepared."
Another senior female said her coach "does well at reminding us to focus on the little things in our technique every day, and holding us accountable about giving our all in every practice."
"I like being coached by my coach, because when I'm confused on a play, she'll go over it until I understand it. She knows what's best," one sophomore female said.
"They will come into practice with specified drills every week for each opponent," said one junior female. "It's the little details they put in that makes you want to try hard and be competitive."
One junior male said that in his sport, coaches have to help players cope with failure. "You have to know that seven to eight out of 10 times, you're going to fail. He does a good job in mentally preparing us," a junior male said.
Other athletes talked about times when practices featured tough experiences, challenges and criticisms.
One junior male described occurrences of his coach yelling at others. "When he lost his temper, he went off. There were a few times where, after a few tough losses last year, he would get really pissed. He would punish us with running sometimes," he said.
"[Our coach] is very intense," said a freshman female, and "not afraid to yell, he's not afraid to scream and he's not afraid to call you out."
Another freshman female said, "Sometimes, they are not sympathetic to injuries or setbacks." She described an instance at practice when she experienced a health problem. "I told the coach I couldn't run, and they got upset," she said.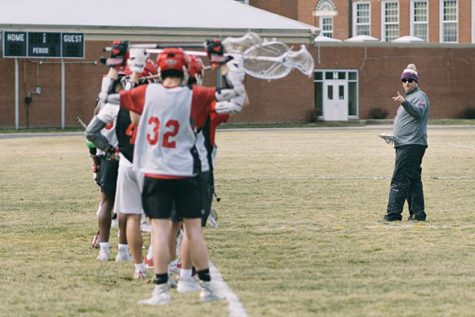 "Our coaching style, practices and gameplanning was not good enough to get us through the Greater Cleveland Conference. I think if we had a different coach, we would have had a completely different season," said a senior male.
Some athletes were critical of their coaches' efforts during contests. One senior female said, "My senior year, a lot of players were playing in positions they weren't comfortable in, and we struggled winning some games we should have."
"I feel like my coach does good in preparation for the game, but sometimes struggles with certain in-game decisions, and sometimes, his actions in-game conflict with practice actions," said one junior male.
Another junior male said parents agreed that his coach "was a hothead. They really only saw him at games where he would be yelling. When he lost his temper, he went off."
Other athletes, however, expressed respect for their coaches' actions during competition.
"They believed in us when we didn't even believe in ourselves," said one junior female. "The first game we lost last season, coach said, 'You walked in here with your heads down talking about how good the other team and is how much we suck. Nothing stopped you from giving your all today. Nothing but yourselves.'"
"They make the best players play," one junior male said. "One thing I can depend on is coach taking me out of the game if I'm screwing up. They don't care if you're a freshman or a senior." You will only play "if you deserve it."
Student-athletes also talked about the demands of academics and athletics. Some said striking a balance can be a challenge. "I would perhaps allow for more time for after-school conference activities, because sometimes there is not always time to get all academic needs finished," one junior male said.
"It was very hard as a player, coming home around 7:45 every night, and then having to eat and shower, so I was usually starting my homework around 8:45," said another junior male. "For someone who is an athlete, I try to be in bed by 10:30 every night, but that is very stressful when there is only an hour and 45-minute slot to do homework."
Corbin added insight to time management for an athlete, especially for upperclassmen. "It can be difficult to balance everything — a lot of juniors want to get into a good school. 'I want a scholarship, I want a good GPA, I want to get a high score on the ACT and SAT.' All of this adds to the athletes' pressures."
Corbin shared the story of an athlete who struggled with pressure. "I know a girl who was a state champion-caliber athlete. But she lost all enjoyment from competing," he said. "She could have really excelled tremendously in college, even olympic quality potential. There was too much pressure put on her, and she didn't know how to handle it."
These pressures can harm players' relationships with coaches. "If kids are stressed, they're not going to have a solid foundation when they're playing the sport, and they're not going to get along with the coach. They're not going to have much fun at all. Whatever the coach can do to help the student athlete bring about more enjoyment is very important," Corbin said.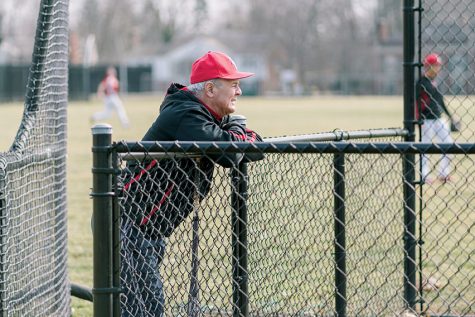 In all 24 interviews, athletes spoke positively about their coaches. Though some expressed criticism, none expressed a wish for their coach to be replaced, even if the teams struggled to win.
One junior female reflected on her feelings of doubt and her coaches' role in alleviating them. "I was one of the people saying that we were going to lose. Sometimes I still have doubts about my team, even [my sport] in general, but I can always rely on my coaches to remind me why I go to practice every day, why I put in 110 percent effort in games; why I play [the sport] in general."
A senior male reflected on a bad experience with his coach. "Personally, my relationship with him was bumpy — one moment, it was good terms, the other it won't be. We had a bad relationship sometimes. Sometimes I would go a week without talking to him. I sometimes could not open up to him. I wasn't comfortable with him sometimes," he said. "I did respect him though," he added.
"Coaches have to build trust with their athletes.," Corbin said. "It comes both ways. The coach has such an amazing opportunity to coach these young men and women. Understanding that it's OK to mess up and lose sometimes is something that all coaches and student athletes should know."
One senior female offered a more complex picture of her relationship with her coach. "Although my coach and I have our differences, he is family to me," she said. "It's been hard getting through to him and making him understand what I need from him as my coach, but I still really value everything he's done for me. I'm really going to miss him once I'm done [with my sport] for good."
Raider Zone Reporter Ben Cox contributed reporting.
Comment using your Facebook, Yahoo, AOL or Hotmail account
comments