Raider Review, March 18-April 1
The "Raider Review" is a weekly series that The Shakerite will publish every Monday night, covering the previous week in sports. This week's edition covers sports events that fell between March 18-April 1.

Baseball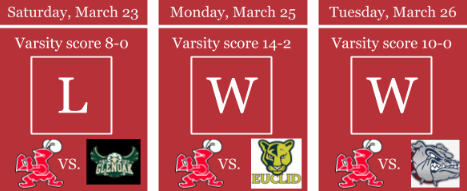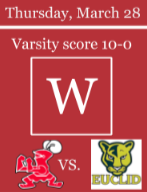 The varsity baseball team started their season over these past two weeks, going 3-1 in their four games played, losing to Glenoak 8-0, but beating Euclid 14-2, Garfield 10-0 and Euclid again 10-0. Junior Calvin Brown, senior Nathan Rose and sophomore Peter Levin all led the way for the Raiders in hitting and compiling runs. The team is currently in Los Angeles, California competing in the National Classic Tournament, which goes until April 5. After the tournament, the team will play at Brunswick April 8 and resume conference play.
Softball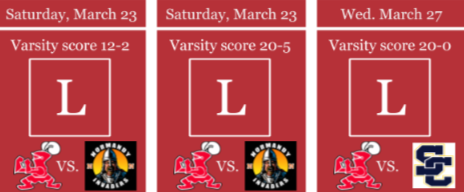 In the past two weeks the varsity softball team lost to Normandy twice in a double header and Solon 20-0. The team will look to pick up their first win of the season April 8, hosting Elyria.
Men's Lacrosse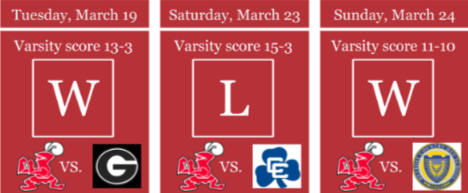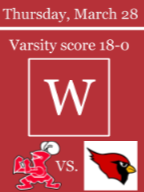 The men's lacrosse team started off their season with a 3-1 record as they beat Green 13-3, Detroit Country Day 11-10 and Cardinal Mooney 18-0, but lost to Detroit Catholic Central 15-3. Senior Will Schinabeck led the team in scoring during the games. Against Detroit Country Day, freshman Tyler Lencewicz hit the game-winning shot in triple overtime. The team will host Medina at the Russell H. Rupp stadium April 9 for their next game.
Women's Lacrosse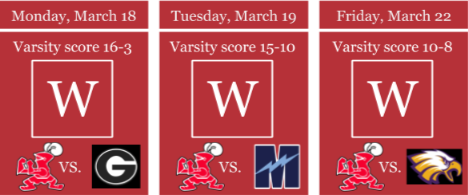 The varsity women's lacrosse team started their season undefeated,  winning three games against Green 16-3, Magnificat 15-10 and Avon 10-8. Seniors Elizabeth Bugenske and Lauren Hertzer, and junior Lora Clarke led the way for the Raiders in goals. With all three wins, the Raiders are now ranked number two in the state, according to maxpreps.com. The team will head to Medina April 9 for their next game.
Men's Tennis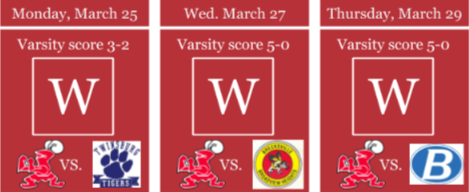 The varsity men's tennis team also started their season undefeated, winning their first three matches against Twinsburg 3-2, Brecksville 5-0 and Brunswick 5-0. The team will test their undefeated record as they will travel to Medina April 10.
Comment using your Facebook, Yahoo, AOL or Hotmail account
comments
About the 'Riter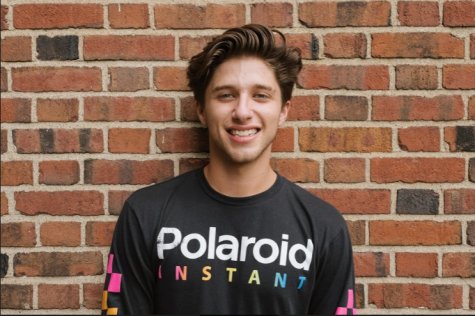 Ezra Marks, Raider Zone Editor
Ezra Marks ('20) is in his third year with The Shakerite. He is currently the Raider Zone Editor. As a Raider Zone reporter his junior year, Ezra covered many different sporting events and did the weekly "Raider Review." He also wrote two print stories and covered breaking news events such as the Brush-Shaker Brawl during a basketball game this past February.
Ezra runs both indoor and outdoor track. He is also a member of the Student Group On Race Relations and the marching band. Ezra also works two jobs, enjoys listening to music, training and sleeping.