Paid or Not, Ohio Coaches Must Pass Background Checks
Questions remain about how a volunteer continued to work with the football team after pleading guilty to a felony in 2015
August 30, 2019
The Nov. 8 Shaker community meeting raised questions about the then recent resignation of head football coach Jarvis Gibson, which occurred after a volunteer assistant coach, Jonathan Harrell, was found to have a disqualifying criminal record.
Midway through the meeting, an audience member asked, "What is the process of hiring a football coach, or I guess, any coach? Who's in charge of that? As the process is for hiring assistant coaches, how did the process break down in your view?"
Interim Superintendent Dr. Stephen Wilkins explained that the district would hire a new coach and emphasized the importance of making sure that adults who work with students are properly sanctioned and licensed.
"We will ensure that that happens in the future," he said.
Several audience members were still eager for answers and responded by yelling, "How?" at the large auditorium stage.
"We have drafted a job description and will revise that. I'm working with the athletic director, who is responsible for the interviews of those candidates. Those candidates will be vetted, strictly, and we will raise the standards and expectations of the coaching staff. Stay tuned," Wilkins concluded.
Five months later, the district still has not released any information about how Jonathan Harrell, as a volunteer coach, avoided the kind of scrutiny Wilkins described.
According to Board of Education meeting minutes, Harrell was hired as an assistant football coach via supplemental contracts for the 2011, 2012 and 2013 football seasons. Gibson assumed head coaching duties at Shaker in 2011.
"
Those candidates will be vetted, strictly, and we will raise the standards and expectations of the coaching staff.
— Stephen Wilkins
According to the Cuyahoga County Common Pleas Court docket, Harrell was charged Sept. 16, 2014 with petty theft, disrupting public service, endangering children, domestic violence, abduction and attempted rape. Harrell spent 20 days in Cuyahoga County Jail, from the day he was arrested to Oct. 6, 2014. He was released on a $100,000 bond.
On April 1, 2015, Harrell pleaded guilty to abduction, and every other charge was dropped. Finally, on June 15, 2015, Harrell was sentenced to 180 days in jail and was credited for the time spent there the year before.
On Oct. 22, 2015, while serving his sentence, Harrell was additionally charged with aggravated theft and possessing criminal tools for an offense allegedly committed Jan. 23, 2015.
He pleaded guilty to attempting to possess criminal tools and received a lesser charge of 134 days in jail; the other two charges were dropped. The judge ruled that these 134 days would be considered part of Harrell's previous sentence, and he was given no additional time.
Harrell was released Nov. 22, 2015. A search of Board of Education meeting minutes found no evidence that Harrell was awarded a contract for any position at any time after 2013. Two senior football players said that Harrell served as a volunteer coach for the 2016 and 2017 seasons as well.
On Oct. 28, 2018, an email was sent to football players and their parents stating, "Varsity Football Coach Jarvis Gibson has resigned his head coaching duties effective Friday, October 26, 2018."
Both Harrell and Gibson were gone for the remainder of the football season.
On Feb. 19, 2018, shaker.org published a brief release announcing the hiring of South Euclid Brush assistant coach Alex Nicholson as head football coach after an "extensive interview process that included a panel of teachers, administrators, counselors and parents (Middle School and High School), alumni and current and former Shaker football players."
Unlike teachers and administrators, high school and middle school coaches in Ohio do not have to have licenses to obtain jobs. However, the Ohio Department of Education requires that all paid — and volunteer — coaches obtain a Pupil Activity Permit to achieve an OHSAA Coach Certification.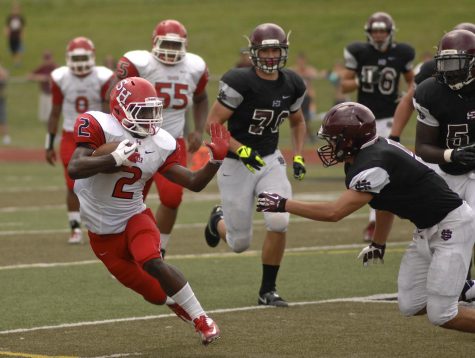 To receive the permit, individuals who want to coach a school team must complete the National Federation of State High School Association's fundamentals of coaching class. They must complete CPR certification, first aid or sports injury prevention training and concussion prevention training. All coaches must also complete sudden cardiac arrest training.
Finally, all potential coaches — contracted and volunteer — must pass Ohio Bureau of Criminal Investigation and Federal Bureau of Investigation background checks, to be requested by districts that intend to employ them or for which a coach intends to volunteer.
It is still unclear how Harrell was able to serve as a volunteer coach after pleading guilty and serving a sentence for abduction and attempting to possess criminal tools.
The abrupt decision to place Gibson on leave before the 2018 football season ended suggests the district was unaware of Harrell's volunteer participation and his criminal record until somehow learning of it in October 2018.
The Shakerite emailed questions about Harrell's involvement with the football team and the process of hiring a coach to Athletic Director Don Readance and Executive Director of Communications Scott Stephens March 12.
In the email, we asked: What is the process that the district uses when hiring a head coach? What does the district look for in a head coach? Is the hiring process for head coaches the same for volunteer and assistant coaches? If not, how is it different? Who is in charge of hiring coaches at the high school? Jonathan Harrell was hired as a coach before he was convicted; was he originally hired using the same process as other assistant coaches? After he was released from jail, Mr. Harrell came back to coach, but he was not on the payroll — how was Mr. Harrell able to continue working on the football staff without the administration knowing he was there? Was anyone aware that he was coaching? Do you have any recommendations of other sources we can talk to about the hiring process for coaches?
This email received an acknowledgement from Stephens but no responses to questions.
"
I thought John was a really good person. Honestly, if you would have talked to him for like an hour, you would never assume he had a criminal record.
— Carson Fowler
A second email was sent to Stephens March 15 requesting responses to the original questions and these additional questions: How did that district find out that Mr. Harrell was coaching in the 2018 season? What process lead to him officially leaving the coaching staff last fall? This email received no response.
A final email to Stephens sent March 27 included all the questions. Stephens responded March 28 and said: "The reality is we didn't know he was there working with kids because he was not on our payroll. As soon as it was brought to our attention, he was gone and the head coach was gone. Dr. Wilkins took care of a situation that needed to be corrected. It was corrected."
Carson Fowler, a member of the football team, said he was surprised when learned that Gibson and Harrell both left the team.
"I thought John was a really good person. Honestly, if you would have talked to him for like an hour, you would never assume he had a criminal record," Fowler said.
Fowler also said that two other assistant coaches left the team as well because they thought it was unfair for Gibson and Harrell to be forced out.
The Shakerite contacted Gibson by phone. He said that he was not willing to comment on his resignation last fall. The Shakerite called Harrell three times. He has not yet responded to voicemail messages seeking comment.
A version of this article appears in print on pages 70-73 of Volume 89, Issue II, published April 26, 2019.
Comment using your Facebook, Yahoo, AOL or Hotmail account
comments