Era of Greatness
Year after year, field hockey ranks among the state's elite and sends graduates on to major college programs
January 25, 2019
Work hard and show grit.
That is the motto of the field hockey team. And with it, over the past decade, the Raiders have become a state powerhouse.
The program was not always as successful, though. "When we first started nine to 10 years ago, we were not great," Coach Jenifer Clarke said. "It took a long time. Hilary [Anderson], my sister, laid the foundation of the program, and I continued it."
In 2014, Shaker won the field hockey state championship for the first time since 1991."Compared to now, the culture was different, because it was more of a come, be friends and have a fun environment," Clarke said. "It was more easy going. We changed the culture when Coach Anderson and I took over. It was a low time I had here, because when you change the culture somewhere, it takes a lot of adjusting, especially for the students."
In any athletic program, high school or professional, people judge the athletes and coaches by their records. Coaches who struggle to win games are usually fired. For a new coach and her team, the process of changing a program's identity can be tough. Success does not come overnight.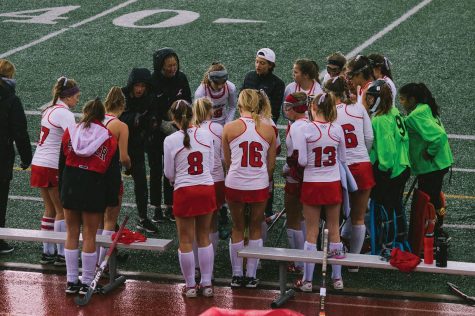 "Kids can get angry because they're used to one culture, and you switch it as the new coach. It's hard to put yourself out there as a coach for people to be angry and not agree with what you're doing," Clarke said. "In the end, believing that what you're doing is right is best for the program."
"Everyone can have talent, but it is what you do with the talent that separates the great from the good," she said. "Even if there is one player who has talent, when it comes to hard work and effort, we cater it to the whole team. Our girls believe we are one of the hardest-working teams at Shaker."
Junior Ava Yacovone has been on the varsity field hockey team since freshman year. "I would define hard work as always having a positive attitude, grit and confidence," she said. "When you do something with confidence, you force yourself to get better."
In the off season, Clarke and Anderson lead workouts that comprise heavy running and lifting. The workouts are scheduled almost every day over the summer.
"These workouts push you to points you did not believe your body could reach, and everyone feels successful after," junior Reese Pulver said. "After track workouts, I feel accomplished, and by the end of preseason, the difference in the team dynamic is astounding."
Preseason workouts during the summer are very difficult. "We develop our grit and toughness through the 6 a.m. workouts and practices," Clarke said. "I don't like practices in really hot weather, because it diminishes our quality of play. Our 6-9 a.m. workouts seem to drive our girls to work harder, even though it is tough."
"It's those players that play in the off season that take their game to the next level," she said. "If you get that one player who wants to play in the off season, their play will improve drastically."
Clarke noted four athletes from the 2014 state championship team as examples: Megan Mitchell ('16), Jessica Morford ('14), Kasidy Anderson ('14) and Lori Mack ('17). "Those are four strong, amazing girls who worked their tails off," she said.  
All four currently play a Division I sport. Mitchell, now playing field hockey at American University, was the 2015 Plain Dealer field hockey player of the year. Morford, now playing at Indiana University, earned selections to all-Ohio first teams. Mack, now playing at Michigan State University, was also an all-state selection in 2017. Kasidy Anderson plays ice hockey at Northeastern. She finished her career as the leading scorer in Shaker field hockey history.
Replacing players who had such significant impact on the program is extremely hard, according to Clarke. "It's just developing a passion for the game, for the girls. You try to do it for all of them. But there's always one or two you get every other year who are special and put so much time into the sport. It's all about passion and commitment to the game," she said.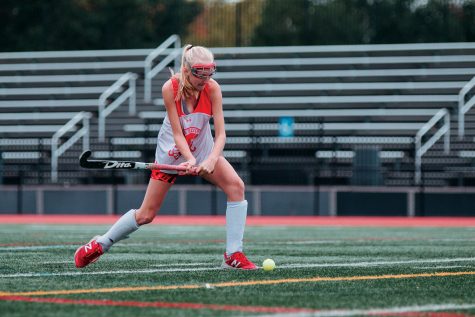 "My freshman year, there were eight or nine seniors, which is almost the entire lineup," Yacovone said. "When they graduated, we were lucky enough to have solid players in other grades, but Coach Clarke will move people around in different positions. You might not end up where you originally thought, but I feel that she knows where people are best at, and how the team will best work together."
Coach Clarke's daughter, junior Lora Clarke ('20), is currently ranked 58th in the country for her class, according to maxfieldhockey.com. She is committed to the University of Michigan to play Division I field hockey.
"When she was a freshman and went to the state finals and lost, she looked at me and said, 'Mom, I want to play D1 field hockey.' I said, 'Alright. Let's make a path and a plan,' " Clarke said. "That year after the finals loss, people have no idea how much work she put in. It was remarkable to witness. She put countless hours into it."
When a strong class leaves, it usually puts the team at a disadvantage. Shaker, however, still manages to go to states year after year. Expectations for the team are usually high, but consistent state runs can raise the bar even higher. "We do a goal setting workshop at the beginning of the season every year," Clarke said. "We all discuss states, and how we are going to get there, but every year is different. This group currently has been to states two years already. They expect to make states."
Though Shaker has appeared in four of the last six final four rounds, the Raiders are met by stiff competition in two Columbus powerhouses — Thomas Worthington and Columbus Academy. For 23 consecutive years, one of these two schools has made the final four.
To continue Shaker's success, Clarke said, "The girls just have to continue to have love and passion for the game. The hard work will continue to pay off for us. We believe in each other so much year in and year out. The sky's the limit for us."
Comment using your Facebook, Yahoo, AOL or Hotmail account
comments