Diverse in Numbers, but not in Athletics
Shaker sports don't reflect the school's diverse enrollment
September 16, 2020
Senior Sam Votruba was one of 13 white players on the high school's 75-member football team last fall.
"I think it's really important to have a diverse team," said Votruba, "but it's hard to encourage people to play 'cause they don't feel comfortable leaving their friend group and trying new things."
Votruba said joining the team created a new learning perspective.
"I wouldn't necessarily know guys on the team if I didn't play because I don't take the same classes, and so getting to know them on a new level was big," he said.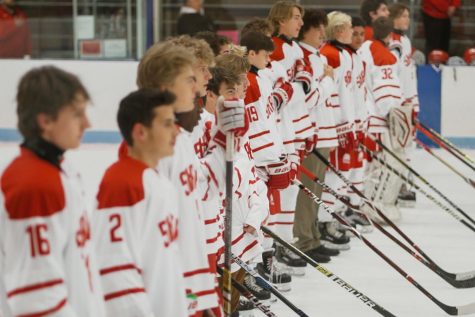 But, as the football team's numbers show, Votruba and his 12 white teammates are exceptions to a lack of diversity among the high school's athletic teams.
In 2019-20, the high school continued to show consistently low diversity rates in cheerleading, hockey, men's basketball and women's crew. These four sports have consistently been the least diverse at the high school since 2014. But why?
This year, cheerleading was the least diverse squad, comprising 27 black students and one white student, despite a high
school enrollment comprising 45 percent black and 41 percent white students.
Cheerleading coach Denise Johnson, who is Black, said that few white students show interest in the sport. "What I've found as a coach now," said Johnson, "it seems that there are just not many non-black students who try out. Stylistically the dance that the cheerleaders do is more rooted in the historically black college and universities style, and that may be part of who it attracts or not."
Erica Merritt, who founded the consulting group Equius, works for the district as an interim equity partner. In that role, she is helping to draft a new equity plan. Merritt said that students tend to gravitate toward those who are the same race when they are young.
"Those are the points where they are more likely to step away from one sport and go toward the sport that most of their friends are playing," she said. Merritt also said that athletes are more likely to participate in a sport when their race is represented in the coaching staff, the fans and the players.
"Our efforts around ensuring that we have equitable and inclusive hiring processes extend to all district roles, including our coaching staff," she said.
Men's basketball head coach Danny Young, Sr., who is black, said the decline of multi-sport athletes contributes to homogenous teams. "When kids get older, they lock into one sport, trying to be the best at it, versus how elementary kids are just thinking, 'I want to do as much as I can and just have fun,' " Young said. "In the '80s and '90s the three-sport athletes were very big in Shaker. Now, over time, I think trainers — and society in general — are forcing kids to just pick one, causing teams to be less diverse."
The 2019-20 men's varsity basketball team was 76 percent black, 11 percent multiracial, 8 percent white and 5 percent Latino.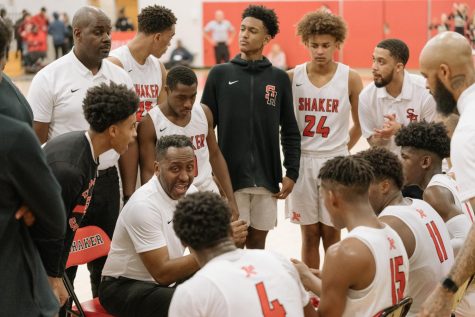 Junior basketball player DeAndre Hall, who is black, said that the racial imbalance on the team can be attributed to some athletes focusing on different sports. "I believe the team is majority black players because just not enough white people and minorities are trying out. People just need to have the courage to try out because you never know," he said.

The financial costs of playing certain sports pose another obstacle to diversity. According to the Sports and Fitness Industry Association, children from low-income households are half as likely to play a team sport as children from households earning at least $100,000.

Dr. Ronnie Dunn, chief diversity officer and associate professor of urban studies at Cleveland State University, said cost correlates with the lack of minorities participating in certain sports. "There is minimal cost and relatively open access to basketball and football, sports in which we find more blacks, minorities and persons from low-income backgrounds participating," he said.

By contrast, athletes who participate in crew pay a $400 fee in the fall and a $600 fee in the spring. The fees cover the costs of housing the boats and entering regattas. Crew boosters created and raised money for a scholarship fund for students who need financial assistance to participate. The 2019-20 men's crew team comprised 70 percent white, 13 percent multiracial, 9 percent black and 8 percent Asian athletes. The women's crew team was 80 percent white, 9 percent black, 6 percent Asian and 5 percent Hispanic

Hall said that friends have a big influence on each other when it comes to picking a sport. "It definitely happens. For me, my friends influenced me to start playing basketball and help me keep playing. Now it's just more fun to be with and play with your friends," he said.

"

I think everyone has pre-existing relationships, and they are mostly segregated by race.

— Jasmine Collier

Junior soccer player Jasmine Collier, who is Asian American, also said friend groups can steer participation. "I think everyone has pre-existing relationships, and they are mostly segregated by race. So coming into a new sport where you're not friends with very many people and everyone is already so close, it can be challenging, which is why most people stick with friends," she said.

A similar imbalance existed this year in the men's hockey team, which was 83 percent white, 4 percent black and 13 percent multiracial.

Hockey has historically been one of the least diverse sports, according to the NCAA. Over the past five years, 75.6 percent of NCAA players have identified as white, while 1 percent have identified as black. A 2019 National Hockey League survey found that 93 percent of league players are white. Of 713 players, only 23, or 3 percent, were black.

The Raider varsity hockey team has been 89 percent white and 4 percent black over the last five years.

Head hockey coach Matt Bartley, who is white, said there are initiatives to integrate the sport at the high school. "We are actually working now with the Cleveland Cavaliers and Cleveland Monsters to try and get more minority hockey players in the Cleveland area," he said.

One initiative is a youth program offered by the Monsters that allows kids ages 4 to 8 to enjoy an introduction to hockey and increases recognition of the sport among minority youth in Cleveland.

Dunn said that low-income youth seeking upward class mobility contributes to the lack of diversity in sports at Shaker. "They are exposed to media images of basketball and football players as celebrities that have made it," he said. One such example is this year's KIA Super Bowl commercial, which depicted NFL running back Josh Jacobs, who grew up homeless, offering advice to his younger self.

Head football coach Alex Nicholson, who is white, said that football welcomes diverse participants. "I always look at football as the sport for everyone no matter shape, size, race, color, religion — it doesn't matter. We just want players," he said.

A study published by The Sport Journal revealed a correlation between winning percentages for men's and women's basketball teams in the Atlantic Coast Conference and the diversity of the coaching staff and team from 2005-2009. Using the Herfindahl-Hirschman index to measure diversity, a number was assigned to each team for each season. A
lower number indicated a more diverse team, while a higher number indicated a less diverse team. The study showed that ACC men's teams winning percentage increased as HHI decreased.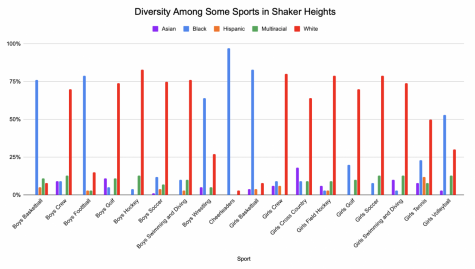 Senior distance runner Vivek Divakarla, who is Indian American, said that a diverse team helps make athletes aware of lesser-known sports "It helps recognition of the sport, especially running, which is not as well represented as some other sports," he said. "Most years we see a couple of new guys who are minorities come and run because there have been minorities who came before them."
Junior sprinter Colin McCabe, who is white, said that when different groups of people associate with one another — when they normally wouldn't have the chance — it brings the school closer together. "I believe that having a diverse track team, or any team, is important. Last year and this winter I ran with the sprinters, a team which is made up almost entirely of black students," he said.
"And while with that team, I got the chance to meet people and make friends with people I had previously not had the opportunity to, and this is something I am glad I got the chance to do. Having people who have been exposed to diversity will allow people to have a broader understanding of the people of the United States as they grow older," he said.
Comment using your Facebook, Yahoo, AOL or Hotmail account
comments