The Show MUST Go On!
After a nearly two year intermission, theaters' curtains are rising again
February 17, 2022
As I stood beside the stage, waiting to finally make my Broadway debut  — as well as my overall theater debut — a sense of familiarity struck me. After Broadway's 18 month shut down due to the COVID-19 pandemic, shows are finally back and stronger than ever. Hearing the excited audience murmur and flip through their crisp, new Playbills just felt right, and gave me the energy I needed to make this anticipated debut. 
At 7:45 p.m., my fellow actors started entering the stage for the fifteen minute pre-show performance. With audience excitement growing as more performers walked onstage, all eyes would be on me at the 8:00 p.m. curtain for my opening night.
It was finally time. The lights dimmed, the curtain went up and the sight of four women in burlesque-style costumes lit up the stage. "Hey sister, go sister, soul sister, flow sister." The lights brightened. "Gitchie, gitchie, ya-ya, da-da." I double checked my costume to make sure I was stage ready. "Gitchie, gitchie, ya-ya, here." I was ready, I just needed my cue. "Mocha Chocolata, ya-ya." Here we go. "Creole Lady Marmalade," I sang with the four other performers after I jumped up for my entrance.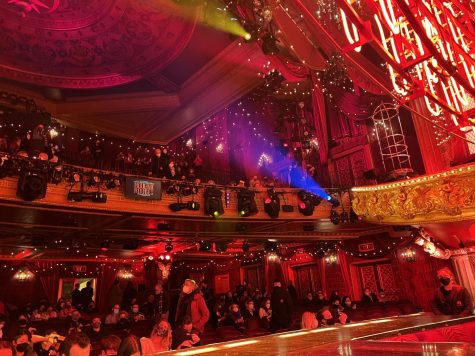 The Moulin Rouge was finally re-open, and this time starring Brendan Zbanek.
As my body continued to do the beautiful, intricately put together choreography from muscle memory, everything started to blur. The lyrics were coming out of my mouth, but I couldn't figure out what was happening. The beautiful sight of the 1,424 seat Al Hirschfeld Theater's full audience turned into nothing but a blob of fairy lights and fuzzy faces. I felt myself starting to tumble over and then BOOM… I left this dream world as I hit the ground.
When I snapped back into reality, I was not dancing on the beautiful Broadway stage, but instead sitting down, facing the four women as they performed without me.
Two months prior, my parents told me that we would be going to New York City during Winter Break. Being the Broadway fan I am, I immediately listed off the options of shows to see if my parents agreed. After intense debates, my mom decided that we would be seeing Moulin Rouge! The Musical! 
Somehow, I unsurprisingly finagled my way to getting one of the most sought after tickets on Broadway: a "Can Can! Table" seat for Dec. 30, 2021. Fast forward to the day before our flight, COVID-19 took over our house for ten days of pure misery. After heated arguments about whether we should reschedule or not, the three day trip was postponed to Jan. 15.
As we finally walked into the Hirschfeld Theater that freezing cold Saturday night, every theatergoer, no matter where their seat was, immediately became engulfed in the beautiful set design. Consumed by the thick, red velvet sheets hanging with fairy lights everywhere, an active windmill spun in the area where the box seats would typically be, and a massive elephant statue sat on the other side.
Entering the house in the back of the orchestra section and following instructions to walk all the way up to the front, I could feel the excitement of thousands in the audience. It was a joyous buzz that I will never forget, and hope to feel again some day. Upon entering the "Can Can! Table" section, surrounded by the stage's catwalks and runways on all four sides, I was told to stay seated or a can-can dancer might accidentally kick my head when she took the stage.
Although I wasn't technically on stage, it sure felt like it. Making eye contact with almost every second with different actors, the ensemble whispering to me and the dreamy, Tony Award winning Aaron Tveit belting his criminal B4 inches away, I was the closest I will ever be to making my Broadway debut. (Thanks, Mom and Dad for my lack of singing talent.)
After an 18 month closure, it was clear that every audience member could feel the performer's joy while dancing their hearts out, living their own Broadway dreams. Broadway is open, finally. Theaters everywhere are reopening, and they need people to go support them as they fight hard with the pandemic. With some of the lowest attendance numbers in years, eight Broadway productions have announced closures this month. Broadway is not accessible to everyone — which is an issue of its own — but local theaters across the country, like Cleveland Play House in Playhouse Square, are in the same predicament.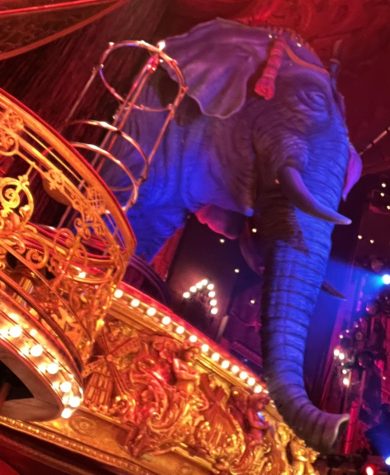 Theater is ingrained in Cleveland's culture with Playhouse Square, the largest American performing arts center outside of New York City, which needs support from our local community. With the KeyBank Broadway Series bringing national tours of Broadway-level productions, and Cleveland Play House, America's first professional regional theater, there are many options for all theater goers downtown. With plenty of other regional theaters, including the Beck Center for the Arts, Cain Park, Karamu House and the Dobama Theater, the Cleveland theater scene is strong.
The curtain of the Shaker Heights High School Theater Arts Department's production of Barnum (starring The Shakerite's very own Grace Wilkinson) will rise March 16-19. Students are also looking forward to this year's 40th anniversary New Stages festival, featuring original plays fully written, directed and produced by students. "We're so excited to be back in person and show what we've been working on," Elizabeth Hillman, a junior New Stages playwright and director, said. 
This magical community needs our help, so go to the theater. See a show, and then tell your friends and family to do the same. "I want every seat filled," Hillman said. The arts need us in order to survive, and with our support, Broadway will be able to continue delivering these life changing performances for good. (Cue Wicked's sappy duet.)
Comment using your Facebook, Yahoo, AOL or Hotmail account
comments