Stop Sharing Videos of Black Death, Please
To eliminate racism, take action; don't share footage of Black people dying
September 2, 2021
It was a "typical Tuesday night," as Taylor Swift calls them, and I was scrolling through Instagram. After mindlessly viewing pictures of my friends, Taylor's concert videos and other random celebrity posts, I saw a graphic image warning pop up. I kept watching, and that's when I saw it: a video of a police officer kneeling on a Black man's neck, killing him. In shock from what I just watched, my body filled with anger, and a pit grew in my stomach.
On May 25, the day before I saw the video, George Floyd, a 46-year-old Black man, was murdered by Minneapolis police officer Derek Chauvin. That night, footage of Chauvin kneeling on Floyd's neck — for nine minutes and 29 seconds —  was posted on social media.
Chauvin, a 19-year police veteran, kneeled on Floyd's neck while three officers stood by. Lying face down on the ground, Floyd struggled to say, "I can't breathe." He was pronounced dead later that day at Hennepin County Medical Center.
That evening, the spokesperson for the Minneapolis Police Department issued a statement about Floyd's death, claiming, "he physically resisted officers." However, the video, and now, Chauvin's conviction, prove that Floyd was not resisting arrest; a brutal police officer killed him.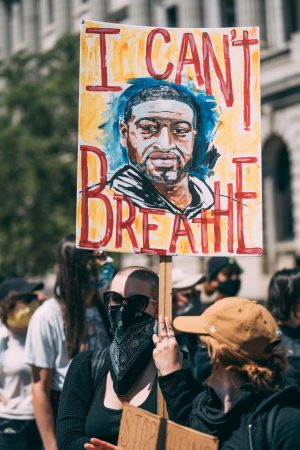 The Minneapolis Police Department updated its statement May 26, saying that they had discovered "additional information," referring to the video. The updated statement also announced that the FBI would be joining the investigation. Before the video was seen by the public, Chauvin and the police officers who stood by and did not intervene were placed on administrative leave, but the video forced further investigation and the firing of all four officers.
In addition to saying Floyd resisted arrest, the MPD's original statement also claimed Floyd "appeared to be suffering medical distress" and made no mention of the officer's knee on his neck. On Floyd's autopsy, the cause of death is listed as "cardiopulmonary arrest complicating law enforcement subdual, restraint, and neck compression," and the manner of death is listed as a homicide.
The video, recorded by a 17-year-old bystander, proved essential to achieving accountability for Floyd's death. But the video did not have to be viewed millions of times for the officer to be held accountable.
Watching a person being killed is very distressing and can cause emotional trauma. Tweets of the video of Floyd's death were viewed around 1.4 billion times between May 25 and June 5. It is not possible to know how many of those 1.4 billion views were those of Black people, for whom the trauma is immeasurably worse.
The trauma and anger that emerged after watching Chauvin murder Floyd is nothing new, however. Since 2014, videos of police killing Black citizens have appeared online steadily, and in the last year, increasingly often.
On Feb. 23, 2020, Ahmaud Arbery, a 25-year-old Black man, was shot and killed by two white men in Brunswick, GA while jogging through the men's neighborhood. A bystander's footage was posted on social media and spread widely. The two men were not arrested at first. A lawyer who had informally consulted with the suspects leaked the video May 5, and the shooters were arrested and charged with murder and aggravated assault May 7.
Videos of police killing Black men have been circulating through social media since a video depicted Eric Garner, a 43-year-old Black man, being killed by Staten Island police while in custody in 2014. A friend of Garner recorded and posted a video of the incident. In the video, Garner can be heard saying the same desperate words Floyd said: "I can't breathe."
"
Tweets of the video of Floyd's death were viewed around 1.4 billion times between May 25 and June 5.
In 2016, Alton Sterling, a 37-year-old Black man, was shot and killed by a Baton Rouge police officer. Two bystanders posted video footage of the shooting taken by a bystander, which was widely shared on social media. Later, the Baton Rouge Police Department released the officer's body camera footage. 
These videos have been shared and retweeted over and over again and serve as constant reminders to the families of those victims. Generation Z has been desensitized to the violence and trauma that result from watching a human be killed. Sharing the videos is not going to bring back those who have been killed, and sharing those videos will not stop racism. 
The 1955 photos of Emmett Till's broken body in a casket did not end racism. The 2015 dash-cam footage of police shooting Walter Scott did not end racism. The 2014 footage of Michael Brown lying dead in the middle of a street did not end racism. The 2016 video of Keith Scott being killed by police did not end racism. The 2016 Facebook live stream of Philando Castile being shot by a police officer did not end racism. No video or picture of a Black person losing their life is going to end racism. 
People empathetically repost the videos in an effort to do something in the face of crisis, but to the victims' families, these efforts, although perhaps well intended, only amplify their pain. George Floyd's 7-year-old daughter now has to see the video of her father's death for the rest of her life. She has to constantly be reminded that a police officer knelt on her father's neck for nine minutes and 29 seconds. People should not treat the record of a family's worst day as just another social media trend. 
People post these videos to "raise awareness" of police brutality against Black people, but are videos of murders necessary to prove that? Is it not already known that the police disproportionately kill Black people? Are people unaware that racism exists? If they truly are unaware that racism exists, that is a problem, and watching a video of a Black man dying should not be the way to educate them. If they are already aware, they shouldn't need to see a video of a blatant racist act. People consume footage of Black death without considering the cost to the Black community.
Sophomore Carrington Hughes, a Black student, feels these videos shouldn't be shared. "As an African-American individual, it constantly reminds me of how much my life is in danger every day," she said. "For me, social media is a place to escape, and when I am nearly forced to hear about racism and death 24/7, it really ruins my mental well-being."
Videos of white death are almost never shared. The videos of ISIS beheading a white American man were taken down right away by social media platforms and not able to be reposted billions of times on the internet. Turning on the news or opening Twitter does not mean anyone should have to see a video of a Black citizen's life being extinguished.
According to data compiled by Mapping Police Violence, law enforcement officers have killed about 1,100 people a year since 2013. Most of those victims were either Black or Latino men under the age of 30. Police killings of Black citizens are nothing new. The data's constantly trending flat line is not changing, no matter how many videos are posted.
"
As an African-American individual, it constantly reminds me of how much my life is in danger every day.
— Carrington Hughes, Sophomore
The victims in the videos are people. Their deaths mean far more than one single video. They are sons, daughters, fathers, mothers, spouses, cousins, aunts, uncles, brothers, sisters, nephews, friends and loved by their communities. They never got the chance to say goodbye, and they will be missed forever. They are not a social media trend to be posted just so people can proclaim that they are anti-racist without taking any other action. These viral videos dehumanize the victims, and this trend will not solve racism or end police brutality, no matter how much people wish it would. 
It is true that these videos have driven millions of protesters to the streets nationwide, forced some police departments to fire officers who kill Black people and shown white people evidence of what Black people have known forever. In the Chauvin case, specifically, the video forced the justice system to try a police officer for murder and the jury to return a rare conviction. The video played the biggest role in holding Chauvin accountable, but that should not need to happen; going forward, a video should not be the key to justice. Accountability should not require broadcasting Black trauma.
Although Hughes believes that the videos can show white people how vicious police violence against Black people is, she doesn't think they are necessary. "I do think to a certain extent that since the summer, non-POC are subconsciously becoming numb to it and repositioning it casually as if someone isn't literally dying," she said. "I don't even repost these videos because it physically makes me sick to watch and I understand that there are other ways to spread awareness besides traumatizing African-American people every time they look at their Instagram stories."
That Tuesday when the Floyd video popped up on my Instagram feed, I chose not to repost it. My peers' Instagram stories were filled with reposts of the video, and it was all everyone was talking about. In all honesty, I still haven't watched the full video because I know I would not be able to handle it emotionally, which is why I made the conscious decision not to share it. 
Recently, we have been seeing more of these videos, such as the Columbus Police Department body camera footage of an officer killing 16-year-old Ma'Khia Bryant, and the Chicago Police Department body camera footage of an officer killing 13-year-old Adam Toledo. I urge you not to repost these videos, whether as an Instagram story or a retweet.
Instead of sharing videos of Black death, take action to become anti-racist and help start to eliminate systemic racism. 
Start with intervening when someone you know says or does something racist and hold them accountable. Laurel School students and alumnae did this when a video surfaced of a white student saying the N-word. The student and her friends were reprimanded by their school community, and the student no longer attends the school.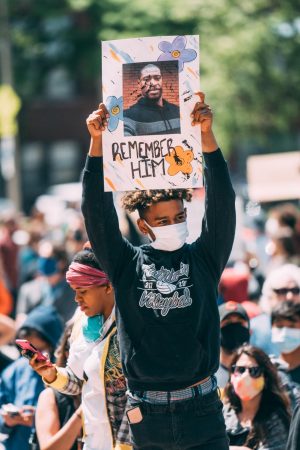 Get comfortable with having conversations with friends, family or colleagues about race and racism that can be awkward or uncomfortable. Ask people not to assume you share their prejudices. This process takes time and practice, and it is different for everyone. Listen respectfully to others' opinions before helping them change. It will start to become easier over time but will never be fully comfortable, which is normal and how you grow.
Eliminate vocabulary that may be microaggressive or stereotypical. Some common microaggressions include telling a Black person, "You don't sound Black," denying white privilege, saying, "I don't see color," and asking to touch a Black persons' hair.
Attend workshops or events that focus on becoming anti-racist, such as Case Western Reserve University's monthly Anti-Racism Workshop Series meetings.
Diversify your news sources to make sure your news intake is not biased. Read a variety of news websites or papers; don't only read articles by white reporters. Follow Black journalists such as Yamiche Alcindor, Nikole Hannah-Jones, Charles Blow, Jamil Smith, Jamele Hill and Ta-Nehisi Coates, and read their work.
Support Black-owned businesses and other work from BIPOC entrepreneurs and artists. Local Black-owned businesses include UnBar Cafe and Sam Sylk Chicken and Fish. Instead of going to Starbucks, try Cleveland Cold Brew Cafe or Cafe Phix MidTown. Try desserts from Candy Lady and Kids or The Sweet Fix Bakery.
Donate money to anti-racist organizations, such as Campaign Zero or The Bail Project, if able. 
Sign petitions online.
Safely attend protests or gatherings. 
Don't just repost videos or pictures on social media, it is simply not enough. Videos of Black death are traumatizing; stop sharing them. Instead, address the systems that empower police and vigilantes to murder Black citizens and take action. 
A version of this article appears in print on pages 36-41 of Volume 91, Issue I, published May 28, 2021.
Comment using your Facebook, Yahoo, AOL or Hotmail account
comments