Stepping Outside of Shaker
Students face culture shock, as they exit the liberal Shaker
July 28, 2020
All high school graduates can be surprised by what greets them when they enter college. 
"Shaker is a bubble. Once you get outside of Shaker, it's a whole different world, different game, especially if you go to a different region of the United States," said Kameron Willis ('17), a junior at Morehouse College in Atlanta.
Madi Hart ('18), a sophomore attending The Ohio State University, said she was surprised when she arrived there and realized that people around her were not as liberal as Shaker Heights residents.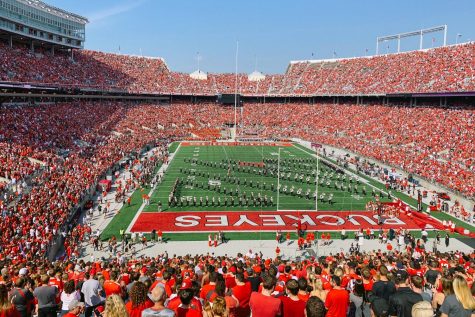 "I guess I was used to saying things and people being like, 'Oh yeah,' and that wasn't the case anymore. So, I was more careful with what came out of my mouth because I had to make sure I was in the right crowd of people," she said.
Junior David Spielman takes classes at Cuyahoga Community College via College Credit Plus — a program offered throughout Ohio that allows students to take free or low-cost classes at local colleges for high school and college credit. He said that there is more political diversity in his college courses and that people are comfortable writing and talking about their conservative views.   
Spielman said a student in his class wrote an essay arguing that transgender athletes should have to compete against others of their birth sex. At Tri-C, Spielman said, students feel more comfortable writing about whatever they want to.
For example, he said that at Shaker, he would be chastised if he argued the same opinion — that a transgender female athelte who was born biologically male should not compete against other female atheletes. "If I were to write something like that here, I would feel that maybe people would take it as, 'Oh, you're transphobic' or get offended about it," Spielman said.
Liberalism prevails in Shaker. According to a 2016 Shakerite survey of 240 students, 68 percent held a negative or very negative view of the Republican Party, and 2.9 percent held a "very positive" view.
However, outside of Shaker Heights, Ohio is far more balanced, politically and socially. According to a 2014 Pew Research Center study, 42 percent of Ohio citizens lean toward or affiliate with the Republican Party, 18 percent have no affiliation, and 40 percent lean toward or identify with the Democratic Party.
Spielman said he isn't exposed to different political opinions in Shaker. "In terms of politics, there are other viewpoints," he said. "I don't really feel like I hear everything that people believe in the country."
"
I don't really feel like I hear everything that people believe in the country.
— Junior David Spielman
Todd Torrence, who teaches government at the high school, tries to help students like Spielman experience more diverse political thought.
"We try to make everyone comfortable in there, no matter what their beliefs are politically," Torrence said. "I know other teachers have had some students who felt they were under attack since they held the Republican or the more conservative view about things." 
Torrence said he tries to make students aware that not every belief of the party they identify with may align with their own views.
Adonis Fryer ('19), a freshman at Ohio University, said he is more receptive to all people now that he has left Shaker. "With Shaker, you get to meet a lot of people — a lot of different people — just from your high school. I think it gives you a good sense of diversity, but I also think that it lacks in some regards with diversity. Like, in terms of political beliefs and in terms of small town geographic and big city geographic experiences," he said.
Shaker graduates also notice differences in the way people speak about marginalized groups. 
Hart, who is white, said she has heard OSU students make comments that contradict Shaker norms. For example, she said she has heard students say the n-word and use the slur, "retarded." A friend also said that he thought impoverished people should just get jobs, and that he could not understand why they could not help themselves. 
Jalan Morgan ('18), who is black and a freshman at the University of Cincinnati, stated in an email that he hears white people say racial slurs at college. "An instance that caught me off guard because you didn't hear it in Shaker — was hearing a non-person of color say the n-word," he said.
"It's weird because I knew other people said it," said Morgan, "but for someone to say it in front of me and think nothing of it — think it wasn't a problem or think it's a new slang term — took me by complete surprise."
Drew Hubbard ('18), a white sophomore at Miami University, said she admonished a white student who was saying the n-word casually to one of his friends. "Miami has a kind of stigma around it. Yes, it's kind of conservative. It's a lot of rich, white people," she said. 
According to Forbes Magazine, in the 2017-18 school year, the Miami student body was 72 percent white and 3.2 percent black. The remaining 24.8 percent included multiracial, Asian and Latino students.
Isabel Ortman ('19), a Latina freshman at Tri-C, lives in Kent and was surprised by its racial homogeneity. "When I moved out here, it was a little bit of a culture shock, just because it's more of a white community," she said. "There were a few instances where I went to the store or something, and I feel like I would get weird looks from people. Whether it was just me being a little bit paranoid, or people could tell my race, I don't know."
The student body at Morehouse, where Willis attends, is 94.4 percent black. But Willis lives off campus in Atlanta and said the racial climate there is tenser than in Shaker Heights. 
"Sometimes down South, it's a little bit more hostile. I think Shaker is very diverse and has a very good community. No matter what race you are, everyone's pretty nice, and everyone gets along pretty well. But then down South here, it's a little more divided, and a lot of people are racist or just prejudiced in any type of way," he said.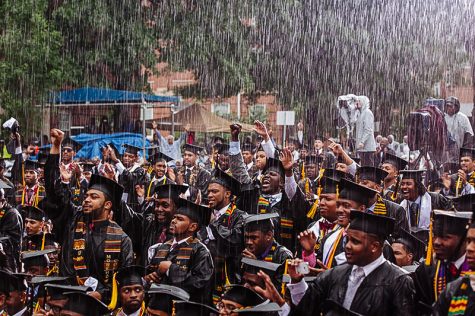 Willis said that members of the Ku Klux Klan protested during a gubernatorial campaign rally at Morehouse. The candidate was Stacey Abrams, a black woman, who ran for Georgia governor in 2018. Willis said he was shocked to hear people chanting, "white power" first-hand.
SHHS graduates are aware of the racial disparities on their campuses. UC is 72.9 percent white and 7.6 percent black. The remaining 19.5 percent of students include multiracial, Asian and Latino students. Morgan said Shaker did not prepare him for the absence of diversity at Cincinnati.
"I knew it was a predominantly white institution," he said. But there are so few black people on campus, he said, "that I can count them on my hands. I feel that that is one thing Shaker didn't prepare me for — not even being one of the few black kids in AP and honors courses."
Although Willis attends an HBCU and is not in the minority in his classes, he is often the minority in public spaces. But Willis said that he is used to being the only black person in a room because of his experiences in Shaker's advanced classes. "I feel like it prepared me academically, and also it prepared me to be able to deal with being in spaces that are majority white, since I was in the IB curriculum and in all of my IB classes, I would either be the only one or one of two or three black students in those classes.
"And although that's not good, I was able to learn how to deal with being in that space," Willis said.
Torrence said that Shaker tries to prepare students as much as possible by having honest conversations through groups like the Student Group on Race Relations. "I think overall we try to make sure the kids are offered a balanced view of what's happening, as much as possible," he said.
Kay Petrovic ('18), a sophomore attending Kent State University, said Shaker made her much more open minded. "Before I lived in Shaker, I was from Connecticut, so I went to a school where it was really only white people. And then when I moved to Shaker, I was able to see different people from all different aspects, like race and religion and stuff like that," she said. 
"Without that in college, I don't know if I would have necessarily surrounded myself with people who are different from me."
However, Morgan said his Shaker experience did not equip him for what was to come. "I don't feel Shaker prepared me for the real world in a single way, because they always swept things under the rug or shielded us away from anything dangerous or harmful," he said. "But they did prepare me for the workload, and how to delegate my time to homework."
However, Hart said that in joining a more politically diverse community, her identity has been newly shaped. "My time at Ohio State has made me more open minded in regards to people who are different than me politically. So, when I went into college as a progressive person, I was very closed-minded and had a hard time seeing the other side of [things] people believed," she said.
"
People are products of their environments, and where they come from dictates the fears and beliefs that they have.
— SHHS graduate Madi Hart ('18)
Hart said in terms of reproductive rights, she never got a chance to hear the reasoning behind taking a pro-life stance at Shaker. She said now she can ask people for their reasons and have an open conversation — one that is not accusatory — with them.
"Now that I've had the chance to actually talk and interact with a lot of conservative people, I'm more open-minded," Hart said. "People are products of their environments, and where they come from dictates the fears and beliefs that they have."
Comment using your Facebook, Yahoo, AOL or Hotmail account
comments