Emergency BOE Meeting Called to Discuss How to Move Forward with Reopening
SHTA responds to administration as Cuyahoga County nears Level 4 status
October 23, 2020
The Board of Education met Wednesday night to discuss the district's plan to move forward after Gov. Mike DeWine announced Cuyahoga County had moved into Level 3 on the Ohio Public Health Advisory Alert System last Thursday.
The district delayed the return to school buildings for students K-4, set for Oct. 26, after Cuyahoga County went to Level 3, meaning there is a very high risk of exposure and spread. According to the Ohio Department of Education's website, activity should be limited as much as possible during this level of public emergency. At Level 3, the Cuyahoga County Board of Health guidance for schools suggests that most students learn remotely. 
Glasner told the BOE that the district still plans for students to return to school onsite, even while the county is in Level 3. "What we're seeing is not just that cases are relatively low for schools or school districts that are in-person, but that the transmission within schools is either very low or zero," he said.
The Board of Education has not yet set a date for onsite learning to resume but, Glasner said, the district would provide at least a two-day notice when the date is established. "I know our plan is right," Glasner said in BOE meeting.
According to Glasner, every teacher will get a set of KN90 masks as well as typical disposable medical masks and a face shield. There will be wipes and gloves in every classroom. Extra masks for students will also be provided. Additional PPE will be available by request once teachers return to school buildings. 
In an interview yesterday, Glasner said almost all desks are spread at least six feet apart, excluding some tables in elementary schools that are not six feet long. In those cases, he said, plexiglass dividers have been added to the tables. Desks, hallways and bathrooms have signage that will tell students to keep distance and wear masks. All water fountains will be turned off, excluding the water bottle filling stations, he said. 
The Shaker Heights Teachers' Association has concerns about returning to school under these circumstances, as they expressed in a letter released this morning. In an interview, Dr. John Morris, SHTA president and high school English teacher, said teachers want to see improvements in ventilation systems that have been promised by the administration. After the Cleveland-based sustainable energy and engineering company HEAPY evaluated the district's school buildings' HVAC capacities, Morris said the SHTA would like to see ventilation fixes, air purifiers and better filtration systems. 
Morris also said that for teachers to feel safe back in school, the SHTA requests plexiglass dividers, contact tracing and temperature taking each day. The district currently plans to have teachers swipe their IDs upon entering the building each day to attest that they aren't ill. Families are also asked to perform daily symptom checks before sending children to school. The district has deemed temperature checks ineffective. Morris acknowledges they are not perfect, but, he said, "at least being able to send home students, teachers, staff with fevers would be a good deterrent of keeping the virus out of the building."
Glasner's major concern about continuing school remotely is that the district is not meeting student social, emotional or educational needs. During the BOE meeting, he said that while online instruction has improved since last spring, students would be better served coming back into the classroom. "We are seeing that we are not meeting the needs of students across the board in many respects," Glasner said. "Whether students have great support systems at home or not, whether students have great technology at home or not, whether students are excelling academically or not, there's really a wide range of students who we're not meeting their needs."
Morris does not think remote teaching methods are failing students, as Glasner said. "Granted they're not perfect, and it is definitely not preferred, but our objective is health and safety," Morris said.
"This is not a strike action. This is not a refusal of work, this is just our continuing to advocate for the safest environment for students, teachers, parents, staff," he said.
During the meeting, Chris Rateno, director of student data systems and accountability, said that from July 1 to Oct. 20, 113 students withdrew from Shaker to enroll in a private school. He said  the number of students withdrawing to neighboring public schools, 131, remained nearly the same as last year, while withdrawals to private schools were "a little higher than we typically see in a school year."
After a student withdraws, the district calls the student's family to inquire about why. "In almost all those calls, the fact that we are entirely remote has been a leading factor for the family decision to leave Shaker," Glasner said.
A K-4 parent who did not want to be identified plans to send their children into buildings when given the option. They said in a phone interview they are confident in the district's ability to protect their children, but want dividers in place for lunch periods. "The elementary students are having lunch in their classrooms, obviously without masks on, [and] they would be six feet apart, but I would feel more comfortable if plexiglass dividers were installed at their desks during lunch to contain any possible spread," they said.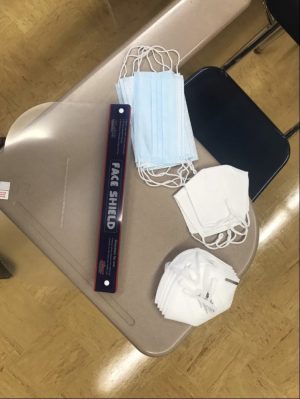 Glasner said in an interview that he is concerned about the social and emotional wellbeing of students but is also aware of the loss of education they've experienced since March, when schools closed statewide. "Most likely, all of our students, or nearly all of our students, are behind where they normally would be if the seven months of the pandemic hadn't happened," he said. "There is additional support we will need to provide to help students make up some of that lost ground."
According to the slides presented by Glasner during the BOE meeting, 70 percent of Shaker students plan on returning to school buildings if given the opportunity. This number precedes Cuyahoga County's return to Level 3. Board of Education President Heather Weingart suggested the district resurvey parents in light of the change. 
Weingart said in an interview that she feels comfortable sending her own children back into school and will choose that option when able. "There's districts all around us who have done it," she said.
In an email sent to the community last night at 7:08 p.m., the BOE expressed support of the administration's decision to begin the process of returning to onsite learning. "It is clear that remote learning is not serving all our students and is negatively impacting both the achievement gap and their social and emotional health," the email stated. 
Weingart said she has built strong relationships with BOE presidents from around the area whose schools have gone back successfully. "I feel very comfortable with the fact that schools can successfully mitigate the risk," she said. "I also feel very confident in our protocols. We've worked long and hard at this. We also purposefully waited to see what would happen with other schools."
Despite reassurance from the district that returning to schools in neighboring districts has not caused a spike in cases, there are still safety concerns. "From SHTA's standpoint, if students are sick or if students make their families ill by contract of the virus, the best form of educating the student is not the priority," Morris said. "For us the priority is keeping everyone healthy and safe."
Based on the PPE and social distancing measures that have been put in place by the district, Glasner said he would feel comfortable teaching an in-person class. "I have visited our classrooms and seen the extensive systems and structures that we put in place. I will also say our principals took some time over the past couple of weeks to both practice and model this new model of instructional cycle we call concurrent teaching."
In concurrent teaching, teachers in a classroom simultaneously meet the needs of students learning in person and virtually.
Morris said that the SHTA believes physical safety takes priority. "What we want is the safest re-entry possible," he said, "and at the end of this, all of our worst fears revolve around our students becoming sick, debilitated or transferring the virus to their family. Those are the things that wake us up late at night." Morris also worries that the district will still push to send students back to school, even if the county reaches Level 4, or purple. 
Ohio set another record for coronavirus cases yesterday, the eighth record high in the last nine days. DeWine said yesterday that Cuyahoga County is one of three counties in danger of reaching Level 4 if current conditions continue for another week. 
Weingart said that once teachers are back in the building, it will be easier for the district to meet teachers' individual needs. "I think that we can reconcile those issues and I think that we can do that with a sense of urgency because we need to get the kids back in the building," she said. 
Like Glasner, Weingart's has received email from community members. "They are predominantly in support of going back to school," she said. "Just because I'm hearing from a lot of people doesn't mean that there's not a whole other segment out there that supports not going back." 
One email Weingart received involved an elementary school student who was excited to learn before the pandemic, but it now causes them stress. They have completely shut down, Weingart said. "I have multiple friends whose teenage children are seeking counseling," she said.
While Glasner emphasizes the necessity of choice, there is a disparity between white and Black students choosing to remain fully online. While 19 percent of white students have elected the remote option, 32.5 percent of Black students have made the same decision. 
"I do recognize that communities of color have been disproportionately affected by COVID-19. That's really due to a variety of historical and societal factors, and we acknowledge that," Glasner said. "We want to make sure that we are setting up the best and safest structures for all of our students and families."
Glasner also said, "I really believe we have a moral imperative as a school district to serve and educate our students and their families and everyone in this district."
The Shakerite will continue to cover this story as it develops. Executive Managing Editor Hilary Shakelton contributed to reporting.
Comment using your Facebook, Yahoo, AOL or Hotmail account
comments