#BlackLivesMatter
What began as a hashtag has become a movement
September 3, 2021
Trayvon Martin was a 17-year-old Black boy murdered on the street in a Sanford, Florida, neighborhood Feb. 26, 2012. His killer? George Zimmerman, a white man serving as a neighborhood watch volunteer.
Zimmerman saw Martin walking in his neighborhood and called the police because he thought Martin looked "suspicious." Although police told Zimmerman not to do anything, he followed Martin, who, wearing a hoodie and carrying Skittles, was walking home. Zimmerman confronted him, then shot and killed him as the two struggled.
Zimmerman faced no consequences for weeks after the shooting but was finally charged with second-degree murder and arrested in April 2012, after protestors demanding his prosecution flooded streets across the United States. At Zimmerman's trial, which took place more than a year later, he claimed he had acted in self-defense.
When Zimmerman was acquitted in July 2013, further nationwide protests ensued.
Black Lives Matter, which defines itself as a "Black-centered political will and movement building project," was co-founded in 2013 by three Black women: Patrisse Khan-Cullors, Alicia Garza and Opal Tometi. They formed the organization in response to the acquittal of Zimmerman.
According to History.com, Garza was saddened to observe that many people appeared to blame the victim, Trayvon Martin, rather than Zimmerman and his racist actions, for Martin's death. She posted a message of comforting words to the Black community on Facebook on July 13, 2013 that contained the phrase "Our lives matter." Garza said she felt "a deep sense of grief" after Zimmerman was acquitted. From the phrase, "Our lives matter," Garza and her friends Cullors and Tometi created the hashtag #BlackLivesMatter.
What began as a hashtag has come to define a new generation of activism. In seven years, Black Lives Matter, founded to "eradicate white supremacy and build local power to intervene in violence inflicted on Black communities," has become a multichapter organization that has changed the way in which the nation talks about race.
Thirty BLM chapters have developed across the United States since the movement's start, including one in Cleveland. According to BLMCle President and CoFounder LaTonya Goldsby, the chapter was founded in December 2015, a year after a Cleveland police officer fatally shot 12-year-old Tamir Rice.
"BLMCLe is committed to proactive steps to prevent police brutality through systemic police reform, investigation, legislation, training, vetting, transparency and education," Goldsby wrote in an email.
The rise of BLM has enabled more frequent and more meaningful discussions about race.
"The conversation around race didn't exist in a vast capacity until we saw the BLM movement, this surge," T. Sheri Amour Dickerson, Executive Director and Core Organizer of BLM Oklahoma City told NBC News. "Now difficult conversations, honest conversations, and even some discourse, have become part of the daily discussion here in Oklahoma, and I think that goes nationwide in many different factions. It's also become more intergenerational."
In 2014 the Black Lives Matter movement grew after police killed two Black men: Micheal Brown, 18, and Eric Garner, a 44-year-old father of six. Garner died after a white New York City police officer placed him in a chokehold. A video, recorded by a bystander, showed the police officer restraining Garner unlawfully.
Two police officers had confronted Garner for allegedly selling cigarettes illegally. The officers pinned Garner to the ground, causing him to lose consciousness. He was pronounced dead at a hospital an hour later. Medical examiners ruled his death a homicide by suffocation.
Brown was shot and killed by white police officer Darren Wilson in Ferguson, Missouri. Ferguson fired two shots at Brown from his police cruiser after responding to a report of theft at a convenience store. St. Louis County prosecutors told a grand jury that Brown and Wilson had an altercation at the window of Wilson's cruiser, that Brown ran from Wilson after being shot at and wounded, and that Wilson pursued Brown on foot and fatally shot him when he stopped and moved toward him. Witnesses stated that Brown stopped, turned and put his hands up before Wilson shot him. A grand jury ruled that there was not enough evidence to file charges against Wilson. The U.S. Department of Justice later ruled similarly on federal grounds.
"
As of this day, current policies have failed to ensure any real change in police culture or being about any real measure of acountability.
— LaTonya Goldsby, BLMCle Cofounder and President
Nightly protests in Ferguson, after the shooting and after the grand jury decision, continued for weeks, and the Black Lives Matter movement gained momentum.
Black Lives Matter activists protested in cities around the world after the deaths of other Black people at the hands of police in 2014, including those of Rice and 17-year-old Laquan McDonald, who died when shot 16 times by a Chicago police officer. McDonald was holding a knife as he walked away from officers who responded to a report that a suspect later identified as McDonald was breaking into trucks parked in a lot.
Rice became a prominent symbol for the Black Lives Matter movement after a white police officer shot and killed him while Rice played with a pellet gun outside a recreation center in Cleveland on Nov. 22, 2014. The surveillance video of the shooting caught attention worldwide.
Since Rice was killed, Cleveland has created new policies which went into effect in 2018. The police force is to undergo training to reevaluate when they should use force and how to converse with people rather than rely on violence as a first response. The new policies created clearer definitions as to when officers can use force and taught de-escalation techniques in order to restrain from using force. Under the new policies, force used must be "objectively reasonable" and proportional to the threat faced by the officer.
However, "As of this day, current policies have failed to ensure any real change in police culture or being about any real measure of accountability," Goldsby wrote.
In the following year, Black Lives Matter activists drew attention to Walter Scott, Freddie Gray and Meagan Hockaday, who were also killed by police officers.
Black Lives Matter organized protests during 2015 to spread awareness of the injustices Black women and Black transgender women face. According to The Guardian, 21 transgender people had been killed in the United States by the end of 2015. Of the 21 victims, 13 of the victims were Black, and almost all of them were transgender women of color.
A series of organized protests against police brutality toward Black people took place during 2016. In early July of 2016, more than 100 protests took place in America following the death of Alton Sterling on July 5 and the shooting death of Philandro Castile the next day.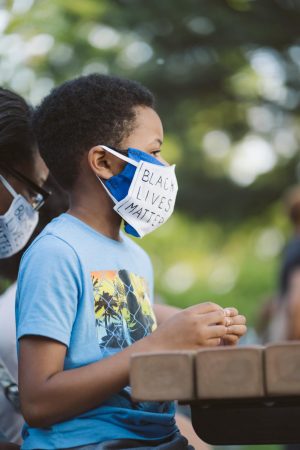 Although Black Lives Matter is known for protesting against the death of Black people and police brutality, they also protest acquittals in cases that make it to trial. In June 2017, Black Lives Matter held a protest after the officer accused of killing Castile was found not guilty.
Black Lives Matter marked the organization's five-year anniversary in 2018. On May 1 of that year, according to a Pew Research Center analysis of public tweets, the hashtag #BlackLivesMatter had been used nearly 30 million times on Twitter, an average of 17,002 times per day since its first use in July 2013.
During an ABC interview commemorating the five-year anniversary of Black Lives Matter, Khan-Cullors discussed the impact the organization had had on other causes. "[BLM] has popularised civil disobedience and the need to put our bodies on the line… with things like the Women's March, and Me Too, and March for our Lives, all of these movements, their foundations are in Black Lives Matter," she said.
In May 2019, Oklahoma teenager Isaiah Lewis was shot and killed by police. Days later, Black Lives Matter held a protest. More than 100 people came to participate in the march despite the rainy conditions.
The video that recorded then-Minneapolis police officer Derek Chauvin kneeling on the neck of George Floyd despite pleas from bystanders to stop erupted over social media on May 25, 2020. Massive protests in cities across the United States and around the globe occurred in response.
Floyd, an unarmed Black man, was pronounced dead after Chauvin, who is white, knelt on Floyd's neck for nine minutes and 29 seconds, even after Floyd repeatedly stated, "I can't breathe." The county medical examiner ruled Floyd's death a homicide caused by a combination of officer Chauvin's force, the presence of Fentanyl Methamphetamine in Floyd's system and his underlying health conditions.
Police engaged Floyd after a convenience store cashier reported to his boss that Floyd had used a counterfeit $20 bill to purchase cigarettes.
After an emotional trial that lasted three weeks following a deliberation of about 10 hours over the course of two days, the jury found Chauvin guilty on three charges: second-degree unintentional murder, third-degree murder and second-degree manslaughter for the killing of Floyd. He has yet to be sentenced.
Three other former officers, who stood by as Chauvin acted, will be tried together Aug 23. The state has charged them each with two counts of aiding-and-abetting, one for second-degree manslaughter and one for second degree-murder.
This case was a milestone because the legal system rarely holds police officers accountable for killing on the job. Ben Crump, the Floyd family's lawyer, said it marked a "turning point in history" for the US. "Painfully earned justice has finally arrived," Crump tweeted. "[It] sends a clear message on the need for accountability of law enforcement."
Breonna Taylor, a medical worker was killed on March 13, 2020, in a police raid gone horribly wrong. The police said they had a warrant to search Taylor's apartment to investigate two men who were believed to be selling illegal drugs there. Taylor was said to be in an on and off relationship with one of them, but had severed ties with him at that time. Taylor's boyfriend, Kenneth Walker, shot an officer in the leg after the police broke the door off its hinges. The police responded by shooting Taylor six times in a matter of seconds. One of the officers, Brett Hankison, who has since been fired, is accused of firing 10 rounds blindly into the apartment.
These deaths prompted large protests under the name Black Lives Matter, capturing attention nationwide. The protesters and organizers have had impactful results on this country. For instance, cities across the globe are cutting police department funds, 31 of America's 100 largest cities have established policies restricting officers' use of chokeholds, and Breonna's Law passed in Louisville, Kentucky, banning the "no-knock" search warrant that led to Taylor's death at the hands of the police.

After police killed Floyd and Taylor, social media sites such as Instagram and Twitter were flooded with information on the Black Lives Matter movement, killings of unarmed Black people, protests and legislation. Twenty-three percent of adult social media users in the United States, and 17 percent of adults overall say their views about a political or social issue changed because of something they saw on social media in the past year, according to a July Pew Research Center survey.
Boyega said, "Today is about innocent people who were halfway through their process, we don't know what George Floyd could have achieved, but today we're going to make sure that won't be an alien thought to our young ones."
Editor-in-Chief Lauren Sheperd contributed to reporting.
A version of this article appears in print on pages 12-17 of Volume 91, Issue I, published May 28, 2021.
Comment using your Facebook, Yahoo, AOL or Hotmail account
comments