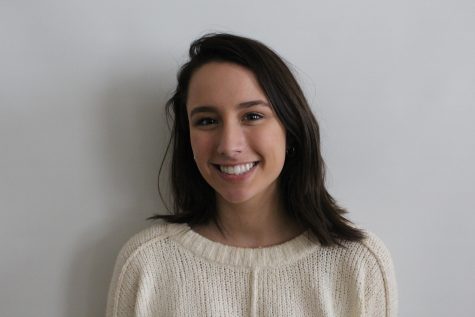 Grace Lougheed ('18) is in her fourth year with The Shakerite. As Editor in Chief,
she supervises the entirety of The Shakerite and all of it's staff. She has also served as Print Managing Editor, overseeing the quarterly issues of The Shakerite, and Campus and City Editor, covering breaking news.
Grace is a leader of the Student Group on Race Relations and a member of the Superintendent Student Advisory Committee. In her free time, Grace enjoys studying and creating film.
Grace Lougheed, Editor in Chief
Sep 10, 2017

Mitchell Pleads Guilty to Lesser Charge

(Story)

May 22, 2017

'Rite Idea: How Much is Too Much?

(Photo)

May 26, 2017

Bringing a National Presence to Shaker

(Photo)

Apr 27, 2017

Questions About the Mitchell Indictment

(Story)

Apr 26, 2017

In Second Ruling, Grand Jury Indicts Mitchell

(Story)

Apr 07, 2017

Police Report Reveals No Specifics About Alleged Assault

(Story)

Mar 24, 2017

Middle School Employee Placed on Paid Administrative Leave

(Story)

Mar 10, 2017

Questions Remain in Mitchell Investigation

(Story)

Mar 07, 2017

Speaking Up, Safely and Peacefully

(Photo)

Mar 08, 2017

Shooting Prevention, Not Paranoia

(Photo)

Feb 21, 2017

Teacher Placed on Paid Administrative Leave

(Story)

Nov 12, 2016

Shaker Students Hold Blackout and Walkout

(Story)

Nov 09, 2016

Hate Trumped Love

(Story)

Mar 11, 2016

Principal Candidates Share Plans, Concerns as Search Comes to Close

(Story)

Mar 03, 2016

Hutchings Updates the State of the Schools

(Story)

Mar 02, 2016

Reed Responds to Last Week's Hoods-Up Act

(Story)

Feb 26, 2016

Hoods Were Up For Trayvon Martin Despite Principal's Request

(Story)

Jan 11, 2016

Honors Students Ditch Honor System

()

Jan 05, 2016

Computer Science Classes Could Return to Shaker

(Story/Photo)

Nov 14, 2015

Attacks in Paris Spark Shaker Response

(Story)

Nov 12, 2015

Tardy Policy Changes School Dynamic

(Story)

Nov 12, 2015

Communication Gaps Revealed in Light of Violent Threats

(Story)

Sep 04, 2015

Assemblies Generate Unsurprising Reaction

(Photo)

Aug 28, 2015

New Year, New Tardy Policy

(Story/Photo)

Jun 06, 2015

15 Years Later, The Search Resumes

(Story/Photo)

Apr 27, 2015

Search for New Principal is Underway, Parents Express Needs

(Story)

Mar 26, 2015

New Plan Aims to Make Those Middle School Years Less Difficult

(Story/Photo)

Feb 27, 2015

Assembly Offers Glimpse of Sankofa's Message

(Story)

Feb 04, 2015

Leaving a Legacy, IB Seniors Organize TEDx Conference

(Story)

Jan 02, 2015

Kindergartners' New Activity: Exams

(Story)

Dec 20, 2014

Computer Science Introduction Excites Students

(Story)

Dec 07, 2014

French Teacher Brings Overseas Experience to Shaker

(Story)

Nov 07, 2014

Griffith Outlines Testing Regimen; Parents Voice Concerns

(Story)

Nov 03, 2014

New Test, With a Side of Stress

(Story)