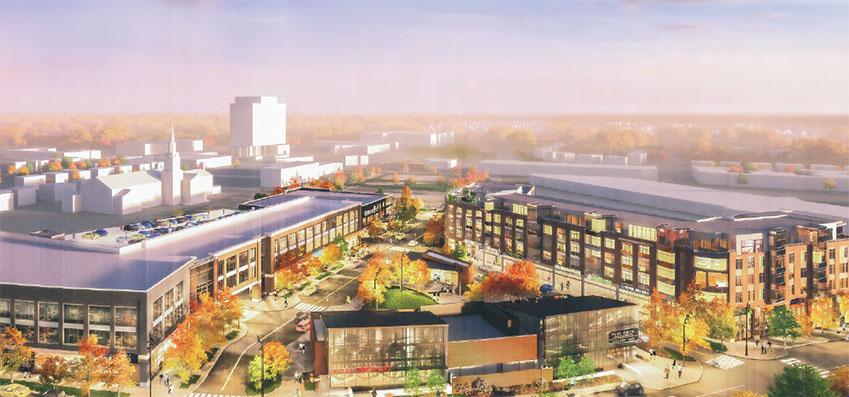 One-hundred and eighteen years after it became a city, Shaker Heights will have its own downtown — if the $95 million Van Aken District comes to be in 2018 as planned.
The idea was first introduced in 2000. However, a reconstruction plan was not finalized until 2008. The money needed for the project was raised by 2012. "[It] overall is a $95 million project, and the majority of it is financed privately," Tania Menesse, director of economic development for Shaker Heights, said.
The city is supplying a $6.2 million grant for the project, which is expected to be repaid mostly by the new income tax generated by the project. The rest of the money will come from state grants and county loans that the developers, RMS Corporations, are undertaking.
The project began with an $18.5 million road reconstruction, completed in the summer of 2015. "The city's contribution of that was about $2.2 million." Menesse said, "The rest of those funds came from county, state and federal sources."
Next came the redevelopment of the buildings. "Many of the tenants that were in Van Aken Center have moved over, and new tenants like New Balance, and a spa that's going to open in November [or] December," Menesse said. "There are going to be two or three new store fronts with new tenants."
"There's no real city center, there's no downtown," Jason Fenton, director of leasing for RMS Corporations, said of Shaker Heights. "Ultimately, the vision is to create that, so when students are studying for finals they can go to the Orman building where there's open seating and food." The Orman building, which was home to Fresh Market, is the only existing building that will not be torn down and replaced.
The area is named the Van Aken District, but has been tagged by the city and developers as downtown Shaker Heights. Menesse said identifying it in this way will help to draw in people from the rest of greater Cleveland. "It is truly sort of the gathering commercial district for the community, and that does often equate itself with downtown," she said.
Though the city believes the project will draw crowds, students interviewed agreed that the city should stick to calling it the Van Aken District instead of using the downtown designation.
Senior Wyatt Eisen said, "Some people may mistake Van Aken for Shaker Square. I just like Van Aken Place more."
Regardless of the name, the area will give students a new place to hang out, study and do homework.
"There's finally [going to be] a good food area that is close to the high school. Going to Cedar Center or Harvard is way too far," senior Margaret Cook said.
Freshman Nandi Brown said she'd go to Van Aken more than Shaker Square, which is far away from where she lives. "I would go to Van Aken because it's near the school," she said.
Senior Tyler Smith said he would consider visiting the redefined district. "It depends on what they get out of it, but I don't really go to the area often," he said.
"It's in the perfect location between the Fernway neighborhood and the Mercer neighborhood," said senior Margo Hertzer. "It will be much more convenient than Cedar Center and Shaker Square."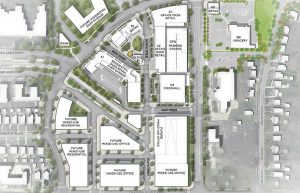 Fenton said the Van Aken District will be different than other shopping centers, such as Legacy Village or Crocker Park.
"It's a true, organic extension of the neighborhood. It's not a synthetic creation in the middle of a not-really neighborhood," he said. "It's got a lot of authenticity to it, it's really going to feel like that true downtown."
"When we started this, we went after kind of the best of local," said Fenton. They decided to bring in Cleveland favorites, such as Luna Bakery Cafe, Rising Star Coffee, Mitchell's Ice Cream and are partnering with Jonathan Sawyer, an award-winning chef at Cleveland's Greenhouse Tavern, because they're all, "great and valuable businesses that are only local to Cleveland." He said RMS developers are also negotiating with other restaurants and businesses that will be announced soon.
Fenton said locally-owned stores and their knowledgeable owners "add to the experiential aspects of what we're trying to create; which is authentic."
During the summer, the city organized beer garden events at the site, where they sold beer, wine and cocktails out of a large shipping container.
These events also featured vendors and children's activities in the parking lot.
After the redevelopment, this same area will become the "living room, which is [planned as] a half-acre park that we as the developer will donate back to the city." Fenton said
The park will be more elevated than some buildings around it, which will create an amphitheatre effect suitable for concerts or outdoor film screenings. "That's one of the ideas, to program the living room, so it really is a true city center, where you can have certain events there and things of that nature," Fenton said.
According to Menesse, dining options will be diverse. "The goal is for it to be a pretty nice mix of restaurants," Menesse said, "There will be two to four white-table-cloth, sit-down, nicer restaurants. Then a good mix of great casual places for families to go." The plans are for a new pizza place, more Asian restaurants, a Mexican place, and take-out places.
Students are excited for the businesses that will open when the project concludes in June 2018.
Cook says she's most excited for the introduction of Luna. "It has great food and a really good environment for meeting up with friends for breakfast, lunch or a snack," she said.
"I'm just hoping it'll be a place where everyone can go to feel comfortable after school," said Brown.
"It gives the younger generations somewhere to go and something to do," senior Jakee Frazier said, "We already have Shaker Square, and now we'll have Van Aken, so there will be somewhere for everyone to go in the two different areas."
"My hopes for it are for it to really make it so people can do more things instead of just being stuck going to Shaker Square. It gives you more options, more variety," said Frazier.
"I'm not entirely sure of what there is going to be," said Eisen. "I'm excited for the Mitchell's though."
One of the initial steps of remodeling involved the destruction of Starbucks, which was supposed to return in 2015, but never did.
"We don't really know what Starbucks is going to do. They'll want a drive-thru and will evaluate the market as the district opens in 2018," Menesse said. "They're evaluating whether it makes sense to come back into the district."
Junior Meredith Frothingham expressed disappointment about the loss of Starbucks. "I was really sad and extremely inconvenienced," she said.
Another more recent change was the closing of The Fresh Market. The original plan was to rebuild it, but Menesse said The Fresh Market will not return.
"Fresh Market was purchased by a private equity firm called Apollo in February [2016], and they were [originally] moving forward with the relocation," Menesse said, adding that Apollo has been closing many of their stores and have frozen expansion plans.
They ultimately decided against rebuilding. However, city council is confident another grocer will show interest in the space.
"We value grocery, and we think that grocery is a great amenity to the overall district," Fenton said. "We are working tirelessly to get a grocery store that fits in with the overall vision."
Fenton said that the vision is to have a new grocery store, similar to The Fresh Market, with convenient grab-and-goes and pre-made meals.
"With an educated clientele and market like Shaker, you want to have foods that are organic, that are locally grown, and be cognizant of that," Fenton said. "But you also have high quality food that's already prepared and easy for the shopper to grab in addition to their grocery items."
Menesse said that to mark the first phase of the development and demolition of Van Aken Center, RMS and the city will host New Starts Now, a celebration of the project, Nov. 12 from 12 to 5 p.m. The event will occur at Shaker Plaza inside the space next to the new Pearl Asian Kitchen.
New Starts Now will include a beer lounge, a pop-up shop of future Van Aken District retailers, a public art project and kids' activities including an interactive scavenger hunt with prizes. Food trucks and restaurant fare will be available.
Shaker Heights is spending a lot on rebuilding Van Aken Center, and some students aren't sure whether the cost is worth it.
"After the Van Aken Center has been up and running for a certain amount of time, then we can evaluate if the money was well spent," Himes said.
"I think it will raise revenue for the city and make Shaker a more desirable place to live," Hertzer said.
Any commercial development in the city spurs hope for increased property tax revenue, which helps fund the schools. According to Menesse, Shaker Heights is 92 percent residential, which means there are few businesses to help relieve the tax burden on homeowners.
Menesse said that the Van Aken District will not affect homeowner's tax rates in the short term.
"The first phase of the district will create a place which will help the city of Shaker Heights retain and attract new residents, which does translate to new income and property taxes," she said.
"The schools approved a tax increment financing proposal for the district which will generate approximately $500,000 a year in new property taxes for the schools," Menesse said.
Frazier thinks the Van Aken District will be a great place for kids to work and for families to go to.
"I think it's a good plan to help bring some money into Shaker," he said.
"Not only is it a great investment, but it will make Shaker a nicer environment," freshman Abe Arenberg said.
Cook thinks the project will be worth the money and is long overdue. She said, "Shaker is in need of a new hangout spot besides Shaker Square."