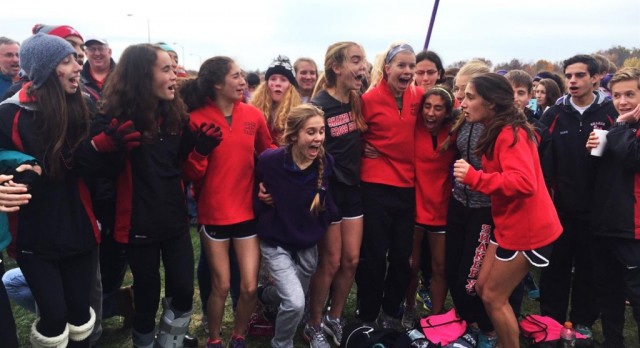 shakerathletics.org
For the first time in history Shaker's women's cross country team is going to the state championship meet.
The Raiders qualified last Saturday after finishing 4th at the Youngstown Regional Meet. Key runners in the meet included junior Mimi Reimers who finished 3rd overall in the region, the best finish ever by a Shaker runner, and qualified for the state championship as an individual. Sophomore Sophie Carrier also qualified for states as an individual.
Senior Sara Mesiano and Junior Ally Nordstrom also had big races and helped the Raiders squeak out a three point win over fifth place GlenOa
Nordstrom thinks that Shaker's success is due to the close team chemistry.
"I think we tend to work harder as a team because we're so close and when we see that someone is having a bad race than we just automatically step up to help them out," she said. "Cross country is like the ultimate team sport because unlike in other sports there's no positions so we all have the exact same role and all go through the exact same struggles which makes it easier for people to step up."
Reimers believes that the Raiders' work ethic has been extremely important in the team's success.
"I think this year myself and the other captains have been working really hard to push everyone on the team and I think this has led to us all having a really strong work ethic," Reimers said.
Junior Sophie Matts agreed that the team worked hard all year.
"Cross country has been a great experience all year and I think it's been in large part to how hard we've worked," she said.
Matts said it was surreal to be the first Shaker women's cross country team to ever qualify for states.
"It was such an emotionally exhausting day because of our accomplishment and we went from nervous and scared to shocked and elated," she said. "It was such a great experience."
Matts believes that the Raiders will send a message down in Columbus on Saturday.
"We're going in as underdogs but we're going to show people that we're not just happy to be here but that we're going to work and compete and show why we made it here in the first place."