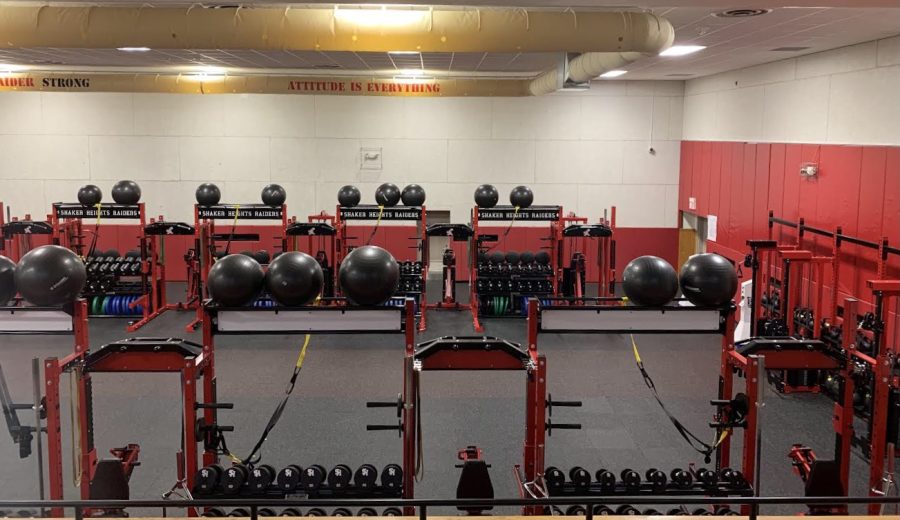 Amelia Raymond
An improved weight room was installed in the high school last school year. Equipped with specialized hamstring and neck machines, and customized equipment, the new room will give students an opportunity to improve their strength right in school. 
The weight room, called the Raider Athletic Center (RAC), was put in Jan. 27 replacing the multi-purpose room, where wrestling took place. Wrestling now takes place in the former weight room, where yoga and fitness classes are held during the school day. 
The room, which can hold 70 students, offers more space and "increases the capacity for more students to safely strength train and condition at one time," according to shaker.org.  
The Shaker Schools Foundation funded the new weight room in partnership with the Shaker Heights High School Athletic and Physical Education Departments. The Foundation was supported by the Shaker Sports Boosters, the David M. Berger Fund, District parents, alumni and community members. 
Strength and Conditioning is offered as a class in the new weight room. Joseph Schlesinger, head staff of Strength and Conditioning, initiated the program in March. The class consists of warmups, speed and agility training, strength training and cool down. 
Training in this class can be personalized to fit the needs of every student. "Because we have so many multi-sport athletes, we can have up to five different strength programs being performed in one class period," Schlesinger said. 
This program gives students an opportunity to physically get stronger, but Schlesinger said that it can do so much more. It can "improve confidence, discipline, attention to detail, facing fears, goal setting, communication, building sportsmanship and camaraderie amongst students," he said.  
All of the room's equipment and materials are branded with Shaker's logo. Sophomore Brandon McNeal said this helps him. "I like working out in a place that represents Shaker," he said. 
Aside from classes, the weight room is open to students before and after school with unique weekly schedules posted on the weight room's Instagram account, @shakerstrength. The account also features videos and pictures of the room being used by students. 
The room can help students in the difficult task of working out by improving their morale. Freshman Elena Girault said, "It helps with my positivity, focus and determination to do what I need to do."