The Morals and the Music
Separating the artist from their work
On the way to coffee the other day with my friend, I turned on one of my favorite albums, "The College Dropout" by Kanye West. Immediately, my mom shut down the music, saying that Kanye was too horrible a person to support in any form. This instance brought a question to my mind: Should we separate artists from their work?
West has said horrendous and delusional things, such as that slavery was a choice or that he is a genius.
West may be the most prominent celebrity supporter of President Donald Trump. He's had the privilege of meetings with the president in the Oval Office, but even his fans rolled their eyes when he wore his own, custom-made "Make America Great Again" hat.
Still, some of his songs are my favorites.
I do not think of the West who is a Saturday Night Live punchline when I listen to "Jesus Walks" or "Champion." Instead, I think of the man who wrote the inspiring music blasting in my headphones. When I need motivation, I listen to "Stronger," which inspires me to push through pain and emerge better than before, and his sincerity resonates in every lyric as he sings "now that don't kill me, can only make me stronger." When I need to embrace my own sadness, I listen to the harsh realities expressed in "Runaway" as he sings "baby I got a plan, run away fast as you can," in "Runaway."
Kanye West certainly isn't the only controversial musician in pop culture.
XXXTentacion, often referred to as "X," is currently ranked the thirty-seventh most popular artist in the world on Spotify, despite his controversial past. On Nov. 16, 2015, X was charged for committing home invasion, robbery and aggravated battery, according to  the pop culture magazine Vulture. The prior month, he was arrested for domestic violence towards his pregnant girlfriend. Still, his fanbase did not seem to waver.
Modern music supports questionable ideals. Derogatory language overwhelms the music on the radio, and yet these artists and songs remain high up on the charts. These songs hold deeper meanings than what the offensive language, used to appeal to a culture of oppression, seems to express on a surface level.
Of course, not all songs are about pain or love. Some are just words strung together without emotional depth sung between the lines. These are the songs played on the radio, in your best friend's car, at the party you're going to this weekend. When we sing these songs, we don't hear ourselves promoting a sexist culture of objectification and toxic masculinity. To us, the songs represent fun times and carelessness, not guilt or oppression.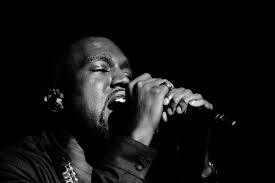 Not all of West's lyrics are so insightful. In fact, one of his songs, "Drunk and Hot Girls," exemplifies objectifying women in the name of art. The degradation of women tainting his lyrics mask the meaning of the song, which is to express self-doubt and existential crisis. When you hear Kanye sing"love the dangerous necessity that people seek without regard to where they are," maybe it makes tears well up in your eyes or perhaps it just makes you want to dance. It can mean different things to everyone who listens to it. It is wrong that West is an accessory to a sexist pop culture, but these insulting words don't mean that you have to ban him from your playlists. However, if you fail to see the depth behind the lyrics, or think that they overshadow any meaning the song might contain, choosing to not listen to his music is your prerogative. Allow it to be up to your own discretion while respecting others decisions as to how to treat the intersection of artists and their morals.
X is definitely not on the clean side of rap, either. His songs have lyrics more blatantly offensive than "drunk and hot girls," and sometimes his words are what they are, they aren't a cry for help or admittance of agony. Songs like these litter the Top 40 charts, but to listeners, they aren't about sexism or derogatory terms. They simply symbolize a good time with friends, not paying attention to the individual lyrics, but the atmosphere of the music.
Not all of X's music is derogatory. At the beginning of his albums "Skins," "?" and "17," he begins with an introduction explaining his motives for the music. "To find the perfect words to say less but to say more," he says at the beginning of an album, "was ideal with this project." He treats the introduction to this album as "instructions." He says, "If you are not open-minded, before you listen to this album, open your mind." He narrates that the purpose of this album was to uplift and comfort his audience. In his introduction to "17," he says that the record was to help those with depression.
X dedicates his song "Hope" to the children who lost their lives in the Parkland school shooting Feb. 14, 2018. In this, he attempts to heal a wound by creating unity in his music.
When X was shot and killed on June 18, 2018, the internet blew up with fans expressing their sorrows for his loss. His charges were well-known at the time. It wasn't the possibility of him beating up his girlfriend that his fans mourned, but the music he made that spoke to them.
X's music is powerful. I think his words are beautiful and inspiring, even if his character did not represent what his music did. There's a reason that he was missed so dearly by his fans. People heard the X on "BAD!" and "Moonlight" as someone entirely different from the one accused of such unforgivable crimes.
Another questionable artist that has risen to the charts is Tekashi 6ix9ine. Currently, he is the 96th most popular artist in the world on Spotify, despite heinous claims made against him. 6ix9ine described his purpose as standing up for the underdog. "I stand up for the kids who can't stand up for themselves,"  he said.
His contentious career has been publicized in the news constantly. In 2015, 6ix9ine pleaded guilty to having filmed himself having sexual contact with a minor. Throughout his career, he was accused of sexual misconduct and assault. According to Rolling Stone, 6ix9ine was arrested in November and faces 32 years in prison for fraudulent business deals and a previous armed robbery.
Honestly, I listen to very little of his music. The only song of his that I can name is his feature on "Swervin," and I am so repulsed by his personality and history that I usually skip his solo. I hold no judgment for others who listen to him, but there are some artists whose songs I find devoid of meaning or joy, and I am too repulsed by their character to listen to their music.
Another person fitting into this category is R. Kelly, an infamous singer. Multiple allegations of sexual abuse have been held against him. In 1994, Kelly reportedly married a 15-year-old when he was 27 by lying about her age on the marriage certificate. The marriage was annulled by the girl's parents. In 1996, according to the Chicago Sun Times, Kelly was accused of statutory rape. Many counts followed, but a trial in 2008 declared him not guilty.  
A series of reports in 2017 said that Kelly was "living with several young women and controlling them by taking away their phones, limiting contact with their families and having them abide by restrictive rules," according to The New York Times.
On Feb. 22, he went to jail for ten accounts of sexual abuse towards four women, three of whom were minors. He declared himself innocent, but his disgusting behavior has warranted many to socially outlaw his music.
Kelly deserves no forgiveness and should be stripped of all the power that allowed him to exploit and abuse women in the first place. I've never been a fan of his music, and when a friend plays one of his songs, his cases of abuse flood my mind.
One of the most famous icons accused of sexual assault has come into the news again recently — Michael Jackson. Jackson is ranked the 77th most popular artist in the world on Spotify. A documentary called "Leaving Neverland" aired on March 3 and revived claims of Jackson sexually abusing young boys throughout his life.
"
While it may not be realistic to donate a dollar for every stream, it's important that we find our own ways to right the wrongs of cultural icons in order to solve our own moral crises."
These claims are not new. The first accusation arose in 1993 when a 13-year-old boy accused Jackson of molestation. Accusations have piled up and dragged Jackson into trials where he was never found guilty. Now, trustworthy evidence has come out that has disgusted even his loyal fans. The "King of Pop" was a monster. The world is learning to cope with people seen as idols like Jackson.
Whether you continue to listen to dangerous influences like Kanye West or immoral monsters like R. Kelly, the most important thing is to recognize the truth. You should know who you are listening to and who was hurt by their power.
Pete Davidson, a comedian, made a valid point on the show Saturday Night Live on March 9 while addressing the ethical qualms of listening to musicians like Kelly and Jackson. Davidson said that whenever you are enjoying the art of predators and abusers, you should donate a dollar to a charity that helps sexual assault survivors.
While it may not be realistic to donate a dollar for every stream, it's important that we find our own ways to right the wrongs of cultural icons in order to solve our own moral crises.
In the end, it's important to allow your music to represent the virtue of the song, not the wrongdoings of the creator, by being aware and corrective of their mistakes. Through this, you can separate the man from the music.
Comment using your Facebook, Yahoo, AOL or Hotmail account
comments
View Comments (1)