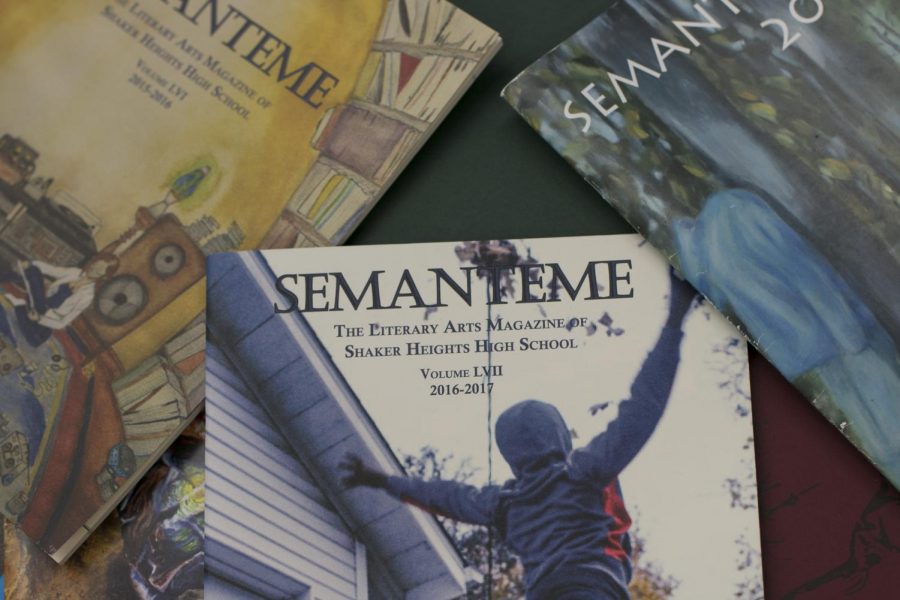 Astrid Braun
Semanteme (pronounced Seh-man-team), Shaker's literary magazine, has changed its name to The Seam as a part of its rebranding in an effort to gain recognition from students.
"Because Semanteme is the literature and artwork of students, we wanted something that represented Shaker," Isabela Carroll, editor-in-chief of The Seam, said. "The Seam; it's very fluid and interconnected. You're joining things together," Carroll said.
"Semanteme is Shaker Heights High School's literary arts magazine, composed entirely of students' poetry, prose and visual art submissions. Club members judge pieces, submitted by Shaker students, and compile them into a finished product. Members are also able to submit pieces of their own," according to shaker.org.
Celeste Ng, an author from Shaker Heights was co-editor of Semanteme and graduated in 1998. "Throughout middle school and high school, I kept writing stories and poems and plays. (Quite honestly, they were all terrible—but I think they were necessary practice.) I co-edited Semanteme, the high school's literary magazine, for two years," Ng said in a cleveland.com article.
According to Sekeres, the staff felt the word "Semanteme" did not represent the magazine anymore. "It felt like it was time for a rebranding, and what better way than to change the name?" he said.
"It's really archaic and completely unused, and honestly I doubt there's a single person in the school who knows what it means and hasn't looked it up," senior Gabe Sekeres, head copy editor of The Seam, said. 
Another reason for changing the name is the confusion surrounding it, Sekeres said. "You're very unlikely to pick up a magazine that has a word on the cover that you don't know what it means," Sekeres said.
According to Carroll, The Seam may have lost recognition because of its competition with other outlets of student expression, such as The Shakerite and Shaker's art class competitions. "It's made getting people to share their [creative] work a lot harder."
The magazine, Carroll said, wants to be put back into the spotlight. "We wanted to keep this magazine going —  that it was important to represent also the inner ideas and creative side of students."
Carroll said The Seam's staff is also considering changing the organization of the magazine by separating the creative works into themes, as the staff saw that was a popular magazine layout. "We thought that would be really interesting," Carroll said.
Junior Kanella Basilion, who submitted a photograph in the 2016-2017 edition of The Seam, also believes a new look would be appropriate. "From the rebranding, it would be cool to see a fresh new layout," Basilion stated in a text message. 
The staff is also aiming to reach out to more students by hosting a coffee house, a time where writers can share their work to a group of people, on March 10 at Dewey's Coffee Shop, Carroll said. "We want to directly reach out and get people's work and not only provide a place that will be published for them to share, but create a place where they can verbally share that energy and connection."
"Ultimately, we're trying to actively reach out — to gain the voices of students and their work that haven't been totally met," Carroll said.
Carroll believes The Seam continues to serve a purpose for creative students. According to Carroll, the magazine is not just about the competition; it's a way for people to share their creative works and feel they are represented.
Students are also passionate about The Seam. "It pulls from a lot of different media —  you have photography, you have short stories or fictional creative writing, you have poetry. It's not a one-medium magazine," said senior Emma Neil, "and anyone can submit, which is also awesome."
"I enjoy the fact that students are able to showcase their unique voices as artists," Basilion stated in a text message.
"Maybe they'll make a difference," English teacher and adviser of The Seam, Carole Kovach said. "It will get kids who are coming in, freshmen and sophomores, to know what the point of the literary magazine is."
Join The Seam for their coffee house March 10 at Dewey's Coffee in Shaker Square, from 5:30-6:30 p.m.