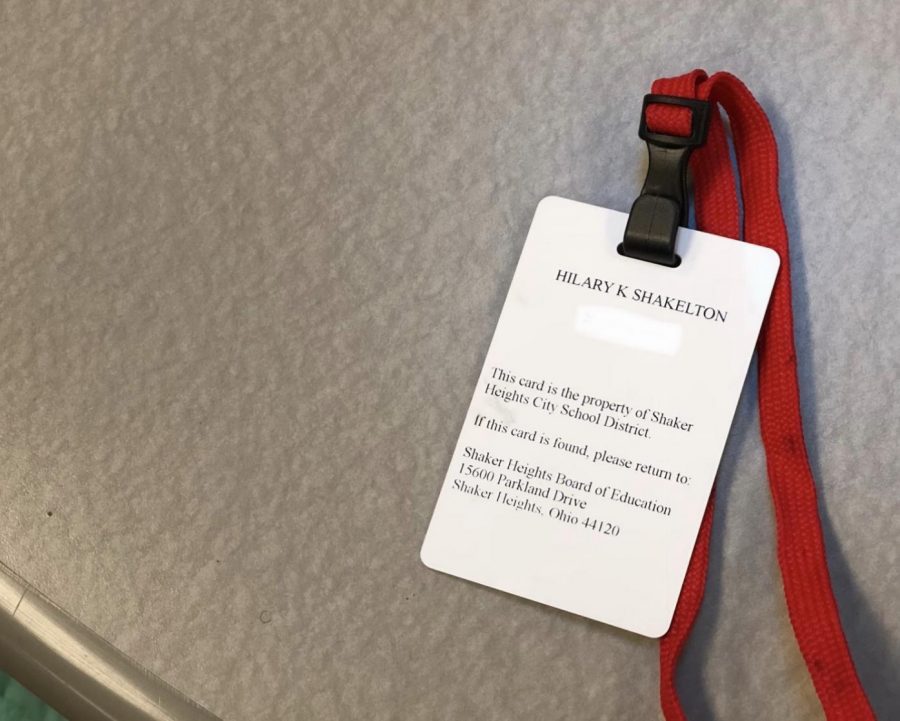 Hilary Shakelton
Starting Jan. 22, all high school students will be required to wear their student IDs, according to a message from Principal Jonathan Kuehnle published in the weekly PTO newsletter and emailed to all students.
"This will help to ensure a healthy, safe and secure environment in our school," Kuehnle stated in the message. "It will enable students to quickly and efficiently check out library books, purchase lunches, request hall/late passes, enter exams/state assessments, and may possibly be used as an RTA pass in the near future."
Freshman Alan Gibson, however, does not like the idea. "That's stupid, man. Why would you want to do that?" he said. "And then, if you lose it, what? Are they gonna stop you or something?"
Students should have received their IDs during their advisory period on the first day of school. If not, according to Kuehnle's message, "Students who do not have an ID or lanyard should request a replacement from Ms. Middlebrooks, in Room 106, before second semester begins."
Martina Middlebrooks, an administrative assistant at the high school, makes the IDs. She said she expects to see "a huge amount" of students seeking ID replacements. "I know —  according to the cafeteria workers —  the kids don't have their ID on them," said Middlebrooks, who has already received an email from a parent requesting a replacement ID.
"It will make it safer," Middlebrooks said, "because if you don't have one, then they would automatically know you aren't supposed to be here."
The district has issued student IDs for at least 10 years, and requiring students to display their IDs has been an ongoing idea. However, the district has never required high school students to display them until now. Kuehnle first mentioned this change at a November faculty meeting that followed two incidents of students bringing or reportedly bringing guns to school, one on Sept. 12 and one Oct. 27.
Students did not seem to think this change would affect their safety.
"I'm not sure if it would really make us that much safer," sophomore Cecilia Zagara said. She added that although it is important to feel safe in school, she thought that students could easily get around the regulation by creating fake IDs or that plenty of students could easily forget their school-issued IDs.
Freshman Abby Yingling expressed skepticism. "I think it's good that they are attempting to try and help with the security, but I don't think it is going to work," she said. "If a student forgets it, then will they be able to come into school?"
The message did not include any information about the policy will be enforced, or if and how students would be disciplined for not wearing an ID.
"I think that it might help identify people, but, realistically, nobody is going to follow it, and it's an inconvenience," freshman Noah Greff said.
According to several students, school IDs are hardly ever used. "Kids already have trouble forgetting their homework at home, and now they're going to have to remember their school ID? I mean, kids are going to forget it every single day," Zagara said. "Like, I don't know what the administration expects."
"It just seems like a hassle," freshman Audrey Ritley said.
Middlebrooks said, "I think there'll be some pushback, but I think what may help is knowing how valuable it is."