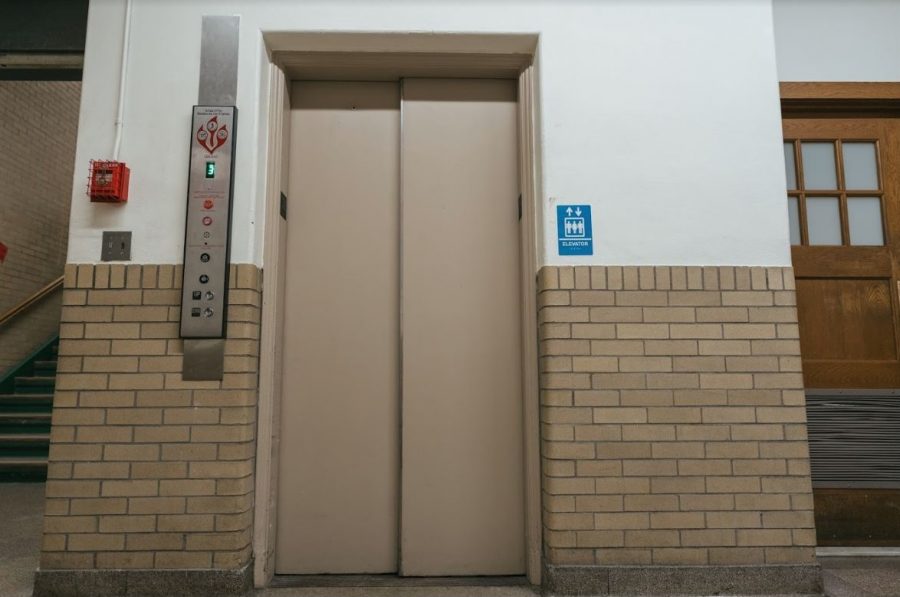 David Vahey
Since the beginning of the school year, the high school elevator has not required a key for operation — but it still requires permission. 
According to David Boyer, district director of operations, former Principal Jonathan Kuehnle,  who was placed on administrative leave Nov. 1, changed the policy. "The principal at the time decided that he did not want to restrict access," Boyer said.
"I had no idea about the change," sophomore Andrea Harrison said. "I've never used the elevator before, but I've always assumed a key was needed."
Nurse Paula Damm explained that the high school got a new elevator last summer that did not require a key for access. "Everyone was like, 'What do we do? We have to get a key for it.' And I'm like, 'Why do we need a key for the elevator?" she said.
Damm said concern was expressed about unauthorized students trying to use the elevator. However, she said she was not worried about this possibility and has found that most students do not abuse the keyless access.
The elevator was installed at the high school to provide access across the building for people with disabilities, permanent or temporary, to comply with laws established by the 1990 Americans with Disabilities Act.
Damm determines whether students may use the elevator. If so, she issues an elevator pass similar to the student ID. Student names and dates of approved use of the elevator are also written on the pass.
"I don't think many people abuse elevator use during the school day, as there are so many people and security guards around," Harrison said. "It would be hard to continuously use the elevator when you obviously don't need it without being caught or at least questioned."
Sophomore Natalia Glinzler has used the elevator during the past year due to an injury. "I don't think it's OK that kids abuse elevator privileges because it makes it much more difficult for those who need it," she said.
The elevator allows people "with challenges using the stairs to be able to access the various levels of the building. It is also used to transport heavy materials up and down as well," Boyer said.
Kuehnle was reassigned in January to digitize special education records for the remainder of his contract, which ends June 30. Dr. David Glasner, substitute principal and soon-to-be superintendent, wrote, "At this point in the school year, I will not be making changes to the elevator policy."
"When a new principal is selected, we will work with them to implement any policy they determine to be appropriate," Boyer said. "Establishing and monitoring the use of the elevator is a school administration function. The operations department supports the administration by providing options to manage the policies of the principal."
Senior Kaela Ruffin said she has seen a few students abuse the keyless access. "But not as many people as you might think," she said.
When the elevator required a key, Damm said distributing and returning keys was costly and difficult. When students did not return their keys, she had to charge them a $10 fee. She could not say how many fees were issued.
Damm acknowledged that some students use the elevator without permission. However, this behavior is low on her list of health concerns and needs within the school. "I am not going to be the elevator police," she said. "I think generally the elevator is used appropriately."
Glinzler said students used the elevator last year without permission by stepping into it with students who, like her, had permission. She found it stressful to use the elevator when students tried to steal a ride. She said teachers "would see them getting in the elevator while I used the key. They would yell at them."
Freshman Ava Miller said unauthorized elevator use is a problem, but not a big one. "Even though they're taking space on the elevator for people that could actually use it, to get from floor to floor, it doesn't take a long time. It isn't like they're using it for a long period of time."
"I don't think it's right to abuse the elevators just because there are kids who need them. But I also don't blame them because of how packed the stairs can get," sophomore Clovis Westlund said.
Miller said she thinks abuse of the elevator privilege would be a bigger issue if students caused problems while riding it. However, she said the students she sees using the elevator without permission do so to avoid the effort of climbing stairs.
Ruffin said, "I don't think it's OK for them to abuse this power, but I don't think it's a huge issue."