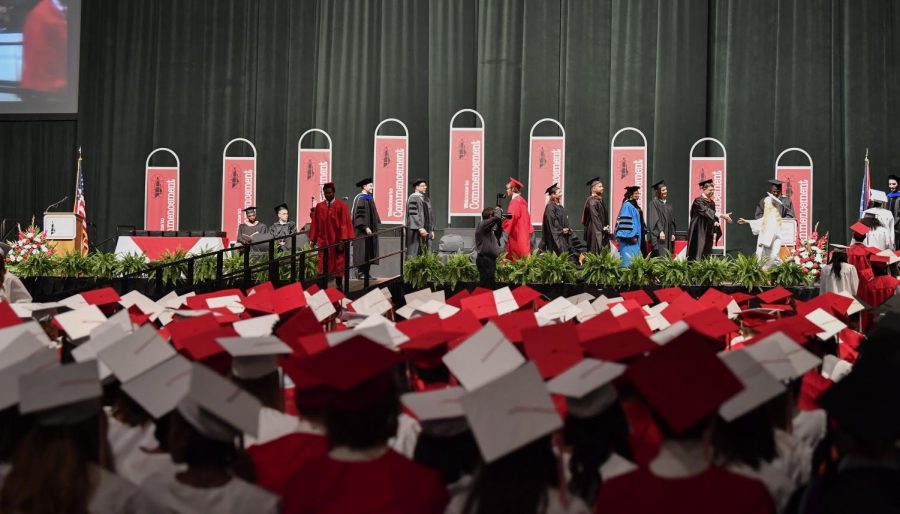 Kevin Reeves
The class of 2020 will graduate Wednesday, June 3, virtually. 
In an email sent to staff, families and students at 2:45 p.m., the district announced plans for a virtual commencement ceremony. Principal Eric Juli said Gov. Mike DeWine's announcement yesterday prompted the district to make this decision. 
"We want to make sure that we have a graduation," he said. "If we wait and hope that we can get an in-person graduation in the summer, and then we find out that we can't because the governor hasn't lifted that ban, then we run the risk of not being able to even have a virtual graduation because all of the companies that do that would have been hired out by all of the other high schools."
The district will conduct commencement over live stream to produce a "gratifying" ceremony, according to Executive Director of Communications and Public Relations Scott Stephens. Classic Teleproductions is the district's graduation live-stream partner and has been filming the ceremony for years. 
"We're embarking on this with a partner with whom we've worked for for a number of years," he said. "We just decided collectively that this was the best way to do it, given the extreme circumstances that we're in."
Superintendent David Glasner, Juli, a commencement speaker and students will all speak during the ceremony. "We want this to look as much as possible as a normal commencement in abnormal circumstances," Stephens said. 
The district plans to distribute caps and gowns to students through the mail. In place of crossing the stage to graduate, students can record a short video that will be displayed during the virtual ceremony when their names are called.
Juli said Glasner and his team are still figuring out exactly how the ceremony will work. "We're going to do the best we can to have it as close to what we would have done in graduation as possible," he said. "We're going to try to make it the nicest possible ceremony that we can imagine."
Graduation has typically been held annually at Playhouse Square in downtown Cleveland, but last year it was at the CSU Wolstein Center. Seniors show up at the north gym around 2:30 p.m. to receive seat assignments and take pictures. They board buses one by one in alphabetical order by last name. They arrive at the venue about two hours before the ceremony starts around 6 p.m. The ceremony lasts about two hours. Afterward, the Playhouse Square lobby is packed with jubilant seniors, their families, faculty and staff. 
Some students hope parents will figure out a better solution. 
"I really think it's up to the parents to try and do something," senior Spencer Glatley said. "I've been working and so have my classmates for however long to get to this goal and milestone in my life and I'd like some type of appreciation for that. Maybe I just want attention, I don't know," he said.
Glatley's mom, Char Glatley, has already contacted Juli, Glasner and parents to create a plan for the seniors. "As you can imagine, all parents are upset because we know that you all have spent 12 plus kindergarten years working toward this moment and should be recognized for it," she said. "We think that we can come up with a creative, safe but valuable way for you guys to have a commencement." She proposed using the turf or the oval to gather the seniors and their families to honor them. 
Senior Jared Christopher said the school should still plan on having an in-person commencement. "They should keep pushing it back until we can finally have it," he said. 
Stephens said virtual commencement is the best option. "We are not confident that we will be allowed or that it will be wise or helpful for our students or our families or anybody on our staff or anybody else to have a commencement anytime soon," he said. "It is a wrenching issue. It breaks our hearts that we can't provide the normal commencement either in June or thereafter for our graduates."
Christopher said that after hearing the news, senior year feels like a waste of time. "Graduation was the thing that I was looking forward to since the beginning of high school," he said.
Senior Madison Owens is a member of the Superintendent's Advisory Committee; she can ask questions or suggest ideas. The committee met at 2 p.m. today, through a Zoom call, to discuss senior programming and announcements. "Nobody knows anything. It wasn't very reassuring, but that's not what I was looking for, and I didn't expect that," she said. "We just have to remember that no one knows anything and they're trying their best."
Senior Hannah Assel said she is sad about commencement. "Graduation is something that you can remember forever, and we just aren't doing that," she said. "It's nice knowing that everyone is still thinking of us, though." 
Juli said, "It's an impossible decision because I certainly want to honor every senior individually. I want everyone to have the opportunity to be cheered for and walk across the stage and get their diploma."