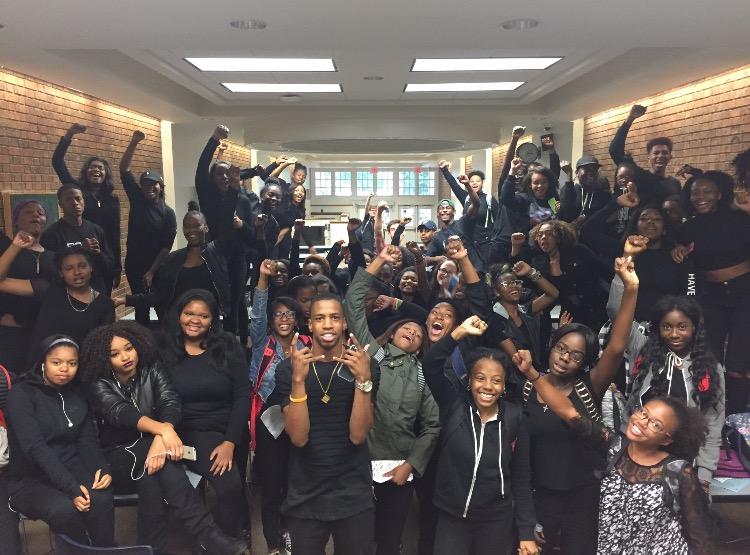 Some students wore black instead of red, white and blue to school Sept. 26, on "America Monday," the first day of homecoming spirit week.
Junior Kyle Dixon heard about America Monday, but was compelled to share his own idea. He tweeted asking high school students to wear all black clothing.
"SHHS students. Black out Monday, b/c it's America day for spirit week," tweeted Dixon.

Dixon proposed a blackout because he wanted to encourage people to stand up for their race. However, other students had different motives for dressing in all black.
Council members releasing a statement via Twitter supporting student expression. "We as Student Council realize the discussion surrounding America Monday, and fully support all who choose to express their own views towards America through a blackout," it said. "Some of the council members will be wearing both American gear and black as a symbol of uniting our country and we encourage others to do the same."
"I couldn't take complete credit for this idea, I simply expressed it and people joined," Dixon stated. "I personally wanted to do a blackout to show my own stance on "America Day" for spirit week. I did not want to represent America on this day, and wanted for anyone who agreed with me to wear all black and represent black unity, so I made the tweet.  I hoped to get people to stand up for their race with me. I was very impressed by the number of people who participated on such short notice."
Freshman Alana Bryant participated in the blackout with the volleyball team. "You know, I really didn't recognize [how many students participated] until me and my friends were talking about it," she said.
Sophomore Tamira Walker did not participate in the blackout, but she was impressed with the result. "It's a good message," she said. "It's good they're standing up for something they believe in."
Shaker is not the only school showing solidarity and seeking change by dressing in all black. On Nov. 18, 2015, students nationwide participated in a #StudentBlackOut.
Bryant said the blackout was empowering, but there is potential for an even greater impact if students continue to advocate. "We have to do more," she said.